Thursday 3 March 2005. "Fresh Air" celebrates 100 years of Norway as an independent nation by filling London's Fabric venue's three rooms choc-a-bloc with Norwegian musical acts…
Words by Barry Kavanagh
Photo of Satyricon by Royal Norwegian Embassy
Here I am, whirling from one room to another trying to experience a piece of everything, assisted only by alcohol. There's so much stuff on I even miss the mighty, frenetic and hilarious Snuten. In fact, my controversial choice for best act is Xploding Plastix, because their electronics-with-drums sound reaches an apotheosis live. There is a visceral thrill which doesn't exist on their recordings.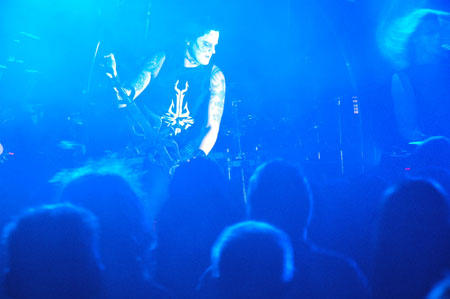 I make sure that I catch Frost, because at the pre-concert reception they had promised me domestic appliances on stage. So chanteuse Aggie Peterson performs with a manual whisk and a bowl, before dropping these things to the floor as disdain flashes across her face. Unfortunately this only leaves me hungry for more domestic appliance action. Where to find it?
I like some of the weird electronica Biosphere has done over the years. When he appears on stage I'm surprised to see that he has hair and looks like a respectable man. That can't be right! Then I lose my concentration because the laptop is really not the most engaging of live instruments.
So I get my first ever taste of Norwegian black metal with Satyricon. But I feel like a vegetarian at a vegan smorgasbord, i.e. that one bit more bloodthirsty than what is on offer. There is more in the way of tattoos and flesh with Turbonegro, but they are also kind of tame if you ask me, and strangely nice to the audience. When I have had enough of the tattooed beer belly, I ascend to the dancin' room upstairs, which seems to hit the right spot, but by then I don't know what's going on any more. All this whirling from one room to another via the bar has taken its toll and now I'm spinning like a thing in the bowl under the whisk of Frost. Time to go home, if I can find my way out. Happy centenary, you crazy Norwegians.