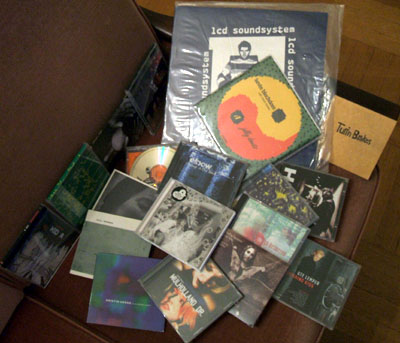 By Barry Kavanagh and Countess Maia Elena.
As usual at the end of a decade we are slightly taken aback by the retrospectives of the music of the previous ten years. 'Was it really like that?' we think to ourselves, pondering the crappy early gig by the crappy Libertines one of us had the misfortune to attend. But let us not dwell on the negative. Let us be more thoughtful. Here is a personal playlist covering the last ten years, based on music experienced first hand (first ear?). For each part of this three-part series 20 songs will be selected. Forgive us in advance. Barry being involved with a band (Dacianos) and a music venue (Sound of Mu) and other violations of normal life have obviously given us access to certain musical worlds, most particularly Norwegian stuff, so there are some obscure offerings and about a third of the musical selections will be Norwegian, but you can always ignore them if you're allergic. But don't ignore good stuff when it's good.

Selections 1-20.
Johnny Cash – I See A Darkness
(American III: Solitary Man, 2000)
Video: YouTube
Because of death and videos, American IV is in danger of being the Cash album that gets remembered, but the sombre tone that seems to be respected by everybody originated in this earlier, superior album. By number IV Cash and co were running out of ideas – there were a lot of guest singers and the songs weren't as imaginatively chosen. Number III is the peak. This is Cash at his best and this is a Will Oldham cover with the songwriter himself on backing vocals.
-CME
Dirty Three – I Offered It Up To The Stars & The Night Sky
(Whatever You Love You Are, 2000)
Preview on amazon.com
A thirteen-minute-and-41-second intense violin & roll epic. A blast of a climax and I have never stopped listening to it since it came out.
-BK
The Go-Betweens – When She Sang About Angels
(The Friends of Rachel Worth, 2000)
Listen on amazon.com
Reformation albums, although usually dire, can sometimes surprise (Songs for Drella, Love Songs for Patriots) and here the Go-Betweens reformed after 10 years apart, and 9 out of the 10 comeback songs were brilliant! The album begins with some of the haunting quality of Before Hollywood but I've chosen the album's closer, a song seemingly about Patti Smith, with a string section that kicks in when Robert Forster mutters 'alright'. I had a dream the Go-Betweens were playing in my living room, but there was no Grant McLennan. And I woke up and there wasn't.
-BK
PJ Harvey – You Said Something
(Stories From The City, Stories From The Sea, 2000)
Listen: Lastfm
Live video: YouTube.
Ah, a song about friendship. 'On a rooftop in Brooklyn, One in the morning… When you said something, That I've never forgotten, When you said something, That was really important.' I don't lament the absence of the usual PJ Harvey harsh guitar here, it's beautiful.
-CME
Kristin Hersh – Hate My Way (Acoustic)
(A Cleaner Light EP, 2000)
Listen on amazon.co.uk but you have to click on 'Cry Baby Cry' because the song's been misidentified.
Arresting live mid-80s video of the original TM version on YouTube.
Kristin Hersh once kindly emailed me the lyrics to this when someone was thinking of doing a cover. But most cover ideas get dropped. It's one of the best Throwing Muses songs, and here it was rendered anew in all its glorious intensity. I find this kind of thing heart-stopping, I find it difficult to breathe. 'I can no longer be still.'
-BK
Ute Lemper – Scope J
(Punishing Kiss, 2000)
Ute Lemper – Lullaby (By-by-by)
(Punishing Kiss – Japanese edition, 2000)
(Both also available on the Scott Walker box set, Scott Walker In 5 Easy Pieces, 2003)
Listen: amazon.com music sampler.
Created by Scott Walker, with Ute Lemper as his blindfolded vocal amanuensis (sort of), these are the best two songs of the last ten years. Lengthy, sensory-deprivation epics. Poetry coming out of the darkness or the too-bright snow. Murmurs. 'Lullaby (By-by-by)' is about assisted suicide and the sounds you hear as your body is dying. 'My sweet little darling… my comfort and joy…'
-BK
Two Lone Swordsmen – Machine Maid
(Tiny Reminders, 2000)
Listen: click on Tiny Reminders in the amazon.com Two Lone Swordsmen Store.
It's also in this mix.
Radiohead – the segue between Idioteque and Morning Bell
(Kid A, 2000)
Videos on YouTube: Idioteque and Morning Bell.
Backstage at a Two Lone Swordsmen show. I was talking to Andy Weatherall. Radiohead had just released Kid A, abandoning their epic Romeo and Juliet rock and now getting their inspiration from Warp records electronica, i.e. from the likes of the Swordsmen. I asked Andy what he thought of that and he said 'Don't speak to me about Radiohead! James Brown, brought up in the ghetto, comes along and sings I Feel Good…' and then he went on about Radiohead being white, middle class and miserable. But maybe he was overlooking all the dark as hell gangsta rap that's come out of (outta) the ghetto? Mary J. Blige was from the projects and My Life wasn't too cheerful either. So, I don't mind Radiohead's panicked angst so much. Then again, for me they conjure up mental images of a couple having an argument in a supermarket car-park… 'Machine Maid' is sublime techno and the first piece of music I listened to on a computer.
-CME
Speedy J – Borax or Manhasset
(A Shocking Hobby, 2000)
'Borax' is on his Myspace.
Video: 'Manhasset', YouTube.
Of course, the phrase 'intelligent techno' was always insulting, it implied that dancing was stupid, but it was great when a four to the floor stomper like Speedy J made an album for home listening. I'm not sure whether to pick the chaotic attack of 'Borax' or the piano phrase drifting in noise that is 'Manhasset'.
-BK
The Third Eye Foundation – Lost
(Little Lost Soul, 2000)
(Also available on Collected Works, 2006)
Video: YouTube.
I think Matt Elliott, in his Third Eye Foundation guise, was the electronic musician with the best and most interesting sounds. The most sonically interesting thing since My Bloody Valentine. This was dedicated to a dead cat, I should add.
-BK
Björk – Undo
(Vespertine, 2001)
Video: YouTube.
Björk made a self-consciously beautiful album with Vespertine, with music boxes and choirs, and all things that twinkle and shine… the best thing about that year, so let's not say too much about it.
-CME
Elbow – Any Day Now or Scattered Black And Whites
(Asleep In The Back, 2001)
Videos on YouTube: Any Day Now (official video) and Scattered Black and Whites (a still image).
I first came across Elbow at a 'showcase' gig, where they were doing an acoustic set. The layered build-ups of their regular musical output had to be verbally explained to me.
I don't know whether to pick 'Any Day Now', the chant-like groove, or 'Scattered Black and Whites', a slice-of-life song about family members and black & white photographs …I think my sister said this is her favourite contemporary band.
-CME
Kevin Blechdom with Adult Rodeo – Jelly Donuts
(7″ single, 2001)
I can't find the song online but here's the Myspace and here's some Youtube that should give you the general picture.
I saw her (yes, for those of you who don't know everything about electronic music, Kevin Blechdom is a woman, Kristin Erickson) perform at a music festival in a theatre. I think I was there as a 'music journalist'. She sang and played piano in time to chaotic electronics and pranced about in white overalls, and I thought she should have her own TV series. Years later I had the pleasure of organizing a concert for her and her collaborators Blevin Blectum and MaryClare Brzytwa at Sound of Mu. 'Did you know that I am hyperactive, did you know that I would eat your food?' she sings here (or is it '…eat your foot'?). While typing this I listened to this madcap song three times consecutively.
-BK
Rebekah Del Rio – Llorando (Crying)
(Mulholland Drive soundtrack, 2001)
Here's the scene from the film on YouTube.
Llo-ran-do! You'll remember this translated version of Roy Orbison's 'Crying' being performed in the David Lynch film. Silencio!
-CME
Turin Brakes – The Door
(The Optimist, 2001)
I can't find the original video, but they performed an acoustic version of it in a record shop in 2009, which can be seen on YouTube. Best I could do. Hmm.
I don't want to ignore the mainstream, and there was a time when many people, from all sorts of different countries, professed a liking for this band. I think it was playing in the car the time some friends and I accidentally visited a 'secret nuclear bunker'. Anyway, I like this particular song, even though I never, ever, 'panic at the quiet times'. Silencio!
-CME
LCD Soundsystem – Losing My Edge
(12″ single, 2002)
(Also on disc 2 of LCD Soundsystem, 2005)
Video: YouTube.
I saw them in a small club. This was the highlight. I bought the 12″ and started DJing it. People go crazy for the primitive beat and the furious buildup. Then there's James Murphy's Mark E. Smith-style vocals, first-person narrating from the point of view of someone who was 'there' at every cool development in music since 1968, but who is now losing his 'edge to the kids from France and from London'. It's still hilarious, or at least worth smiling to.
-BK
Now – Abominatrx
(Now CDR, 2002)
(Also released on the Smalltown America compilation Public Service Broadcast #4, 2004)
Video of the 2006 re-recording: YouTube.
I saw Now onstage the week I moved to London in 2002… Years followed of incessant gigging without releasing anything, but in recent times there's been more attention given to them, with a flurry of albums coming out on various indie labels, stuffed with mad pop gems: check out The Hepadaboo and Ooodipooomn. This track, on a CDR sold at gigs in 2002, was what converted everyone I know to Now. The casio… the samba breakdown… Later a clubbier version of it was recorded for their debut album Frisbee Hot Pot.
-BK
Salvatore – Easy
(Tempo, 2002)
The song can be heard on their Myspace.
The start of the Norwegian adventure. I've written about Salvatore's albums elsewhere. I made friends with them, moved to their city and they became the background to my entire life. They've split up now.
-BK
Maja Ratkje – Insomnia
(Voice, 2002)
Listen: amazon.co.uk.
I've written about this elsewhere. This noise, these distant sounds, this… whatever the hell… will never die! (And if you like that, you'll like this).
-BK