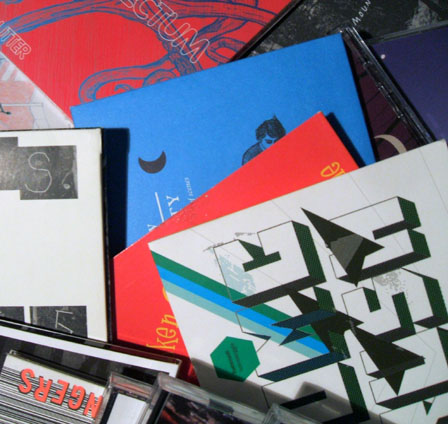 By Barry Kavanagh and Countess Maia Elena, with Horatius.
'Die 2000s, die!'
Okay, keep your hair on. This is the third and final part of my personal trawl through the music of the 2000s.
Selections 41-60.
Humcrush – Cyborg II
(Hornswoggle, 2006)
Myspace.
or
Phonophani – Lavenderloops
(Various artists 10″ box Until Human Voices Wake Us And We Drown, 2006)
(Originally released on Genetic Engineering, 2001)
Free mp3 download.
Two pieces of Norwegian electronic music released on the Rune Grammofon label. Which to choose for that great playlist in the sky depends on your taste. Humcrush do synth (synths came back in the 00s!) and drums, and Phonophani does electronics and live instruments. Phonophani has, yes, some really good loops here, and also to his credit he is half of the very good Alog. But Humcrush are better live than either of those and I'm reminded of a particularly mind-expanding live show. I met the organizer on the street and he put me on the guestlist. Thanks!
-CME
Si Schroeder – Lavendermist
(Coping Mechanisms, 2006)
Myspace.
Si Schroeder worked on these samples for years, even before they became songs. 'Lavendermist', referencing Jackson Pollock's fatal car crash, is most people's favourite from this album, and it contains a chiming sound that will forever remind me of the rehearsal room Si had in Dublin that had to be entered through a pottery workshop, which I, as a visitor, had to glide through in slow motion in order to not knock against anything.
-BK
Scott Walker – Clara
(The Drift, 2006)
Myspace.
Scott Walker (Noel Scott Engel) spoke of this as his return to narrative lyrics. The sleeve notes reveal that the starting point for this song was the ad hoc execution of Mussolini and his lover Clarette Petacci who chose to die with him. As a child, Engel had seen on a cinema newsreel Mussolini's and Petacci's dead bodies strung up. This is the song where the percussion involved someone punching meat.
-BK
Burgess, Ådin & Wingaard – The Luxborough Galley
(Doggerland, 2007)
There's music I would never have heard if I hadn't been involved with a music venue in Oslo, having bands come in and perform and leave their CDs. Richard Burgess is an English folk musician with brilliant original compositions, and on this album he's joined by Swedish folk musicians Ådin & Wingaard, creating a great hybrid of styles. 'The Luxborough Galley' is about a slaving ship that went on fire at sea in 1726. 'Divine retribution?' the sleeve notes ask.
-BK
The Fall – Theme From Sparta F.C. #2
(The Fall Box Set 1976-2007)
(Originally released as a CD single in 2004)
YouTube.
The song's from '04 but we want to stick it here chronologically to celebrate The Fall Box Set of '07 because only in the last decade has it been possible to release career-spanning compilations of material by The Fall, presumably due to the huge number of labels the 'group' has been on over the years. The box set was preceded three years before by the excellent 2-disc compilation 50,000 Fall Fans Can't Be Wrong. Always somewhere between an underground act and a British national treasure, The Fall rumble on with street level awareness while Mark E. Smith's contemporaries are cloistered in remote mansions of retirement.
-Horatius.
Girls Aloud – Black Jacks
(Tangled Up, 2007)
YouTube.
Marketing manager: 'Ok, we're doing very well with the audience who like all-singing, all-dancing barbie dolls but we believe there's a larger market out there for this music. We can expand the brand. The new album will have no ballads, no cover versions, and no pictures of the girls on the cover. We'll allow indie-pop blogs to post up mp3s' – and being outside the mainstream media, that's how I heard this group. And the music turned out to be far more sophisticated than expected. 'Black Jacks' has a guitar-laden refrain, but there's no verse as such, just other 'parts'. It goes: part 1 – chorous – part 2 – chorous – part 3 – chorous. What's that? Mainstream commercial pop? Really? And every single part is catchy pop music, connecting effortlessly. And the lyrics: 'black jacks are running down my back'. What are black jacks? How do they run down backs? What the hell is going on?
-CME
Marie-Josée Houle – Three Red Beads
(Our Lady Of Broken Souls, 2007)
Myspace.
Further to what I just wrote about Burgess, Ådin & Wingaard, this Marie-Josée Houle, a bilingual Canadian accordionist/singer with a feline smile, also played in our small club. Hmm, and probably at every restaurant opening and shady wedding in the world. 'Three Red Beads' seems to be about, well, to quote: 'It was you, her and a woman, I don't recognize and don't wanna see, but when I look at her image, she looks a lot like me'. Cue brush drums to sweep up the mess.
-BK
Konono No.1 – A.E.I.O.U.
(Live at Couleur Café, 2007)
Video: not the same song, but great footage of the band & instruments.
If I had forgotten this one I would've woken up in the middle of the night screaming 'Noooooooooo!' This band from the Democratic Republic of the Congo became popular in Europe for doing exactly what every poor musician in Europe should be doing: making instruments out of scrap metal and having street parties. Yay, DIY!
-BK
Morning Bride – Stepping Out In Front Of Cars
(Lea Valley Delta Blues, 2007)
Myspace.
Hackney's finest. London-based, melodic americana sung by an actual American. One time I organized a gig for them when I should have been, as Mark from the Bride put it, 'in bed with a bottle of whiskey', and they played this sad, sad song. The bastards.
-BK
Marissa Nadler – Diamond Heart
(Songs III: Bird On The Water, 2007)
Myspace.
I don't like this recent 'dark folk' movement in the States, I think it's just derivative of Current 93. Marissa Nadler has often been lumped in with that lot, although she's also been labelled 'dream-folk', whatever that may be. I gave her a place to stay for some days when her tour ran aground in Oslo, and had the opportunity to listen to her music carefully. I'm quite convinced by her songs, often sung from the perspective of dead or fictitious people, delivered through her trademark reverb. She sings more like an ancient spirit than a young woman. Much more like an ancient spirit.
-BK
The New Pornographers – Adventures In Solitude
(Challengers, 2007)
YouTube.
There was no indication that a band making indie 'power-pop' albums like Electric Version would go on to make an album as mature, consistent and musically sublime as Challengers. I heard them doing this song acoustically for a radio station, then heard the string-laden album version and was swept away. Carl Newman thinks this is the album with the least Beach Boys influence, but this is actually much closer to the deeper feeling that underlies that kind of broken pop.
-CME
Origami Arktika – Anne Sit Heime
(Trollebotn, 2007)
Video: not the song, but 'interesting' rehearsal footage.
Emerging from the noise scene with Africa-tinged semi-acoustic drones, with old Norwegian folk lyrics sung over the top, this is a very special band, and something of a live spectacle, with singer Rune Flaten stripping trees, or smashing and burning things, all the time with a mic in his hand to record the damage. I'd whittled down my choice of Arktika songs to two, when I encountered Rune, who was dressed like a 30s private detective, secreted away in the corner of a darkened bar. 'I prefer Anne,' he said.
-BK
Trulsandthetrees – Upside Journey
(Ailanthus, 2007)
Myspace.
I don't think I've ever heard this song while sober. Even listening to it now, I am not… entirely. This was the unexpected falsetto epic indie-pop commercial success from the anti-commerical Metronomicon Audio collective (which includes Hanny, Now We've Got Members, Center of the Universe and Ergo). Barry had the opportunity to book their first-ever gig but it didn't work out. Oh well. One time a girl said to him, 'The next time we meet we have to discuss the Truls and the Trees album.' Then he happened to bump into Truls and said 'I need a copy of your album! Now!' and he gave him one. Later he lent him a plectrum for a TV performance. He even gave it back. Are these stories true?
-CME
Blevin Blectum – Cygnet
(Gular Flutter, 2008)
Video on YouTube.
Blevin Blectum's performances of chaotic electronica are multi-media affairs and in that spirit, her CDs include video tracks. It seems odd hearing this with piece without the accompanying video by Jesse Clark. However, it sounds darkly unstoppable, like an all-powerful psychic snake. I've organized shows for Blevin (real name Bevin) and enjoyed her Sapphire and Steel samples and conversation about H.P. Lovecraft.
-BK
Hanny – Dune
(Sceneity, 2008)
Preview.
I'm picking this because I played piano on it! The musicians could arrange their own parts, but all the time we knew Marie Kvamme's songs are very unique and precious things. Every note and every chord change was thought through and worked on, and her songs may play their few minutes and end, but they could be 4-hour symphonies. Whether or not there is more to come is a mystery.
-BK
Bat for Lashes – Siren Song
(Two Suns, 2009)
YouTube.
One strident chord! 'Stars are exploding'! The drums coming in after four minutes! This song for me is the climax of the album.
-BK
A very grand album that has gained mainstream cred without being guitar-based rock. And unlike all the artists that lazy journalists compare Natasha Khan to, she is a pop original, inviting us into a unique and detailed fantasy world of her own making.
-CME
Children And Corpse Playing In The Streets – New Bike
(Honey, I'm Home!, 2009)
Video: I've been shown a snippet of an animated video for this but I wonder if it was completed? Instead here's live video: I was at this windswept concert (that box of noise is intentional).
DIY pop with textures of noise, at times even sounding like it's touched by the hand of Antônio Carlos Jobim. Within Norway I've declared that Inga-Lill Farstad is a genius. I mean, you've got to defend what you like. Marit Harnes's songs are great too. The melodies are there, the lyrics are there, the – my God how brilliant – arrangements are there. If they were on a label that could promote them internationally (which they aren't) they'd be bona fide pop stars. As I have not been wrong about that kind of thing before, I consider them bona fide pop stars right now.
-BK
Dälek – Los Macheteros / Spear Of A Nation
(Gutter Tactics, 2009)
Preview.
Perhaps in retrospect this will have been the most important group of the decade. What better task is there than to re-invent hip-hop? The musical form has become sterile, using a very limited range of styles and sound sources, but in bursts Dälek with a love of noise and weirdness. It's hard to pick something from Gutter Tactics.
-BK
Someone once said you can always judge an album from track number 7.
-CME
Mark Eitzel – I Miss You
(Klamath, 2009)
Preview.
I should never not listen to Mark Eitzel. 'Bitterness poisons the soul', he sang earlier in the decade, and I need songs like this to remind me to care. 'I miss you, your heart was warm' he sings here, and yes, you should always miss someone, or appreciate someone, for that reason. A warm heart can get trampled into the earth that it's not going to inherit. Maybe music's true mission is compassion.
-BK
Ergo – Different Arms
(Mountaineering, 2009)
Myspace.
Produced by Jon Platou Selvig aka Easyfinger, Marius Ergo is something more than a young man with folk guitar. The songs are framed by background sound, organ, kalimba, tenor sax, violin, a river, and 'convolution'. Being known as a 'writer', I was asked to scribble a press release for this album, and I reproduce it here because although I don't know for sure, I can't imagine the record company, being sane, would have used it.
-BK

I had to meet Ergo, find out what he's like and what he's all about, in order to write this press release for his first full-length album Mountaineering. But what this actually involved was unexpected and… complex.
'So you're the press agent for the Ergo album?' the receptionist asked me at the record company offices.
'Yes.'
My answer was met with a laugh and 'Good luck!' and then the office chair swivelled back towards the computer screen, indicating that the conversation was definitely over.
Metronomicon Audio, the record label, told me I'd have to go to Ergo's home 'in the mountains' to talk to him. They appointed two people to guide me there. Because the subsequent events were so confusing, I don't think I should reveal the names of my two companions. One was a young man, the other an elderly lady. Neither looked like urbane, sophisticated record industry types. 'I've been to the lake up there,' said the woman. 'I swam there, about forty years ago. It was summer, and the water was so warm, it was beautiful.'
Our hike through Norwegian forests and mountains took us a couple of days. On the first night, we pitched a tent in the woods. I slept serenely, and did not hear the young man leave during the night. He left us a note: 'Forget it.' The old woman shrugged.
Later that day we emerged from the dappled light of the forest into the open, and hiked up the mountain to the small lake. I breathed in the pure air. We sat down at the water's edge and the woman said 'Ergo will find us here.'
'Where does he live?' I asked. 'I don't see any buildings.'
But he was there, standing beside us, so tall. I tried to focus on his face but then he seemed to disappear. But he was still there… It was like sheet lightning, like he was appearing and disappearing in flashes, like he existed in 'sheets' of light, or was being 'projected' from somewhere else onto this landscape. Sound reverberated around the mountain walls that surrounded the lake. I couldn't tell where it was coming from, but I recognized it as music from the album.
I knelt down. The music played. The old woman removed her clothes and dove into the lake. Ergo seemed to smile.
When the music stopped, he was gone, if he'd ever been there. Then the only sound was her, stroking the water.
Jæ – That I Shouldn't Have
(The Forming Of The Shaping EP, 2009)
Myspace.
or
Sacred Harp – Elevator Endløs
(Sacred Harp EP, 2009)
Myspace.
Exceeding the 60-song limit, there is still good stuff coming out and I want to throw in these new releases. Jessica Sligter is a Dutch singer with an incredible voice (start at Billie Holiday and turn left) and with a highly artistic conception of musical arrangements, and she has her solo piano-song identity (under the names Jessica and JAE), her strange improvised music identity (as half the duo The Story Of Modern Farming) and now a new 'rock' identity with her band Sacred Harp. So I have a choice of two songs here. I can either hear her voice exposed, or hear it battle against immense guitars.
-BK
Photo emailed to me by Sacred Harp.
Masselys – Better & Better
(Freak In The Mirror 12″, 2009)
Myspace.
#62. It reads like some kind of musical spaghetti junction: the three constant members of Salvatore continue under the name Masselys, with Jonas from 120 Days, plus a wild spirit vocalist called P.A., and the 12″ is recorded by Einstürzende Neubauten's producer Boris Wilsdorf, mixed by Anthony from Je Suis Animal, and includes a remix from Mesak, one of the leading lights of the Skweee movement. The result is like a live band playing disco inside a giant washing machine.
-BK
And that's the end of that music decade. I hope this has encouraged you to delete all your files and get prepared for the new.