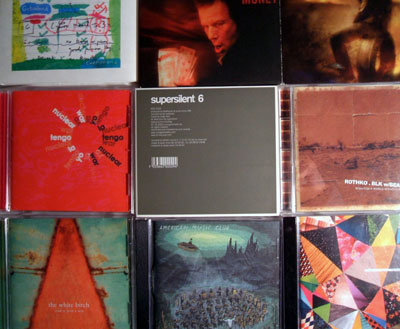 By Barry Kavanagh and Countess Maia Elena.
A personal journey through the music of the 2000s continues. Presenting part two of the informative, whimsical playlist that temporarily turns back the clock and turns on the sound. Something to listen to before commencing that long-planned retirement from hearing anything at all ever again. Silence will rule in 2010 – and the concept of decades will be gone by 2019.

Selections 21-40.
Stereo Total – Musique Automatique
(Musique Automatique, 2002)
Video (the first minute is just meant to confuse you).
I'd look really stupid if I forgot this one. Should have been number one. For a year.
-CME
Tom Waits – Alice (Alice, 2002) or Everything Goes To Hell (Blood Money, 2002)
'Alice' on YouTube and a weird representation of 'Everything Goes To Hell' on YouTube and Waits interviewed at the time of the two albums about being popular at the dump and 'Children seem to like me as a driver, I have a lot of room in the car and I take turns really fast.'
Rumours abounded for many years about Tom Waits' lost album. He had written all the music for Robert Wilson's stage version of Alice in Wonderland but had never recorded it. But when Waits came to do his next collaboration with Wilson, Woycek, he recorded music for both. Alice's title track is as beautiful a piano song as I imagined it would be. But maybe it would be unfair to Waits to pick a song he wrote in the 90s, and we should instead pick the bongos & timpani 'Everything Goes To Hell' from Blood Money?
-CME
Blood Money is the music for Woycek, which I saw performed at the Barbican one memorable evening.
-BK
The White Birch – Breathe
(Star Is Just A Sun, 2002)
YouTube.
I have written about this elsewhere.
-BK
Yo La Tengo – Nuclear War version 2
(Nuclear War EP, 2002)
The sound file seems to be here. Preview here – remember it's version 2.
-BK
Sun Ra cover with a chorous of children singing:
'It's a motherfucker,
don't you know.
If they push that button,
your ass gotta go.'
Rothko and BLK w/Bear – Treasure Of Memories
(Wish For A World Without Hurt, 2003)
I think those of you with iTunes can listen to it here. Amazon preview here.
With Rothko you always get the bass guitar as the lead melodic instrument and it's always beautiful and I was lucky/happy to see them live a few times during this period. Wish For A World Without Hurt was 'in remembrance of the events of 11 sept 2001'.
-BK
Supersilent – 6.6
(Supersilent 6, 2003)
'6.2' is online but not '6.6'.
I have written about this elsewhere.
-BK
Robert Wyatt – Forest
(Cuckooland, 2003)
YouTube.
A mysterious song about Gypsies and Roma, with Brian Eno and others singing a chorous of 'Tall trees grow, though the winds blow cold, tall trees grow'. The sleeve notes state: 'Lety a WW2 extermination camp for Gypsies in the Czech Republic. The site is now a pig farm. There are no memorials to the dead.'
-BK
American Music Club – Patriot's Heart
(Love Songs For Patriots, 2004)
'Unsolicited' music video.
In the midst of American war fever, AMC unexpectedly reformed after 10 years and Eitzel, like this great passionate force, emerged from a gay bar and sang to the USA 'If you wanna see something patriotric, there's a stripper, he don't look that good but he's got all all-American smile…' and the song seems to never stop, as the description builds and builds of the stripper 'fading with the dawn' who 'gives more than he's given', the lonely men in the bar, 'the worm that crawls in the patriot's heart', and those who sell embraces 'like Mr President'.
-BK
Now We've Got Members – We Rip Scarlet Pages Right Down From The Sun
(Tiny Disasters On/Off, 2004)
Lastfm.
I have written about this elsewhere.
-BK
Rollers/Sparkers – Signal Burning
(Second Level Crossing, 2004)
Preview.
I have written about Dublin's Rollers/Sparkers elsewhere.
-BK
Susanna And The Magical Orchestra – Believer
(List Of Lights And Buoys, 2004)
YouTube.
I have written about this duo elsewhere. I saw them perform in a small art gallery in Hoxton in London in late 2003, the same time and place I first saw Maja Ratkje. I was enthusiastic about Susanna's kind of de-arranged pop music from the start, and now it seems she's become a bona fide pop star, hailed by the likes of Paul Morley and the Observer.
-BK
Thomas Truax – Inside The Internet
(Homesleep 9 single, 2004)
Animation.
I am still amused by this piece of cartoon americana about this strange thing called the internet. Truax is still out there touring his one-man band of homemade instruments like 'the Hornicator' and 'Sister Spinster'.
-BK
Nils Økland – Grålys
(Bris, 2004)
Preview.
I have written about this elsewhere.
-BK
Hang Gai Band – Flower
(Hang Gai Band CDR, 2005)
'Flowers' live at Europalia 2009.
One time as a 'music journalist' I was at a festival and met some Chinese people who were representing independent record labels in Beijing. One of the CDs put into my hand was this folk music. Shortly afterwards, I was DJing 'Flower' from said CD (at a Jarboe gig, the way I remember it) and this girl comes up to me asking what I was playing and where she can buy it. Obviously I couldn't name a shop this side of the Himalayas that would have it, so I copied the CD for her. I met her another time and she said she'd played the CD to a Chinese friend who said it was too weird to be Chinese folk music. Life being full of coincidences, (a) I later went into business with this Chinese friend, and (b) in Oslo I met Chinese musicians from the same Beijing scene, who revealed to me that Hang Gai Band are in fact playing Mongolian folk music, dealing with issues of being ethnically Mongolian within China. Nowadays they are doing quite well, releasing the album Introducing Hanggai internationally in 2008. 'Flowers' on that album (and in the live footage I've linked above) is the same song as 'Flower' from the 2005 CDR but a very different recording. And on that CDR the band name is rendered 'Hang Gai Band' but now it's apparently 'Hanggai Band'.
-BK
In The Country – In My Time Of Need
(This Was The Pace Of My Heartbeat, 2005)
Preview.
I have friends who like Ryan Adams, but I really don't go for that kind of thing at all. But I do like this, an instrumental jazz piano cover of one of his songs. Here's a nice review of the In The Country album from those heady days of May '05.
-CME
Unni Løvlid – O at skue
(Vita, 2005)
The song is on her Myspace.
I have written about this elsewhere.
-BK
Solveig Slettahjell Slow Motion Quintet – Hope Is The Thing With Feathers
(Pixiedust, 2005)
Preview.
I have written about this elsewhere. I was covering the Oslo Jazz Festival as a 'music journalist' and my contact in the hotel put a CD of Pixiedust into my hands and said 'Now. This is the queen of the festival', meaning Ms Slettahjell. I wasn't too sure, looking at the smiling pop-star like sleeve, but when I went to the concert and heard the music I realized it was 100 times more sophisticated than the CD cover. Anyone who can blend Emily Dickinson's poetry and jazz beautifully and convincingly is wonderful.
-BK
Sufjan Stevens – The Man of Metropolis Steals Our Hearts or John Wayne Gacy, Jr. or pick one yourself
(Illinoise, 2005)
'John Wayne Gacy, Jr.' has a video while 'The Man of Metropolis Steals Our Hearts plays to a still image.
Hmm, what does this have to do with my personal journey? Well, an indie DJing tip I learned is that the first chord of 'Emperor Tomato Ketchup' by Stereolab follows the last chord of 'The Man of Metropolis Steals Our Hearts' perfectly! Instant success, if that happens to be your job. Illinoise is Andy Gill's favourite album, while someone else's reaction to it is: 'Whatever'. The serial killer song is unbearably sad.
-CME
Center Of The Universe – Parabel #3
(Anachronisma, 2006)
Lastfm – free download!
I'd like to pick one of COU's electronic songs but I can't, I have to choose this folky number because it's just so… happy.
-BK
Matt Elliott – Chains / The Seance
(Failing Songs, 2006)
'Chains' live in 2007 – but it doesn't go into the instrumental 'The Seance'.
After The Third Eye Foundation, Matt Elliott started making folk music. An electronic musician going acoustic sounds like a recipe for disaster but this is no hippy singer-songwriter, this is a strong dose of top quality European folk and Elliott sings about the modern situation, in which 'We're free to buy what we're sold'. Failing Songs was 'dedicated to the memory of Jean Charles de Menezes and all innocent victims of the 'war on terror".
-BK
Next: the final selections, numbers 41-60.
Previous: part one.