The Irish Charr Conservation group reckon that they've found a strange creature in a Co. Kerry lake…

Update 9th January 2004
From the Irish Charr Conservation Group:
Lough Ree may have been the first lake in Ireland to claim it's own prehistoric monster like that of Loch Ness in Scotland. However Muckross lake in Killarney, Co. Kerry is turning up a mystery of its own and it is no swimming leprechaun. Recent scientific evidence indicates that very large and mysterious 'thing' lurks beneath the tranquil surface of Muckross lake. Although the jury is out on what exactly this strange USO or unidentified swimming object might be, parallels are already being drawn with the famous Loch Ness Monster.
More, including the echo sounder readouts »
On the contrary, there's been strange beats recorded in Irish inland waters for as long as there's been someone writing stuff down. There's hardly a lake in the country that doesn't claim a monster for itself. Fionn McCool, the legendary leader of the Fianna, was apparently responsible for smiting monsters all over the place:
From Irish Druids And Old Irish Religions
by James Bonwick:
The legends still floating about among the peasantry of the country parts of Ireland have frequent reference to the Piastra, Piastha, Worm, or Serpent This creature is always in some lake, or deep pond. The Fenian heroes are recorded in ancient songs to have killed many of them. Fionn, in particular, was the traditional dragon-killer of, Ireland. Of one monster in a lake, it said:–

"It resembled a great mound–
Its jaws were yawning wide;
There might lie concealed, though great its fury,
A hundred champions in its eye-pits.
Taller in height than eight men,
Was its tail, which was erect above its back;
Thicker was the most slender part of its tail,
Than the forest oak which was sunk by the flood."

Fionn was inquisitive as to the country from which the reptile had come, and what was the occasion of the visit to Erin. He was answered–

"From Greece, to demand battle from the Fenians."

It seems that it had already swallowed up a number of Fenian warriors, and finished by gulping down Fionn; but the Hero cleverly opened the side of the Piast, and released himself and the imprisoned men, and then killed it. After this the poet added–

"Of all the Piasts that fell by Fionn,
The number never can be told."

Fionn elsewhere figures in The Chase of Sliabh Guilleann, being after one in Lough Cuan.

"We found a serpent in that lake.
His being there was no gain to us;
On looking at it as we approached,
Its head was larger than a hill.
Larger than any tree in the forest,
Were its tusks of the ugliest shape;
Wider than the portals of a city
Were the ears of the serpent as we approached."

He destroyed serpents in Lough Cuilinn, Lough Neagh, Lough Rea, as well as the blue serpent of Eirne, and one at Howth. He killed two at Glen Inny, one in the murmuring Bann, another at Lough Carra, and beheaded a fearful creature which cast fire at him from Lough Leary.

"Fionn banished from the Raths
Each serpent he went to meet."

Another poet left this version–

"A serpent there was in the Lough of the mountain,
Which caused the slaughter of the Fianna;
Twenty hundred or more
It put to death in one day."

It demanded a ration of fifty horses a day for meals.

More from this book »
Buy Irish Druids And Old Irish Religions from amazon.co.uk

18th August 2003
The 9pm news on Ireland's RTE 1 TV station, this evening covered a story concerning the findings of The Irish Char Conservation Group, the char being a fish which can be found in the three Lakes of Killarney – Upper Lake, Muckross Lake and Lough Leane. The lakes are all connected at 'The Meeting of the Waters' and are up to 75m (250ft) in depth.
Read about the Lakes of Killarney
The RTE piece didn't go into much detail… but simply said that the a large 'snake-like' object – 27ft (8.2m) long had been detected, deep down in the lake. Mind you, this was back in April, but the story has – for reasons unknown – only surfaced now. The researchers seem to have referred to it as a 'deep lurking thing', while locally, it's become known as Mucky – after Muckross Lake. The piece had a few comments from a few visitors and locals, and a word from Paddy O'Sullivan of Killarney National Park, who seemed all for the monster's existence, while expressing a few doubts.
That's pretty good going for a creature that hasn't actually been sighted yet. I'm inclined to have my doubts too. When I was on that crazed GUST 'expedition on Norway's Lake Seljord, there were a lot of readings of long, snake-like objects appearing on the sonar and echo sounder. What people may fail to realise is that these readings are not literal images of serpentine objects, but, as I understand it, 2-dimensional approximations based on density.
What RTE failed to mention, however, is that this was not the lake monster sighting claimed in the Lakes of Killarney.
Back in the dark old 80s, Doc Shiels – a fortean writer, researcher and eminent hoaxer, allegedly had a photo of the 'Lough Leane Monster' sent to him by one Pat Kelly.
The following excerpt and photograph are taken from Mystery Animals of Britain and Ireland by Graham J. McEwan:
Note regarding photograph of monster in Lough Leane, County Kerry, taken by Pat Kelly in August 1981
So far as I know, this photograph has not been published before. It was sent to Anthony Shiels, who, with the author has some reservations about this photograph. It certainly bears a great likeness to the Mary F. pictures of Morgawr, but, it could be pointed out, also resembles the descriptions of two humped creatures seen in Loughs Fadda, Mask, Nahooin and Bran.
Kelly asserts that he is a direct descendant of Edward Kelly, assistant to the Elizabethan necromancer Dr Dee, and claims himself to have psychic powers. His father (Laurence O'Talbot Kelly) was acquainted with Aleister Crowley and claimed that the latter, whilst at Boleskine House, actually succeeded in his attempts to raise the monster from Loch Ness early in the century.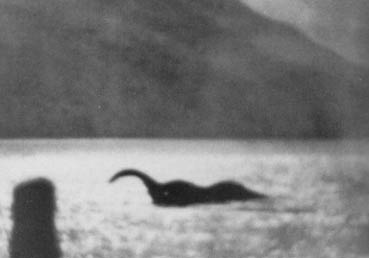 Anyone with a passing interest in occult history could see how Doc set up this one – Irishman Edward Kelly was a known hoaxer – and ears cut off in Prague for practicing forgery, and is thought to have hoodwinked Dr Dee into believing that he, Kelly, was communication with Angels. And 'Laurence Talbot' was the character played by Lon Chaney Jr in the 1940s movies… a character who turned into Wolfman. And Doc himself had attempted to raise a beastie from Lough Leane in 1980. And the photograph bears a remarkable resemblance to other pictures also 'given' to Doc, which purported to show the Falmouth Bay Monster, aka Morgawr, in 1976.
So, any Blather readers down in Kerry?
Visit Irish Lake Monsters.com »