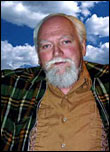 If I was to name two writers who have inspired me to keep blather.net running over the last nine and a half years, it's been Flann O'Brien, and Robert Anton Wilson. For the last decade or so that I've been reading them, Wilson's books have awed and inspired me. They've also made me guffaw with a deep belly laugh that few other writers have drawn from me. now, Bob, or as he's also known, RAW, needs our help.

They say (who the fuck are they?) that you should never meet your heroes, as you'll only be disappointed. I've met the man called Robert Anton Wilson twice, and had a whale of a time. He's one of the funniest and most gentle people I've ever had the chance to encounter. Mind you, Bob seems to have been reading blather.net for a long time, before I knew that he knew that I – or blather.net – existed. It may be worth noting, that he's also a fan of Flann O'Brien.
Doug Rushkoff tells us on his blog, " Robert Anton Wilson will one day be remembered alongside such literary philosophers as Aldous Huxley and James Joyce". People who've heard of Bob will know him from his most popular books – like The Illuminatus Trilogy, Cosmic Trigger or maybe the Schrodinger's Cat Trilogy.
For me, Bob Wilson is even more than the writer of such wonderful, surreal books. His lesser known works take the reader forays into psychology and philosophy, quantum physics, literature, politics, comedy and semantics – skipping lightly over traditional divisions of discipline. No one, I mean, no one, that I've met or studied has anything like his awareness of language, with the exceptions, of possibly, James Joyce, of whom Bob is a big fan, or Alfred Korzybski, founder of the concept of general semantics. Yet, Bob appears to defy those of us lazy enough to pigeonhole him. Instead of vanishing into the role of a dry scholar or reclusive writer – Bob displays ownership of the most free-spirited, good-humoured intellect I've ever had the honour of encountering. He's as happy writing about politics as he is about sex, drugs or of gaining control of your own consciousness. And yes, he did fucking inhale.
He's even taking his impending death with grace and dry humour. And that's why I'm writing this. Robert Anton Wilson needs our help.
Bob is confined to his bed, due to extreme physical infirmity (of course his brain is as sharp as ever!). His depleted finances have planted him in the precarious and probably embarrassing position of needing help from friends and fans to help pay his rent.
His friend, Denis Berry writes:
"Sadly, we have to report that wizard-author-intelligence increase agent is in trouble with his life, home and his finances. Robert is dying at his home from post polio syndrome. He has enough money for next months rent and after that, will be unable to pay. He cannot walk, has a hard time talking and swallowing, is extremely frail and needs full time care that is being provided by several friends-fans-volunteers and family. We appeal to you to help financially for the next few months to let him die at his home in peace"
I don't look on Robert Anton Wilson as a guru, or a teacher. He's not a man to be followed, and eschews fandom. He's always been more interested in showing people the tools for change – how to have fun with your own head. He certainly showed me how to fun with mine, and I owe the man.
Any donations can be made to Bob directly to the Paypal account olgaceline@gmail.com.
You can also send a check payable to Robert Anton Wilson to
Dennis Berry c/o Futique Trust
P.O. Box 3561
Santa Cruz, CA 95063.
"Believe nothing, no matter where you read it, or who said it, no matter if I have said it, unless it agrees with your own reason and your own common sense."
– Gotama Buddha
(quoted in Bob's book, Email to the Universe)
UPDATE:

"We don't have a lot of money, but we do have a printing press, so we're printing up these shirts for anyone who wants one and donating the proceeds ($10/shirt) to RAW." Read more »
UPDATE 4/10/2006:
From Denis, who is managing Bob's care:
Just went to your boing boing site. Wowie Zowie Batman! What an amazing job you're doing with everything. Anyway, this morning Bob's daughter showed up at his house in tears because she had checked his PayPal account and found money for next month's rent plus more. Bob called me to say that he couldn't believe people would care so much about him and as we talked (which isn't easy for him at this point) he was overcome with emotion more than once. He is so touched and RELIEVED at the possibility of staying in his home. He kept repeating to me his deep felt appreciation and disbelief that people would care so much about him. What a humble and sweet man.

I know many of you donated more money than you could afford, but you did it because you knew how much of a difference this would make for him. Thank you so much for helping him.
From Mark on Boingboing.net »
UPDATE October 6th RAW Bedside Update
Donations have poured in since friends of Bob Wilson got the word out that he could use some help with steep healthcare costs (Donation link above). Thank you so much for your generosity! Bob requires 24 hour care and this kindly swarm of donations has enabled Bob to receive the care he (and everyone!) deserves.
Bob is not one for the begging bowl. He would rather that fans wishing to help out simply buy his wares. But his friends, understanding the potential financial strain of Bob's needs, set up the Friends of Robert Anton Wilson relief fund, and your response has been astounding. Bob "is" presently cheerful, without pain and ceaselessly optimistic.
Here's a quick history of Robert Anton Wilson's scenario. Bob has post-polio syndrome which has severely damaged his legs and weakened his body. He had a hard fall in June of this year which landed him in the hospital. He has since not been able to walk and is thus confined to his bed (overlooking beautiful Monterey Bay fnord), requiring 24 hour care. Due to Bob's acute weakness in June and July, many of his family and friends felt that Bob could go at any time. He has since rallied slowly with up's and down's, and like most things, his condition seems in the maybe state. Bob has no pain, has a hearty appetite, is in steady good, sharp humor, is surrounded by family and friends, and feels he shows signs of slow recovery. Praise Bob! All hail Eris!
From rawilson.com »
From boingboing.net:
On behalf of my Dad, RAW (Bob), I want to throw my arms around you "like a circle 'round the sun!" for your loving graciousness in posting Bob's need on your site. As of about 5 minutes ago, over $68,000 has come in. We are all overjoyed as it now means that we can continue to celebrate this phase of his life in the comfort of his own home, with all the care he needs, until his passing, honored by the loving support of so, so many wondrous folks. Just last week I was sick with heartache as we were faced with giving his notice and now, the world has simply and completely – transformed. Last night, he dictated a note that he wanted me to forward to you – below is the text. He is very weak, cannot sit up or eat on his own, and as he struggled with a whispery voice to express his gratitude, he broke into tears several times. How my heart swelled as I gazed at this man who has been both one of the most frustrating – and incredible – beings I have ever known. I would not be who I am today, had I not grown up with him. Much love, Christina Pearson
BOB'S NOTE:
Dear Friends, my God, what can I say. I am dumbfounded, flabbergasted, and totally stunned by the charity and compassion that has poured in here the last three days.
To steal from Jack Benny, "I do not deserve this, but I also have severe leg problems and I don't deserve them either."
Because he was a kind man as well as a funny one, Benny was beloved. I find it hard to believe that I am equally beloved and especially that I deserve such love.
Whoever you are, wherever you are, know that my love is with you.
You have all reminded me that despite George W. Bush and all his cohorts, there is still a lot of beautiful kindness in the world.
Blessings.
Robert Anton Wilson
Watch RAW

Links:
Robert Anton Wilson website »
Wikipedia: Robert Anton Wilson »
Cosmic Trigger: Preface to the Falcon Press Edition, 1986»
CSICON: Committee for Surrealist Investigation of Claims of the Normal»
The Horror on Howth Hill »
The Illuminatus Trilogy »
Quantum Psychology »
Boingboing.net: Robert Anton Wilson needs our help »
Douglas Rushkoff: Robert Anton Wilson Needs Our Help »
Blather Forum, posted by Wage Slave 0001: R.A.W. Really sad news »