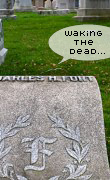 You just can't keep us out of graveyards here on blather.net. This season sees us dashing around the New World, inquiring into the whereabouts of the corpse of that irascible iconoclast, Charles Hoy Fort, father of fortean studies and teleportation.
It's 11am on the 29th day of April and I'm surrounded by dead people. I can't see any of them. The year, 2007, Gregorian, 5767 Hebrew, 1428 Islamic, 1386 Persian. In the Julian calendar it's 13 days earlier… sort of. In any case, it's heading for midday, Eastern Standard Time, if you believe in that kind of thing.

It's a Sunday morning, according to the ancient Egyptians. 'Sies Solis, Dimanche, Sonntag, Dé Domhnaigh, the Christian Sabbath. I'm sitting the passenger seat of a rented automobile, careening around the backroads of Albany Rural Cemetery, in upstate New York, or, if you like, the New Netherlands. The Dutch village of Beverwyck became Alba(ny) – the Gaelic name for Scotland.
The weather today – overcast, possible showers of frogs, fish, blood. The white snow is only two weeks gone, the foliage subdued compared to Ireland.
I'm not quite with it today, thanks to abstract wrench that is air travel. Spat from a metal tube into a field in Brooklyn less than 48 hours earlier, I'm unsure whether I've slept too late and too much or too little, too early. The rough coffee from a suburban diner sitting in my gut isn't doing any good yet.
Heather's at the wheel. She's fully awake, and up to the challenge of tracking our quarry – the final corporeal resting place of one Charles Hoy Fort.
I've written lots about Charles Fort before, so while this isn't the place to tell his full story, I can give you a clue. Fort was an iconoclastic writer and satirist, born in Albany. He spent most of his life in New York City and London. Jerome Clark described Fort's writing style as a "distinctive blend of mocking humor, penetrating insight, and calculated outrageousness" – which I'd have to concur with. Fort questioned – well tore strips out of, actually – the dogma of the establishment and the self-assured rationalism of so-called intelligentsia and scientists. Fort spent years studying in the libraries of London and New York, collecting thousands of notes on strange phenomena that lay beyond the commonly accepted scientific theories and belief structures of early 20th century Western culture.
"Many of the paranormal symbols that we accept today were injected into popular culture by proponents of Fort – fish falls, rains of blood, bleeding statues, and damn it, UFOs, as well as ghosts, astronomy, stigmata, the madness of crowds, panics and hysterias, anomalous animals."
"Fort realized what he was doing – I am a pioneer of a new kind of writing that instead of heroes and villains will have floods and bugs and stars and earthquakes for its characters and motifs.' More »"
So, nearly two weeks ago, we found ourselves in Albany. I couldn't face forgoing a chance to find Fort's grave – as I'd already tracked down his house in London. That's why we were driving around Albany Rural Cemetery on a Sunday morning.
We were looking for Lot 8, Section 28 – information I'd gleaned from findagrave.com. At the cemetery gates I had consulted the map – and read it completely arseways, sending us off looking for the number 8 area on the map, where we'd find section 28 – but not Fort's Grave. Heather – having navigated her country's cemeteries before, knew better, but we took tour around the undulations and laneways, admiring the restrained Victorian stonework. I say restrained, because the monuments lacked the excessive decoration of London's Highgate Cemetery or Pere Lachaise in Paris.
Wandering back from the hundreds towards the twenties, we spot a sign for Section 27. Heather swings the car left into a laneway. Where is 28? Where is Fort?
"There!", shouts Heather, hitting the brakes.
"What? Where?"
A monolith stands to our left with the word "FORT" carved in relief. Below it, the name, "Charles H. Fort"
I'm out of the car, camera bag slung over my shoulder. I'm all business, trying to expose the picture so that the headstone is trapped between the lush spring grass and the moody grey sky. Removing the wide angle lens, I stick on a standard, to grab the detail:
Charles H. Fort, 1834 – 1905
His Wife
Julia A. Dennis
And the epitaph, "Until the day break."
Wait a minute… Fort didn't publish the Book of the Damned until 1919 – it would be fare too anomalous, even for him, to have gone on publishing after his death. And hang on… wasn't his wife's name Anna? And Fort's more quotable than that Victorian muck.
I stumble back towards the car. Heather takes in my perplexed expression.
"What's wrong?"
"I think we've got the wrong Charles Fort. The one we're looking for died in 1932 – this one died in 1905. And I seem to remember pictures of his grave looking more complicated than this one, and under trees".


The wrong Charles H. Fort's grave
Back in the car again, we end up back on our original route into the cemetery. As we pass a large circular pond, we spot the sign for #28. Somehow we'd missed…
"There it is!" – Heather's leaving me for dust today.
It's the right grave this time, with the words inscribed on dark marble on a tall monument, topped off with a moody looking statue.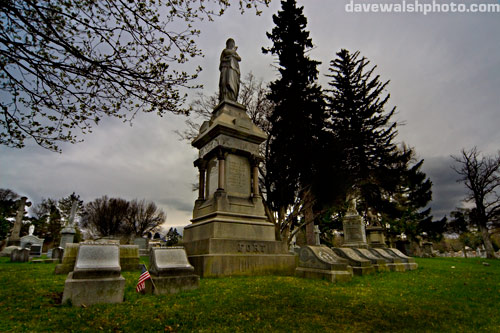 The RIGHT Charles H. Fort's grave
"Charles h. Fort
1874 – 1932
His Wife
1872 Anna E. 1937"
Somehow less imposing than the earlier wrong Fort, Charles and Anna share this monument with several others of the Fort clan, each one under a simple stone gravestone shaped like a truncated chaise longue. Simple, restrained, and no bells or whistles, save for the rather vain statue perched atop the main pinnacle, sporting "Oh christ, what next?" expression of weariness.
Just like Fort might have wanted it.
Charles Hoy Fort: 6 August 1874 – 3 May 1932 – we missed his anniversary by days – two early at his grave, too late for the article. We're so organised.
– Dave
Collection of photos available for purchase »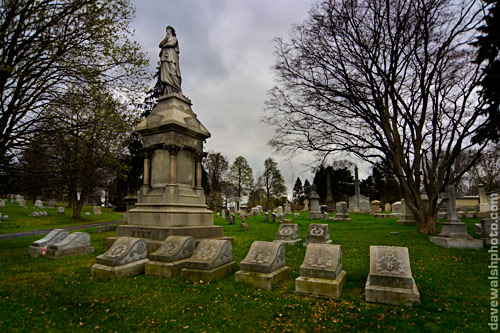 The Fort family grave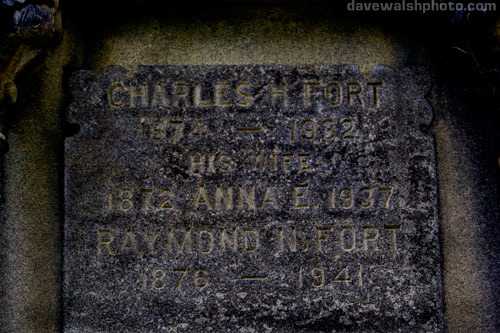 Fort's grave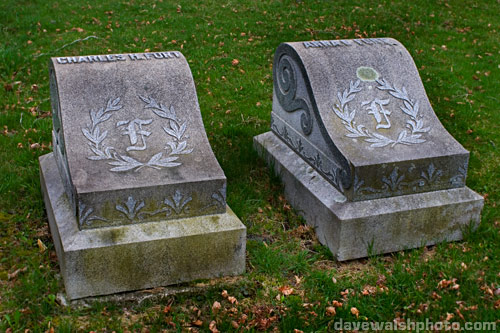 Charles and Anna's graves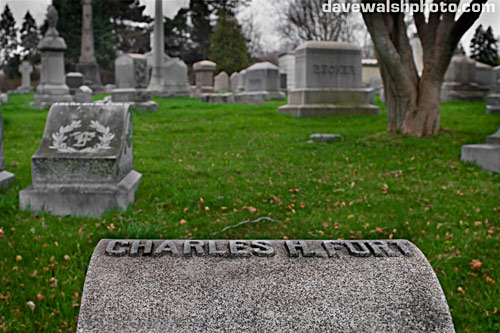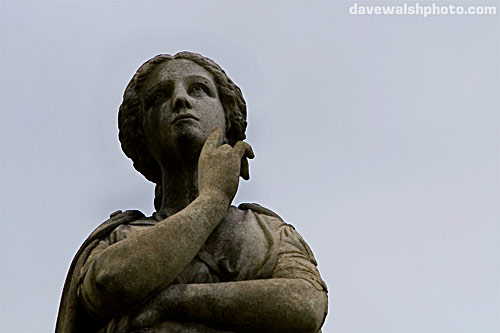 Statue on Charles Fort's grave
Collection of photos available for purchase »
+Links+
Google Map showing location of Albany Rural Cemetery »
Charles Fort: Scientist or Humorist? »
Charles Fort's House in London »
Wikipedia: Charles Fort »
Fortean Times – named after Charles Fort »
Who was Charles Fort? »

+Waking the Dead+
Full list of all articles in the Waking the Dead series