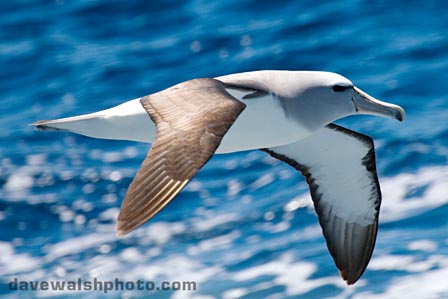 Grey-headed albatross – vulnerable species, 2.2m wingspan! © 2007 Dave Walsh
I'm writing from the Greenpeace ship Esperanza, currently en route to the Antarctic.In the last few weeks we've threaded our way south, around Papua New Guinea, down past New Ireland (we didn't stop in, but I hear the Guinness may be good) and into to the port of Auckland, New Zealand, which is almost becoming a second home for me. I've now sailed out of there five times on Greenpeace ships since May 2004.
On Wednesday we left Auckland, and headed down the east cost of New Zealand. After a quick stop off at Bluff (right at the bottom of the South Island), I'm currently writing you from remarkably good weather in the Southern Ocean. Down here, "good" is a relative term – the wind is howling outside, the ship is rolling around a bit, which makes sitting at a laptop a pretty strenuous exercise. But the sun is shining, it's not too rough out here, and all around us, several species of albatross are doing their thing, wheeling about in the wind, using the updrafts from the waves to burn as little energy as possible.

I haven't mentioned whales yet. There's been a lot going on around the world concerning whales in recent weeks. Most importantly, the Japanese government a couple of days ago backed down on their plan to kill 50 threatened humpback whales this season. I say this season, as it's a rather vague deferral – it might be a couple of years before they try to pull that one again.
I've got messages from people and phone calls from journalists asking "does that mean you can go home now?". Alas no – the humpbacks were the tip of the iceberg so to speak. The Japanese whaling fleet still plans to kill 50 endangered fin whales (at 27m long, the second largest living animal, after the blue whale) and a shocking 935 minke whales. We're on our way to find them, and to try and stop the harpoons from finding their mark.
I was a little worried that the countries who were up in arms about the humpbacks would sit back as soon as the humpies were saved. Not so. The Australian foreign minister has lodged a formal protest with Japan over the hunt for the other whales, and Australia is sending aircraft and a ship, the Oceanic Viking, to monitor Japan's hunt, in order to gather evidence for a legal challenge.
There's been lots of other news – but this has been the big one. Irene has documented most of the rest of it here »
It's two days to Christmas, and we'll be spending it in fairly "lumpy" conditions here on the world's wildest ocean. It'll be a few days yet before we see our first iceberg.
More on the humpbacks, and what you can do about the Japanese government's plans to build a new whaling ship »
Ireland's government is amongst the 32 countries that has called on Japan to stop whaling.
And, on board the Esperanza, we have the interestingly named Jonah Fisher of the BBC, who'll be doing stuff for TV, Radio and the web in the coming weeks »
I'll be posting photographs to flickr »