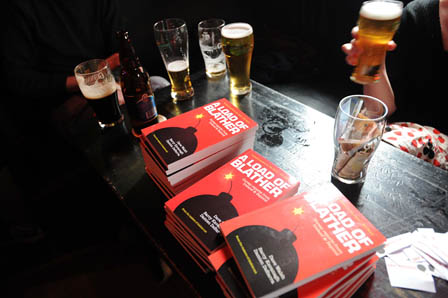 Photo: ©Kim Haughton
The first text message to appear on my phone on Friday morning was from a friend of mine, Duncan. It read "I am reading your book ostentatiously on the bus giggling." The second was from Damien. It simply read "destroyed". All over Dublin, survivors of the First Blather Book Launch were dragging themselves out of bed. Others were only just making it to bed. One brave soul had partied all night, and then had to a performance review at her job at 11am. Bless their stamina.
The official launch of "A Load of Blather" kicked off at Dublin's Dice Bar at 1800 on Thursday. There wasn't many people there at the time. Sue and I felt overdressed and pretentious. She ate pasta salad. I paced. The barman and one customer were watching Germany vs. Croatia on the TV. Outside, the traffic snorted on Queen St. and confused subjects of democracy stumbled home from Lisbon Treaty polling booths, wild-eyed and incoherent, shouting "Ireland says no!". I was just nervous. Would anyone show up?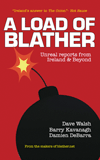 Two hours later, the Dice Bar was jammed with Blatherskites ranting and laughing their little heads off. I ran around having snatches of talk, talking to a former flatmate, Hugh, who I hadn't seen in a decade, friends, publishers. Lots of pictures of me giggling insanely. Barry was looking Nordic, and sporting an attractive bandage. Damien looked like a drunken refugee from a boyband. Sue throwing Guinness at people. The legendary Oliver Bayliss made a surprise appearance, though I suspect that Barry may have acquired the services of an actor to play Bayliss for the evening.
Clare clambered onto the bar, and with the barstaff in cahoots, ordered silence, demanding that I speak. I had no clue what to say. I mumbled something incoherent, ran away. Someone shouts "I can't believe it, Dave Walsh lost for words".
Barry stepped in to save me, waving A Load of Blather, with a marvellous sales pitch which explained that unlike the telephone directory, you don't need a telephone to enjoy our book. Damien stepped up for a brief speech, summed up as "you're all cunts!". I got a second wind and gave a sort of a thank you speech to the two Ronans (who got us into this mess).
Things got chaotic. Over the blur of the next few hours, we sold 12,023 books. Thanks to our publishers, Nonsuch Ireland Publishing, people got tanked on free beer and wine. We signed books, mauled books, mauled Christians, signed bodies, got kissed, hugged, abused, punched, bitten, drunk, stoned, immaculate. Even the crackhead in the stripey jumper was at the other side of the tram lines, dancing a jig in celebration of our book. People said lascivious, politically insensitive, mindboggling things to each other that they instantly regretted, then instantly forgot. The conversations became fragmented, nonsensical, but not without their own logic.
I fell out of the place around midnight, clutching the last few unsold books. Into a taxi and home. Collapsed. Far stronger, braver and since regretful, people held on to the coattails of the night, culminating in a roar of collective pain on Friday morning. But good Jesus, it was good crack. We must do it again sometime.
Thanks to everyone who helped out, or showed up and misbehaved. I'm waiting to hear news on the pregnancies, court appearances, job losses, hospital bills, tattoos, etc. that resulted from Thursday's night's debacle.
Read the p45 discussion about the party »
All photographs © Kim Haughton:


Dave and Sue. Giggling. Hysterically, dizzy with power. Donal looks on.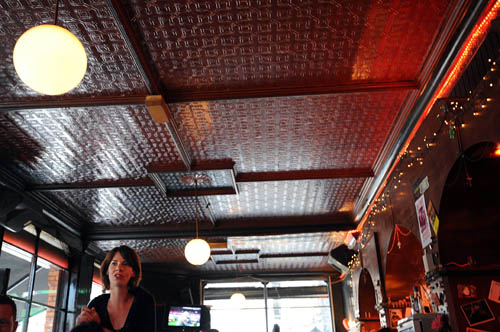 Clare takes to the bar to call for a speech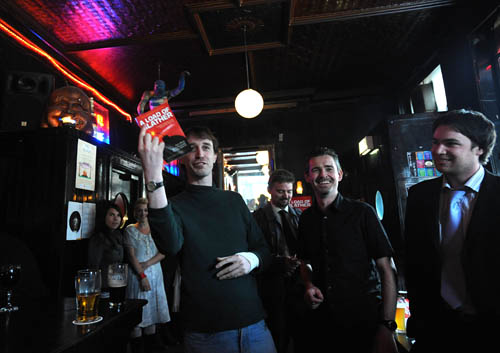 Barry extols the virtues of our book over the telephone directory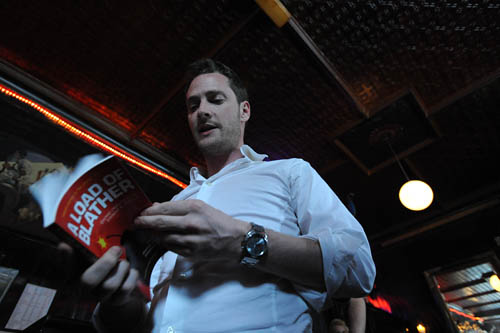 Damien demonstrates the Blather bookhandling service


Damien gets a raise from Dave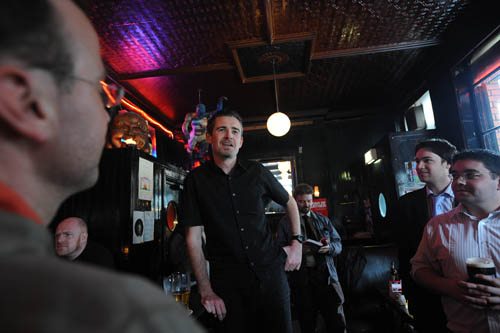 Dave, lost for words.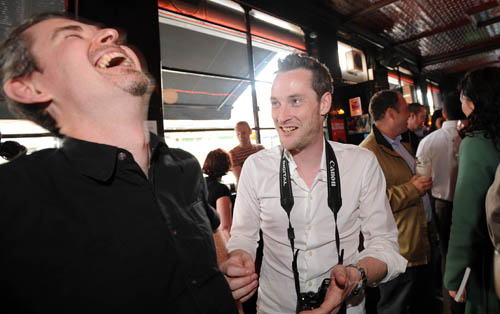 Dave demonstrates his flip-top head to Damien


Barry signs a copy of A Load of Blather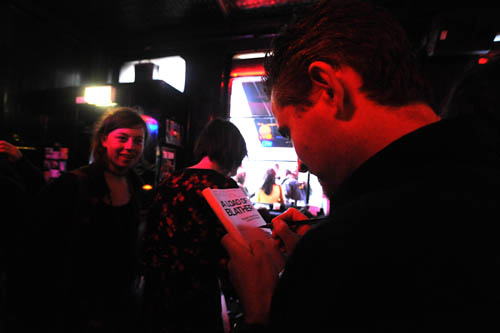 Dave signs for Simona


Barry shows how quick our book moves. Dave grins. Duncan looks bemused.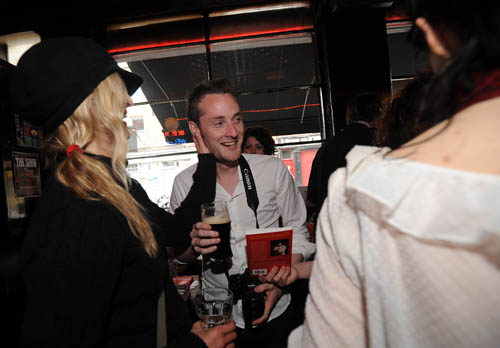 Damien, beset by hordes of leather-clad groupies


Dave, laughing. Hysterically.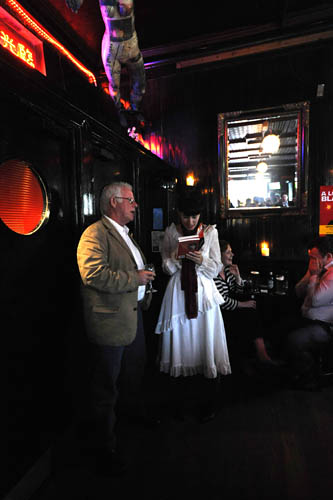 John B getting his book signed by Sue. To her left, a man breaks down and cries. Oh, the humanity.
All photographs by © Kim Haughton.