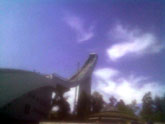 More than one million people visit Holmenkollen Ski Museum every year, which is very brave of them because it's very high in the sky. I didn't look down as I ascended, but now that I am up here I can see how frightening it is.








This is the scene from the top. I am in this kind of "observation deck" with tourists, looking down at Oslo and forest. This is the top of the tower from which champion skiers are supposed to descend. When there's snow, that is.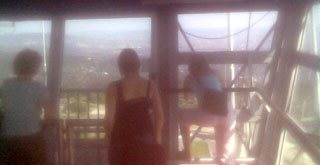 I could go down the way I came, via these steep stairs. But I didn't look down when I was walking up, and to descend them I'd have to look down and I don't think I could keep my balance.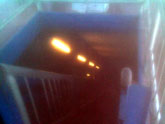 The only other way is to ski down. As you can see, that is just as vertigo-inducing. It's 60m off the ground and 417m above see level! I am stuck up here forever, with only fond memories of the "cultural and tourist centre" with a gift shop boasting a wide array of Norway-themed oven gloves.