Recently I brought the Irish band NoLand Folk over to Oslo to perform two shows. Their influences are supposedly, "Last night's session, green tea, a hallucination from 1911, jazz, folk," and "a dog's snoring." How could I not book them?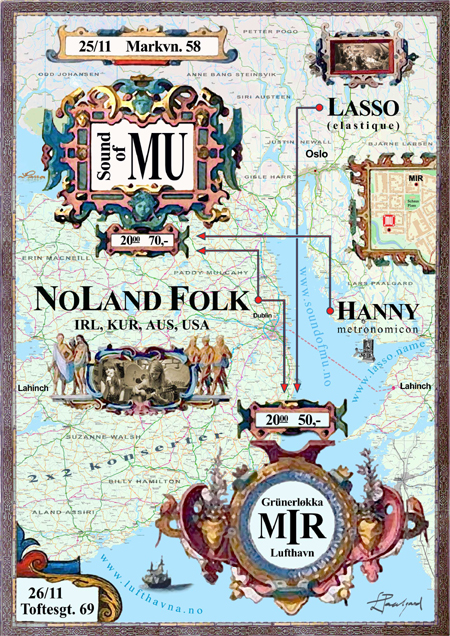 Here you can see a very unusual map. Norway joins the North of Ireland, and the West of Ireland is joined to the South of Norway. This way you can actually sail from Lahinch, the village where NoLand Folk live, across the sea to Dublin. Or you can drive from anywhere in Ireland to Oslo.
NoLand Folk played with Hanny the first night, at Sound of Mu. As Hanny are on the Metronomicon Audio record label, you can see they are represented on the map by a metronome, standing atop the Aran Islands.
Cowboy poetry orchestra Lasso, notable for songs about horses, headlined the next night at Mir (Grünnerløkka Lufthavn). They are represented by a lasso half-submerged in the sea, to the Northwest.
Members of Lasso and Noland Folk have each been given their own domain in the new geography, and you can see their names scattered across the map. Lasso generally occupy the North: Odd Johansen, Anne "cosmic" Bang Steinsvik, Petter "half price pete" Pogo, Siri Austeen, Justin Newall, Bjarne "3 grammies" Larsen, Gisle Harr, and Lars Paalgard, the latter being the originator of Lasso, and of the map, and the only one who can drink until 9am.
Guide to NoLand Folk.
Suzanne Walsh: has made the promise to bring the whiskey drinking method known as Horse's Neck to Ireland, so that Ireland becomes even more drunken than it already is.
Paddy Mulcahy: falls asleep at parties.
Erin MacNeill: an Australian, more Irish than the Irish, as she is capable of drinking till 9am.
Aland Assiri: definitely someone with no land, he is a Kurdish asylum seeker, and as such was not permitted to leave Ireland to do these shows, sadly…
Billy Hamilton: something of a no-land man himself, he is of no fixed abode and hung around in Oslo another couple of days as he had nothing better to do.
To quote from NoLand Folk's blog:
"We had quite an interesting trip to Oslo. We managed to see nothing of the daytime at all. We played Sound of Mu on the 25th with Hanny and Mir on 26th with Lasso. Lasso are a band that make their songs from authentic cowboy poetry. It was while learning these songs on Sunday night that we stayed up very late indeed. Hopefully we'll be bringing Lasso to the real Wild West real soon…"
I got this from their myspace page.