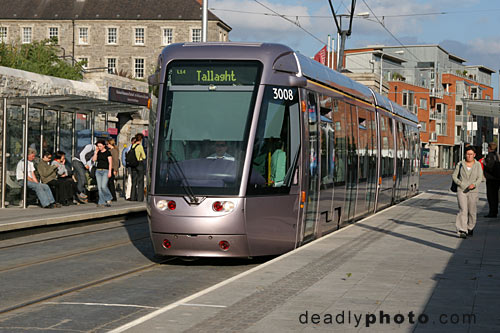 Mayhem in the ranks of pot-heads ensues as Government clamps down…

Uproar has greeted the introduction of Dublin's new light-rail system, Luas, which was unveiled this month. Numerous complaints have been lodged with gripes ranging from the outrageously overpriced fares, the garish colour-scheme, the total absence of blank spaces to vandalise, the distinct absence of that much-loved stench of urine and the almost hilarious fact that the two lines do not connect.
However, depsite the many grievances which have been acknowledged by Luas authorities, the latest bug-bear to rear it's ugly head, is the complete unroachability of Luas tickets, which has left Dublin stoners aghast.
Says Humourless McFuckwit (Clontarf-based President of 'M.O.N.G') "…this is simply unacceptable. First they outlaw smoking a fag in a pub, and now they foist these new bloody tickets on us…"
The row stems from the fact that previous rail tickets (manufactured from old-fashioned, straight-ripping card) are being phased out and replaced with new card tickets which have been coated in an almost indestructible layer of plastic. This has had the effect of rendering them unrippable and thus unroachable.
"They used to be just perfect" roared McFuckwit through a fuggy haze, "they were tailor-made for roaching. The right size, consitency and rippability for that 2 o'clock in the morning number when it's imperative to roll lest the smoker chews their own face off. I will never vote for this Government again. Bastards."
No Government spokeman was available for comment at this time.