Thinking about ordering Blather.net's new book 'A Load of Blather' but don't know if you'll have the time to read it? Are you concerned that a tell-tale pristine copy will trash your cred with the kids? Worried your friends might think you only bought the book to have something bohemian and trendy lying around in the shitter?
Fear ye not, for the makers of 'A Load of Blather' are proud to present the 'Blather Book Handling Service'. For a mere €159.99 (an hour) we'll dog-ear, tea-stain, underline and generally batter the crap out of the thing so that it looks like it's been used as a crude weapon during a vicious battle to the death at a UFO crash-site, when, let's face it, the closest you're ever likely to get to one is down the cinema at the new Indiana Jones flick. By the time we're done spending your money servicing your whole library, visitors to your home will think you 'iz well cool', members of the opposite sex will you find you oddly alluring and random strangers will want to give you money.
Allegedly.

After a quick consultation with one of our Book Handling Specalists, we will dispatch a team of crack experts to your home who will set about making the library in your grotty bed-sit resemble the collection of an enigmatic privateer on the oceans of weirdness and edgy alternative cool. In addition to ensuring that each and every book you own is given a good seeing to, we'll pepper your shelves and coffee-tables with rare, human-hide bound codas, exotic twelfth-century copies of the Kama Sutra and leave assorted century-old National Geographics and scandalous Victorian daguerreotypes laying about the place.
But why stop there? In addition to our award-winning Book Handling Service, we also offer a premium 'Blather my Gaf' package which transforms your drab, unremarkable dwelling into the abode of a dashing, mysterious, sex-god/explorer of the outer-realms of human consciousness. We'll tart your toilet up with a collection of obscure, strategicaly-placed, vaguely archaeological keep-sakes, pagan altars and small piles of bones which hint at a history of swashbuckling adventure battling The Nefarious Forces of Darkness.
But wait! Don't order yet!
For a limited time only, we are offering the world famous 'Blather Potatoshoppery Service' which will see your ghastly mug digitally grafted on to a series of sepia-tinted pictures showing you in the company of famous historical luminaries and draped in the arms of impossibly beautiful, loose-moralled, scantily-clad women. These spectacular pictures can be framed and slapped across the walls of your flat for a special introductory, one-time only rate of IR£23 per picture. (Minimum order 23).
Call us now, to avail of this utterly ridiculous offer.

Calls cost €23 per minute. Terms and conditions apply. Cost of materials, research, interns, drugs and groupies not included in original price.100% absolutely guaranteed, no money-back guarantee. All your blogs belong to us.
Shameless Hijack
Inspired by an original Flann O'Brien piece, from 'The Best of Myles', pg. 17, "Buchhandlung". Read Shameless Hijack, the story of where Blather.net got it's name.

Buy the Book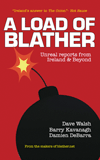 You know you want to. Go on, go on, go on.