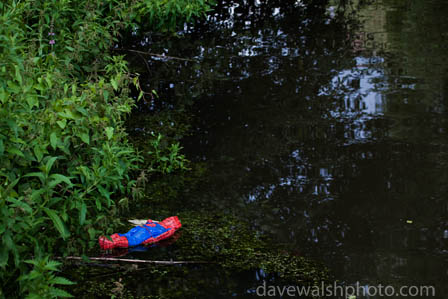 By Pieter van de Park
Amsterdam, June 22nd 2011 — Authorities are investigating after well-known superhero Spiderman was found face down in an Amsterdam Canal this morning. A man, yet to be named, but said to be the proprietor of local 'coffee shop' The Green Goblin, is currently being questioned. Unconfirmed reports of an all-night skunk binge are thought to have led to the American superhero's demise.

Amsterdam's mayor, Eberhard van der Laan, staunch defender of the low-lying city's cannabis-selling cafes, currently fighting a nationwide push to restrict tourist access to drugs said:
"The mind-opening products available in Amsterdam are to be treated with caution and are to be enjoyed responsibly. It's altogether possible that spiderman thought that as a superhero, he was immune to the effects of superskunk. It's a sad state of affairs. Our thoughts are with the family… and arachnids everywhere".
Axel Alonso, Marvel's editor-in-chief, said there's never been a Marvel Universe without a Spider-Man, so killing the character is a big step.
"We've never seen a world without Spider-Man, a world without Peter Parker, so his death is a significant event for the Ultimate Comics universe and we're going to see how quickly it changes everything," he said, adding that the fallout from Parker's death will play out in the upcoming "Ultimate Comics Fallout" as the company retools its Ultimate universe.
Spiderman dies to the hands of the Green Goblin »