Desember 18, 2010
This Year's Christmas Song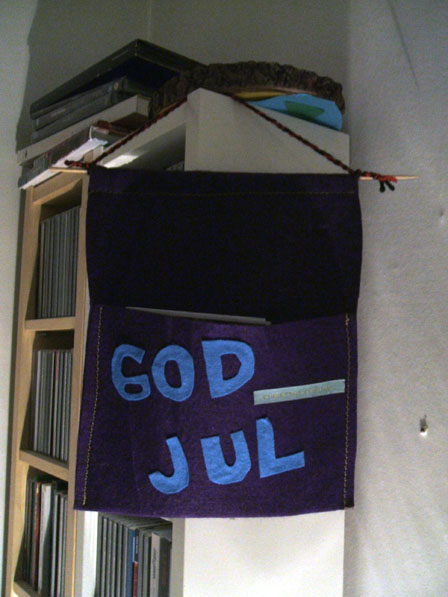 Hanging from my Ikea CD towers is the latest Christmas CD from the Micronomicon label, Christmas Postmas, which features a certain Xmas recording I had a hand in: Dr Sno and the Santamangas - 'Tomorrow Never Knew What Yesterday Will Be' (aka 'From Christmas With Love'). We present the mp3 here on Blather.net as an Xmas gift to YOU, in case you intend to waste the holiday season on the sofa watching James Bond flicks.
Mp3.
Posted by barry at 10:55 EM
Februar 23, 2009
All Places, Infinite Time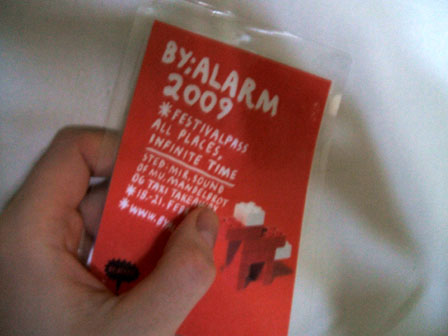 Hi - I have a personal message for North readers at the end of this blog entry. But first read about my latest exploits:
This year at the non-corporate Oslo music festival By;Alarm (which occurs at exactly the same time as the more commercial music festival By:Larm), Dacianos played at Mir, but the band was reduced to... well, just me.
'The rest of the band are in jail,' I announced at the start of the show. I had seen some guy on stage say this years ago, can't remember who, but it's a good way to start.
Continue reading "All Places, Infinite Time"
Posted by barry at 12:08 FM
Januar 25, 2009
The Arm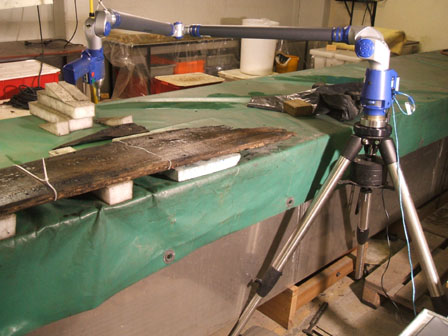 'Don't make fun of the Arm!' Tori warned, as I departed from the museum.
But I have no intention of doing so. I'm a great admirer of the Arm, in all its blue, grey and silver majesty.
Posted by barry at 2:59 EM
November 1, 2008
Stayin' Alive with Masselys in Berlin
Feel the city breakin' and everybody shakin'!
I was in Berlin for a whirlwind overdrive week in late October with the Norwegian band Masselys. This is the band Bjarne, Jomba and Kjell-Olav formed earlier this year when Salvatore split up. The band also consists of Jonas (from 120 Days) and a singer called P.A. with no previous records. I was with them to play on the album they were recording with German producer Boris Wilsdorf, who famously records and mixes Einstürzende Neubauten. andereBaustelle Tonstudio was a studio with a difference, as you can see from the metal hanging behind the drumkit. During the week I also got to see much more of Berlin, so I've revised my opinion of the city from last time. Come join me on this musical travelogue...
Continue reading "Stayin' Alive with Masselys in Berlin"
Posted by barry at 8:21 EM
Oktober 8, 2008
Dacianos in Skien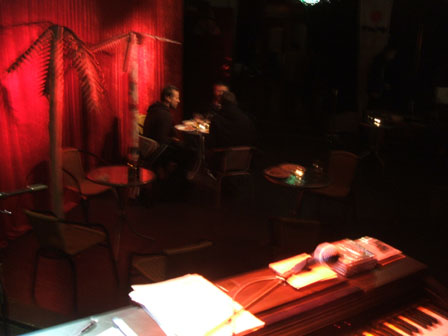 (click for closeup)
On 4 October I took my third trip this year to Skien with the Sound of Mu collective... This time it was the "finisage" of the summer-long Tempo Skien art festival. We converted an extremely commercial-looking venue into a more appealing "cabaret" with fake trees. Two of our bands played: Jae and Dacianos.
Continue reading "Dacianos in Skien"
Posted by barry at 1:18 EM
August 10, 2008
Klubbøya
Oslo's massive outdoor summer music festival is called Øya, but the first night of the festival takes place indoors in all the clubs in town, and is called Klubbøya. This year my band Dacianos played Klubbøya.
Posted by barry at 8:14 EM
Juni 20, 2008
Musikkfest Oslo and Other Adventures (with poetic licence)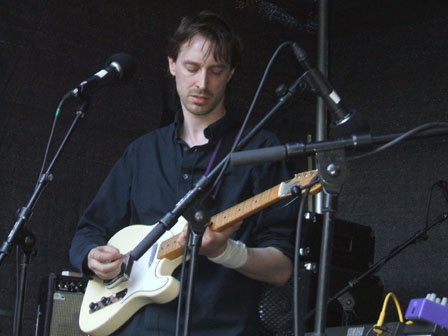 I

One June night, a tram-track threw me from my bicycle

A guitar-playing hand reduced to impotent rage!

Determined to play the 7th, Oslo's festival

In time the hand moved - yes! - Dacianos took the stage!

Continue reading "Musikkfest Oslo and Other Adventures (with poetic licence)"
Posted by barry at 2:09 FM
April 13, 2008
North London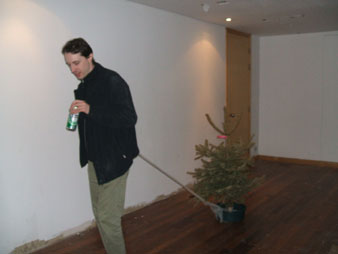 A sad London scene: an alcoholic takes his only companion, a Christmas Tree he calls "Rover", out for a walk.
Continue reading "North London"
Posted by barry at 6:08 EM
Mars 5, 2008
South... to Berlin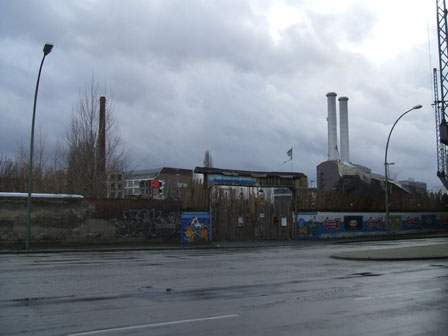 I was in Berlin this week. Yes, this blog has once again crept away from Scandinavia to have a look at the outside world. And I chose to visit a post-apocalyptic wasteland, as you can see from the above picture.
Continue reading "South... to Berlin"
Posted by barry at 2:24 EM
Mars 1, 2008
Supporting American Music Club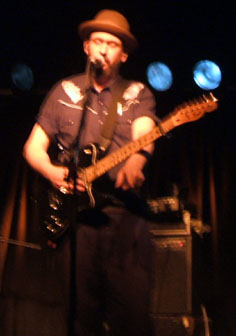 On Friday 29 February my band Dacianos supported American Music Club at the venue called John Dee (yeah it's really called that) in Oslo. Here is a treasure of memories of the event.
Continue reading "Supporting American Music Club"
Posted by barry at 11:11 EM
Januar 26, 2008
Being Irish in Norway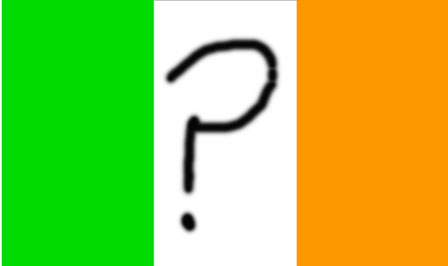 "You're from Ireland? I've read that book Angela's Ashes."
"Frank McCourt is an American. Judging from his description of Ireland, I doubt very much he's ever been there."
Continue reading "Being Irish in Norway"
Posted by barry at 11:21 EM
Januar 25, 2008
Skien and other stories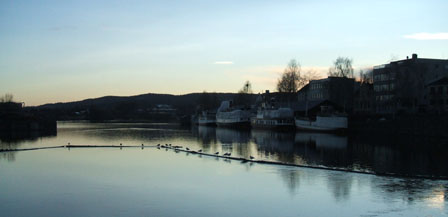 Last weekend I visited the town of Skien (pop. 50,000), which is in Telemark. My friends and I were invited to organize some combined music and art events for the town's summer art festival. If all goes according to plan, we should be temporarily setting up a little bar with art on the walls and bands playing, just like our homestead in Oslo.
Continue reading "Skien and other stories"
Posted by barry at 6:13 EM
Januar 9, 2008
Back to North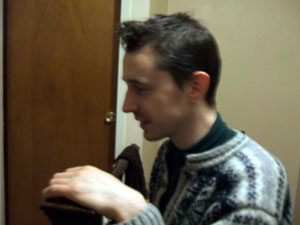 In 2007 I managed 35 entries of North. Shame, I meant to write 52. Sorry! And I'm starting 2008 a bit late too. Ah well.
Continue reading "Back to North"
Posted by barry at 9:48 EM
Desember 14, 2007
Snow, Trees, Mountains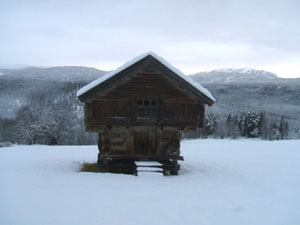 Here's a picture of a 12th century building for drying food. I showed it to you before, last year. Yes, I've returned to the farm in Telemark.
Why? Well...
Continue reading "Snow, Trees, Mountains"
Posted by barry at 10:23 EM
November 23, 2007
A Farewell to Beamish (part two)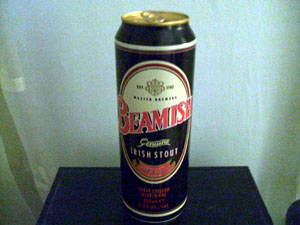 Friday. The first of a million nights in. The start of winter in Oslo; minus one degree according to the thermometer hanging outside my window. Grieg's opus 57 on the record player. Potatoes on the boil. A text message comes through on the telephonic device.
Per Gisle: Guess what I am drinking? Beamish... found two cans at Majorstua. Mm.
Continue reading "A Farewell to Beamish (part two)"
Posted by barry at 9:12 EM
November 12, 2007
A Farewell to Beamish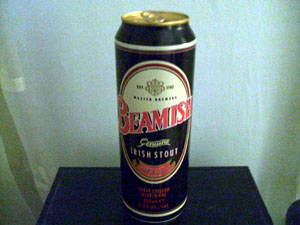 About a year ago, when it became inevitable that I would take a larger role in running our bar business, I decided I might as well make this life liveable by ordering in the drink that I would be drinking at home in Ireland, i.e. stout. As stout on tap wasn't an option, draught Beamish in can, brewed in Ireland, was a nice and easy alternative (forget Guinness: the stuff you get is brewed here in Norway, like, what's the point?). But now Beamish is no longer being imported, and we can't get it.
Continue reading "A Farewell to Beamish"
Posted by barry at 5:22 EM
Oktober 18, 2007
Day of the Parasite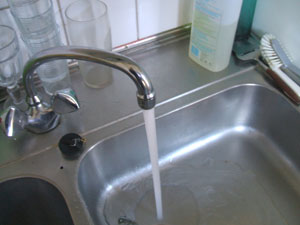 04.30 Wednesday morning. I turn out the light and go to sleep.
06:38am, I'm woken by a text message from my flatmate, who's away on her farm: "The news tells everybody in oslo to boil the drinking water even to teeth brush.. Fordi det er små parasitter i vannet. Regner med at du ikke hører nyheter." The Norwegian part of the message means "Because there are small parasites in the water. I figured that you didn't hear the news." Yes, of course I wouldn't be listening to the radio at that time of the morning, I was asleep! Well, well, bad news travels fast, as my father says from time to time. I made a mental note and went back to sleep.
Continue reading "Day of the Parasite"
Posted by barry at 12:51 FM
September 24, 2007
North FAQ?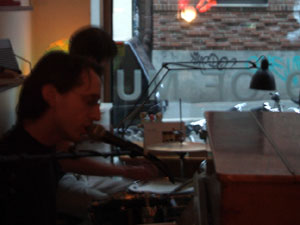 Random picture of me: singing with Dacianos in June 2007. Click for a larger one (a new feature added by popular demand from North readers).
One reader emailed me this list of questions, adding that "What I was thinking was that if you kept a list of some of the more interesting and humorous questions and answers from people (not just me) you could put them on your site for all to read. This would also save people asking you the same questions over and over again." While I might construct a Frequently Asked Questions page, most of the emails I receive are along the lines of "Am 31 years a Ghanaian based in Italy looking for Norway woman for a serious relationship that i hope to get to marriage" or, occasionally, "Hello, I am a vampire!" So I'll answer these new questions as a blog entry for now.

Posted by barry at 8:53 EM
September 12, 2007
Playing in Someone Else's Band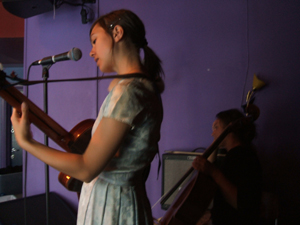 Pictured: Marie and Ida (cello) at the soundcheck at Dattera til Hagen.
Recently I've been playing in someone else's band other than my own. The band is Hanny.
Continue reading "Playing in Someone Else's Band"
Posted by barry at 6:08 EM
Juli 23, 2007
Fellesferie (part 2)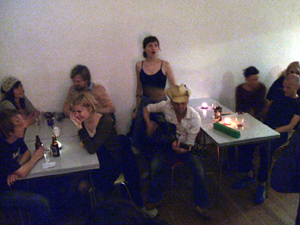 There are certain advantages to the desolation of Oslo in the month of July. For one thing, our bar is one of the few places that actually has something going on. This week we had some busy events, on Thursday, Friday and Saturday, during which we were thanked for keeping the city alive.

Continue reading "Fellesferie (part 2)"
Posted by barry at 11:32 EM
Mars 31, 2007
Visiting Hours
My sister Jean writes poetry. Here's an autobiographical poem she wrote about her visit to me here in Norway, at New Year's (exactly 3 months ago). I should probably give some background before you read it, although I know that's not always necessary to do that. Basically, Jean had a weird experience here: the winter was strangely mild for a start, and then, before she could see many of the tourist sights, she got sick and spent her holiday time in two different hospitals! But they let her go eventually...
Continue reading "Visiting Hours"
Posted by barry at 2:53 EM
Februar 11, 2007
Årets Norgesvenn
Sorry I have not been writing recently. I've had too much work-stress, illness and even a tinge of Nesodden syndrome with which to deal. Why all the stress? Surely the result of becoming allegedly more important and significant in the land known as Norway! So important in fact that I have just won an award for my vague efforts: Årets Norgesvenn, "the year's norgesvenn" for 2006. This, according to the suave radio presenter who handed me the award at Indigo last night, is for my services to Oslo's underground music scene with my work at Sound of Mu and with my musical project Dacianos.
Continue reading "Årets Norgesvenn"
Posted by barry at 5:05 EM
Oktober 15, 2006
Zero
I may be the poorest person you know! At least I was, in the tax year 2005.
In Norway, everyone's incomes and the amount of tax they have paid are made public on the revenue service's website. You can look up anybody. I think this is fantastic. Imagine the consternation this would cause in Ireland where everyone is vague about their true earnings! Ha.
Best of all, when you look me up, you just get zero! As a matter of fact I did do some work in 2005, and I paid tax on it, but the tax was returned to me this month. I earned so little that it was tax free, and so little it doesn't even register. Or, at least that's what I'm saying!
Instructions:
Posted by barry at 5:46 EM
Oktober 5, 2006
Is Bobby the Bird Dead or Alive?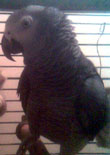 It happened on Sunday. Bobby, an African grey parrot who lived with my friend Anne, flew away. Now, I lived with Bobby and Anne for about six months, and fondly remember his mimicking of ringtones, cats, dogs, fireworks, and the way he found human language boring by comparison. We were friends!
The tragedy occurred when Anne went to visit her brother in a remote country area. His small children had left a door open while Bobby was out of his cage. Curious, Bobby flew outside, and up, up into the blue sky above the forest, where other birds were also on the wing.
Continue reading "Is Bobby the Bird Dead or Alive?"
Posted by barry at 8:11 EM
September 27, 2006
My Parents from Dublin

Sorry again for the tardiness in bloggery, I know this entry is 3 days late but I was exhausted from constant activity on top of a regular working week.
This is a picture of my father's feet. My parents visited me for the first time since I left Ireland over four and a half years ago, and spent 6 days here. When we took a day trip out to Høvedøya, an island in the Oslofjord, Dad decided to stick his feet in the water saying, "imagine having to travel for three hours to put your feet in the North Sea!" - whatever that meant.
Continue reading "My Parents from Dublin"
Posted by barry at 8:22 EM
September 3, 2006
Backstage
Here's a picture of a drumkit. It's downstairs in the bar and is part of the Dacianos setup for tonight. I'm upstairs in my apartment, "backstage" if you like. In just over an hour I will be doing the first Dacianos live show in 9 months, the first show as a 3-piece with Marius Kolbenstvedt and Håkon Larsen, and the first time playing in my own bar - a "living room concert", in a way.

Posted by barry at 6:56 EM
August 20, 2006
When West Goes North (Part 2)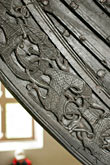 This week's entry is also written by blather.net's editor Dave, as a followup to last week's. Where is Barry?
I'm jolted awake by a roaring in my head. I desperately try to take in my surroundings. I appear to be on a passenger aircraft. None of the other passengers look alarmed. I try to act inconspicuous, then realise I'm wearing headphones, and follow the cable into the seat pocket in front of me. I find my Ipod inside. The noise in my head is the intro to Understraum, from the album Straum by Norwegian fiddle player Nils Økland. I must be on the return flight from Norway. I had my Ipod on shuffle, so it's just coincidence - or synchronicity - that I'm woken up by a Norwegian musician.
Continue reading "When West Goes North (Part 2)"
Posted by daev at 11:40 EM
Juli 23, 2006
Haircuts of Fear

What you are looking at is the "before" shot. The hair is wet, so you can't see the full extent of the stack of rock 'n' roll hair I had. My hair had been growing since January. It was approaching the dreaded ponytail length, and I didn't want to end up that way. Besides, it was thirty degrees in Oslo, i.e. hot. I had been looking for a haircut free-of-charge, for some time, but had not found anyone to do it, here or during my trip to Ireland.



Continue reading "Haircuts of Fear"
Posted by barry at 2:39 EM
Juli 16, 2006
When North Went West (and Wesht)

What you are looking at here is a picture of a cat and a 3-year-old girl, taken from above. The cat is sitting in a wooden chair, and the girl is looking up, caught in the act of cat-worrying.
What's this all about? Well, I was tired of feeling like a complete alien here in Norway and the time came for me to take a family of Norwegians west, to show them Ireland, the land of my origins.
Continue reading "When North Went West (and Wesht)"
Posted by barry at 3:36 EM
Juni 25, 2006
One Year in Norway
So, one year in Norway. Has it lived up to my expectations or was I naïve? Is there really a reason why I'm living here, or am I just an aimless drifter who has ended up in an obscure outpost of old Europe?
Continue reading "One Year in Norway"
Posted by barry at 3:27 EM
Juni 4, 2006
Nesodden and after

I'm not exactly sure what happened to me. I was either ill, physically exhausted or mentally stressed out. Possibly all three. In any event, I experienced a kind of burn out, with a total loss of energy and a feeling of inability to cope with anything. Coincidentally, I was scheduled to take over a friend's cottage in Nesodden for five or six days, so it felt really good for my health to get on the boat, get out to the quiet countryside and collapse into bed. The cottage is pictured here with the woodshed in the foreground.
Nesodden is in Akershus, a county next to Oslo. From the cottage and the garden I could see Oslo in the distance at the opposite side of the fjord. Although the city was visible, I was thankfully disconnected from everything there.
Continue reading "Nesodden and after"
Posted by barry at 7:55 EM
April 16, 2006
Me: update

Hello everybody. There have been some changes in my life recently. In addition to my involvement in Oslo's cultural life at Sound of Mu, I now have a second job, working part-time at Norsk Utenrikspolitisk Institutt (NUPI), the Norwegian Institute of International Affairs. I work on the UN programme there, and it's in this imposing building. I've also moved flat. I still live in the same building as Sound of Mu, but I have moved across the yard (or through the loft, depending on your choice of route) to another apartment.
Posted by barry at 3:07 EM
Februar 12, 2006
Arbeid: Blogging live from Mu

Some time ago I wrote an entry called Arbeid, which was about working in Norway. Tonight I'm updating you on that subject, from my place of work. Yes, I'm blogging to you live from behind the bar at Sound of Mu. It's 8.30pm and there are eight people drinking here.
Continue reading "Arbeid: Blogging live from Mu"
Posted by barry at 8:35 EM
Februar 5, 2006
(untitled entry)
This week I went to the funeral of a woman I worked with in London. Her husband was Norwegian, so the funeral was here in Oslo. When I think of the nice things she had said to me before I moved here, and of her love for Norway, it was obvious to me she would have liked me to attend.
Continue reading "(untitled entry)"
Posted by barry at 1:16 EM
Januar 8, 2006
Back to Norway

Yes, "Back to Norway!" as Klaus Dinger from Neu! so memorably hollered in song.
I've been out of the country for two weeks, and now I have returned. Everything here in Oslo seems pretty much the way I left it, but in the first hours after my arrival, it seemed like I'd lived a whole life in the interim, like I'd been away in Ireland for a hundred years. But despite feeling disconcertingly different, I simply picked up my life from where I left off.
Continue reading "Back to Norway"
Posted by barry at 7:30 EM
Desember 25, 2005
Sound of Mu

Our story begins in 1864. Diego de Landa, Bishop of Yucatán, Mexico, publishes an alphabet that can be used to translate the hieroglyphics of the three Mayan codices. Enter the translators. The Abbé Charles-Etienne Brasseur interprets the Troano codex to be about a land called Mu, tragically destroyed by a volcano. Augustus de Plongeon's version is similar, although he sees much more about Mu in the codex. He comes to believe it is a lost continent in the Caribbean Sea.
Continue reading "Sound of Mu"
Posted by barry at 2:48 EM
Oktober 23, 2005
Dugnad

Things are progressing.
In the building where I live, an old shop unit is being turned into our very own bar. A consortium of current and former residents are behind this venture, most of them artists, and its purpose is to be an artist-owned and artist-run space for cultural events (and some alcohol consumption).

Posted by barry at 7:35 EM
Oktober 16, 2005
Practising

There is no major exposition in this week's entry. I've been in seclusion, practising for the upcoming live music performances I'll be doing in Oslo and Trondheim. I hired out some practise space in the (surely world-famous?) Brugata collective.


Posted by barry at 2:37 EM
Oktober 9, 2005
Arbeid

("Work"). I have been unemployed long enough to realize I don't really want a proper job and money and all that, like the rest of the hamster people on the universal treadmill. Of course, the only way out - at least for now - is to sell my body. So that's what I'm doing. In fact, I'm going one better, by selling my personality as well.
To advertisers. And movie moguls.
Posted by barry at 2:50 EM
Oktober 2, 2005
Grünerløkka

I have just moved apartment in Oslo. I am now two tram stops north, in an area called Grünerløkka, sharing with two people. There is also an African Grey parrot, who will be receiving lessons in Irish from me. The rent is much cheaper for me here, which is helpful, as is the unconventional work I have obtained (details in next week's entry).
This area of the city was established about a century ago, by a family of German property owners called Grüner. The architecture is therefore German, and is supposed to be representative of what Berlin looked like before it was flattened in the war. German architecture students tend to come here on field trips.
Continue reading "Grünerløkka"
Posted by barry at 7:56 EM
Juli 31, 2005
Playing

I'm in this week's photo, which was taken by Ian Brunswick.
I had two musical jobs this week. I DJed at a place called Indigo with Leon, a friend from London (newly moved to Oslo). I also gave a half hour performance of my songs at Blindern to International Summer School (ISS) students.
Posted by barry at 10:27 EM
Juli 10, 2005
Bombs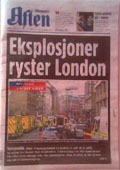 I was rehearsing in the music room on Blindern campus on Thursday afternoon when I began to receive calls and messages from my Norwegian friends. London, where I'd been living for the last three and a half years, had been bombed.
At first it was unclear exactly how many tubes and buses had exploded, or what was going on. I tried to phone friends in London but the phone networks were down. Eventually I started to receive emails, and in the evening I finally got to speak to people. My friends are very much alive. In a couple of cases their regular train was bombed, but in most cases people I know seem to have either been in bed or were watching TV when it happened. But I knew many people in London, so I can't be absolutely sure I don't know one of the dead or injured.
It's a senseless waste of human life, whether I know the victims or not.
Posted by barry at 12:56 EM
Juli 3, 2005
Sommerskolen

("The Summer School"). Until the 5th of August, I am a student attending a Norwegian class at the International Summer School of the University of Oslo. This of course means I'm not earning anything, so I have to work out an economical way of getting through the day in one of the most expensive cities on Earth.
Continue reading "Sommerskolen"
Posted by barry at 1:15 EM
Juni 26, 2005
Velkommen

("Welcome" in Norwegian). I have arrived. This ape stands guard outside the apartment block where I'm living, which I'm tempted to rename the Charles Darwin Block, for no other reason.
Posted by barry at 1:28 EM
Juni 19, 2005
Leaving Ireland Again

Having laboriously dismantled my life in London, I returned to the Old Country, to enjoy a few weeks of rent-free existence with my closest relatives. I had not spent much time in Ireland in recent years, so cannot tell you more than what I've noticed on the surface of things during my stay, because I have become slightly distanced.
Continue reading "Leaving Ireland Again"
Posted by barry at 7:40 EM