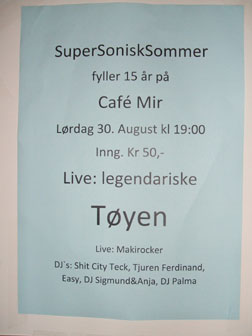 #1: Grunneier
Part one of three. Blather North's roving and raving reporter, Barry Kavanagh, attends a party at Mir in Oslo for the radio show SuperSoniskSommer on the station RadiOrakel (see poster) and interviews a random member of the public, a chef called Nils, who had been presented a list of topics he could choose to talk about. He chose the Norwegian concept of grunneier and talks about it.
Mp3 9 min 11 secs.
Recorded by Barry Kavanagh and edited by John Birger Wormdahl.
(Next week: some music from Tøyen.)
Update August 2009: owing to repeated court actions by Concerned Parents Against, this podcast is no longer available.