Feel the city breakin' and everybody shakin'!
I was in Berlin for a whirlwind overdrive week in late October with the Norwegian band Masselys. This is the band Bjarne, Jomba and Kjell-Olav formed earlier this year when Salvatore split up. The band also consists of Jonas (from 120 Days) and a singer called P.A. with no previous records. I was with them to play on the album they were recording with German producer Boris Wilsdorf, who famously records and mixes Einstürzende Neubauten. andereBaustelle Tonstudio was a studio with a difference, as you can see from the metal hanging behind the drumkit. During the week I also got to see much more of Berlin, so I've revised my opinion of the city from last time. Come join me on this musical travelogue…

Mo
Monday night I arrived, finding the band in an apartment in Charlotteburg owned by a Norwegian songwriting organization. Charlotteburg is like the posh, westside of Oslo, except it has giant sex cinemas. Most of the band and I wandered around looking for a bar until we found a place where they served 100 different beers, as well as food. I didn't order 100 beers though; I had maybe two.
Di
In the morning I accompanied the band on the train to the studio.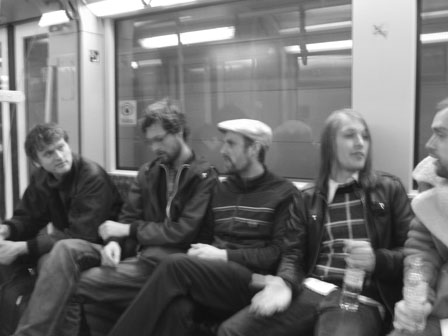 Masselys: Jomba, Kjell-Olav, Bjarne, Jonas, PA.
This was day #4 of the recording. In the morning's 'jam session', which began each recording day, I played the fender rhodes. The studio was a very impressive environment and the sound was incredible. Apart from the vocal booth, everyone was able to play together in the room. A simple wooden partition separated the drumkit. There were mics everywhere. Boris did live mixing and effects as we played.
The rest of the day I spent on my own. I can't remember what I did. I went looking for a supermarket. I played the piano in the 'songwriter' apartment. I investigated German TV. I enjoyed the relaxing holiday so I didn't join the band who apparently went out clubbing. But Bjarne came back so I had a couple of beers with him in the apartment.
Mi
This was the band's 'official' day off. At this point, Jonas had to go back to Oslo. But that didn't mean the group got smaller. A couple of friends – Jon and Olaus – had by now arrived not to play on the album but to hang out. Bjarne and I rented bicycles and spent the day exploring the city. We discovered that there is actually economic activity in Berlin; the city as a whole is not a run-down post-apocalyptic wasteland. There are upmarket shops, businesses and cafés… We found large affluent homes on the western city limits on the way to the forest – it was a kind of "Terror Couple Kill Colonel" setting.
That night we met the others at Alexanderplatz and went up the tower (a tourist trap). By then we were joined by the Canaria-based Tore Boe, the inventor of the acoustic laptop, who was in Germany to play live. After some weissbier, we made our way to Mitte. By coincidence our friend Justin was over in Berlin to see Geoff Berner (humorous Canadian singer-accordionist) play. On the way, Jon, Olaus, Jomba and I had a dinner consisting of pig's knees. And beer. At the Geoff Berner concert I remember being quite drunk. I wasn't sure which way was up. Half the bar had smoking allowed, and half not, which was bizarre. The bicycles then became albatrosses, as Bjarne's got a puncture. Bjarne, Tore and I got as far as Alexanderplatz with the bikes, before we realized there was no train to Charlotteburg for hours. Bjarne locked his bike up there. I used mine to go down the up escalator with childish joy, but, convinced that I was permanently in the same position, Tore and Bjarne left on some bus without me. This I realized when I reached the bottom of the escalator. My eyes blurred for a moment as my real brain switched on! With this tool, I was able to cycle and find my way back to Charlotteburg. When I got back everyone was still up, drinking, looking slightly frazzled.
Do
The next day I joined the band in the studio for most of the day (skipping the morning part). We did a lot of work overdubbing onto a song called "One More Thing". I was playing the hammond organ, but after we decided it was wrong, Boris and I discussed playing the bass pedals only, as a kind of drone. So that's what I did. They tell me it worked well but I haven't heard the results.


Me on the bass pedals
The 'other half' of the studio, Marco Paschke, was there all day to enjoy the atmosphere. He had a different name for his dog each time someone asked.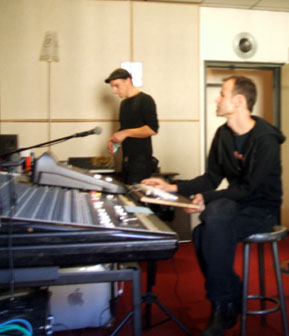 Marco and Boris
There followed a series of freeform jams, including improvised vocals from PA, all of which turned out remarkably well (wait til you hear the album). I played guitar and fender rhodes. One of the songs Jomba said was the highlight of his career! About the 'dark disco' nature of the material, Kjell-Olav's comment was: 'Stayin' Alive in Berlin'.
Most of us hit Trinkteufel, the punk bar in Kreuzberg, that night, and then Jomba, Kjell-Olav, Jon, Olaus and I went on to another bar that by coincidence had a Jagermeister promotion going on. There was free Jagermeister in test tubes served from the mouths of identical-looking girls who were probably wearing black wigs. Someone dressed head-to-toe as some kind of antlered beast wandered around the dancefloor. I lied to the DJ and told him it was Fela Kuti's birthday (actually October 15th not 22nd), so that he would play our favourite song.
Fr
Ashes. The day after Jagermeister I felt like a bag of ashes! Olaus was gone by now. I hung out with Jon, doing absolutely nothing, until he had to catch his flight. I was revived by the band who returned from their final day in the studio, and accompanied them to the album release party of Neubauten's Jochen Arbeit, which Boris and Marco also attended. I asked Boris if he'd miss the Norwegians, after this fun week. He said something like "We did it, it was good, and it doesn't go away." After the show I got talking to one of Jochen's collaborators, a gaffa-tape destroyer (Vanja is how I'd spell her name but I don't know how to spell Portugese names), and she introduced me to Jochen. Their project is small-scale enough for us to put on in Oslo, maybe. I'll talk to them in future about it… Tore by now was back in town, and Andrew Chudy (N.U. Unruh) from Neubauten showed up. Enthusiastically, the latter took us on a journey through the streets to a bar that he thought was open (it turned out to be closed, but it was the last 'real' squat in East Berlin). During this long journey he showed us his admiration for various East German aluminium doors along the way.
(I asked him what happened to the dramatic spinning-disc-with-bells from "Headcleaner". He said he still has it.)
Sa
The next night was probably the strangest. We wended our way through the silent, cobblestoned streets of Neukoln to Sowieso, a bar and, er, puppet theatre, where Tore was co-organizing a night of 'field recording' performances in the back room. Masselys were somehow to perform at this quiet affair. The barman eyed them suspiciously. There were six children asleep in the room above, and they were not to be awakened.
So, two guys performed with their field recordings, including Alexandre Deoupigny who is interested in playing in Oslo gave me a cd, "Piano Cycle Rework: L'Ambience d'un Piano Illusione". When it came time for the band to play, Tore gave a long introduction about why he invited a rock band (albeit with a drumkit reduced to a suitcase and some cymbals) to play a field recording festival. I won't repeat that long, involved, entertaining speech here! Bjarne also launched into his own introduction, saying the band had 'picked up' something on the street outside and recorded it into their brains. They started up their low-volume performance and everyone burst out laughing when PA launched into the Bee Gees' Stayin' Alive. They followed it with one of their own songs, which they managed to play quieter and quieter. It was a comedic site-specific performance and no children woke up.
Tore performed afterwards, playing his acoustic laptop and repeating verbally some strange airport intercom announcements. Andrew Chudy joined us as it ended. I talked to him briefly as he watched a humorous couple apparently practising shoving each other around on the street.
The barman liked us now, and gave us a free bottle of champagne. PA and Jomba eventually went off to find techno to dance to. Only Jomba had the energy to match PA's youth. I know it is a mistake to try to keep up. Jomba never claims to feel like a bag of ashes…
So
The next day three of the band left Charlotteburg to pick up their stuff from Sowieso and then go to the airport. PA, Tore and I remained for one more night. I went out with Tore to an Irish Bar near the Zoo Station. It was underneath a shopping centre. A covers band was playing "Ring of Fire", "Billie Jean" and "Knockin' on Heaven's Door". Two girls, probably friends of the band, danced. Innocent-looking young tourists sat up the front, seemingly unaware of the nearby sleaze. Tore thought he could detect a coke influence in the way some people stared. Hookers sat alone waiting to be picked up. Outside there were undercover cops. A German decadent Irish bar.
Mo
On the final day, a guy came to clean up the apartment, which left me and PA on the street with about 100 empty beer bottles.