Februar 8, 2009
Wollstonecraft's Letters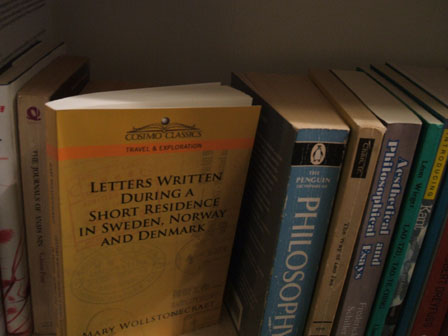 Mary Wollstonecraft, remembered for A Vindication of the Rights of Woman (1792), and for having died from giving birth to Mary Shelley, also travelled through Scandinavia in the summer of 1795, and wrote of her experiences in Letters Written During a Short Residence in Sweden, Norway and Denmark, which I've been reading. Here's some excerpts for you...
Continue reading "Wollstonecraft's Letters"
Posted by barry at 12:53 EM
Desember 1, 2008
Statistic Time Again
About once a year, I almost gaze down from my Arctic tower to the (alleged) world below, but then I realize I don't need to do this, because my loyal servants are able to fax me statistics upon which I can pontificate (if, that is, I feel like pontificating). This year, I'll fill you in on gross national income, press freedom and higher education, three subjects you are no doubt fascinated by.
Continue reading "Statistic Time Again"
Posted by barry at 3:13 FM
Oktober 19, 2008
The Norwegian Way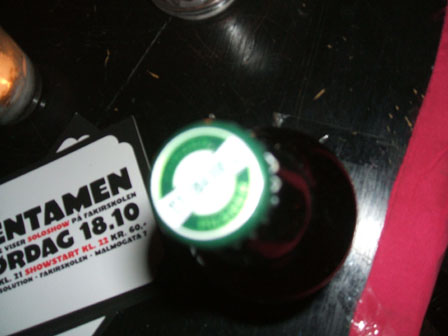 Is there anything about Norway I am reticent to investigate? Certainly not. On North I get ever closer to the heart of the matter, and tonight I reveal something very essential to this depopulated Scandinavian nation.
I don't know whether tonight's subject is a Norwegian invention or a Norwegian cultural practice, but it's something you have to learn if you live here: how to open a beer bottle, the Norwegian way.
Gaze upon the picture above. See the beer bottle? It isn't open. There is beer inside. We need to get the beer out. This is not an Australian-style screw-top bottle, so you can't use the palm of your hand. And don't use your teeth, you reckless idiot! And no no no you cannot resort to using a bottle opener; that might be all well and good inside the E.U. but it is not the Norwegian way.
I'll tell you what you need.
Continue reading "The Norwegian Way"
Posted by barry at 10:43 EM
September 18, 2008
The Blather North Podcast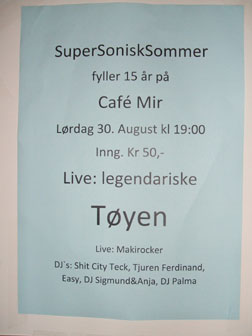 #1: Grunneier
Part one of three. Blather North's roving and raving reporter, Barry Kavanagh, attends a party at Mir in Oslo for the radio show SuperSoniskSommer on the station RadiOrakel (see poster) and interviews a random member of the public, a chef called Nils, who had been presented a list of topics he could choose to talk about. He chose the Norwegian concept of grunneier and talks about it.
Recorded by Barry Kavanagh and edited by John Birger Wormdahl.
(Next week: some music from Tøyen.)
Update August 2009: owing to repeated court actions by Concerned Parents Against, this podcast is no longer available.
Posted by barry at 7:03 EM
August 22, 2008
Penguins etc.
While my computer died and I was getting a new hard drive, a large number of North readers emailed me about this story of a penguin who was a member of the Norwegian armed forces (!) getting knighted. Watch the video here. Yes, we have heard about this absurd story in Norway, vaguely, but the Norwegian population don't realize how big the story is, and how no-one will ever take them seriously again. About anything. Ever.
Continue reading "Penguins etc."
Posted by barry at 6:38 EM
Juli 13, 2008
One in Four
Recently Aftenposten reported that new statistics show that one in four people living in Oslo is a foreign immigrant, i.e. non-Norwegian, i.e. like me. The breakdown goes like this:
Year: 1998. Population of Oslo: 499,693. No. of immigrants: 85,550. Percentage: 17.
Year: 2008. Population of Oslo: 560,484. No. of immigrants: 137,878. Percentage: 24.5.
So what does this mean for "us" and for "them" ?
Continue reading "One in Four"
Posted by barry at 2:35 FM
Juli 3, 2008
The Innocence of Sleeping Children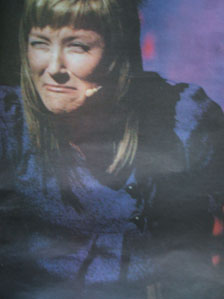 She's back in the news! The 'psychic' Norwegian Princess Märtha Louise (pictured above). The controversy this time is that her angel school has begun courses for children.
Continue reading "The Innocence of Sleeping Children"
Posted by barry at 5:29 EM
Mars 30, 2008
Vorspiel og Nachspiel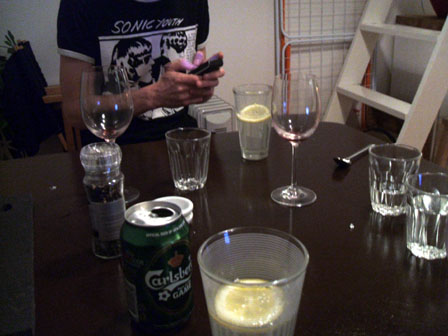 The time has come for me to introduce you to a couple of very important concepts in Norwegian culture. Vorspiel and Nachspiel. These are in fact German words - I don't know why - but they describe the first and third phases of a night out in Norway. Vorspiel means the "before party" and nachspiel means the "after party". In between, you go out and buy expensive beer in a bar, concert venue or club. Perhaps that's the origin of these essential parties: they reduce the price of going out in the most expensive land on Earth.
Continue reading "Vorspiel og Nachspiel"
Posted by barry at 8:14 EM
November 30, 2007
More Statistics
"Not Quite the Best", reported Aftenposten in an online English-language article. It's all over for Norway and the annual human development index (pp229-232 of this long UNDP report). Iceland is now the best place in the world to be living in. Norway, which topped the index every year from 2001 to 2006, comes second.
Continue reading "More Statistics"
Posted by barry at 3:36 EM
November 5, 2007
GNP versus Life Expectancy
Gross national product (GNP) per capita, to use the Wikipedia definition, "is the dollar value of a country's final output of goods and services in a year, divided by its population. It reflects the average income of a country's citizens." Lets see how Norway's doing compared to other countries in GNP, and see how that compares to a list of countries by life expectancy.
Continue reading "GNP versus Life Expectancy"
Posted by barry at 3:02 FM
Oktober 25, 2007
Hanna er savnet (Hanna is missing) (updated)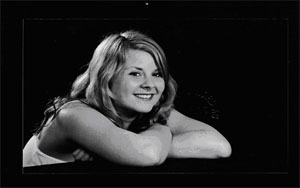 This came by email last night; I've been asked to spread this. It's a missing girl in Norway, and many Norwegians read "North" (I know). Her name is Hanna. Click the picture for a larger image. The text below is as I received it; there's also a photo of her tattoo.
(5 Nov: This story has been updated).
Continue reading "Hanna er savnet (Hanna is missing) (updated)"
Posted by barry at 2:14 EM
Oktober 20, 2007
Norwegian Lesson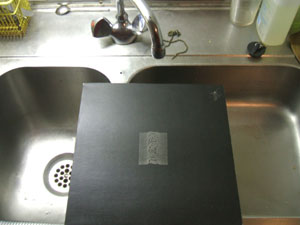 In order to improve my Norwegian, I've been translating some common English words and phrases for myself. Should you ever find yourself in Norway, you'll find these extra-handy. Norwegian readers can get in touch with me to correct any mistakes.
Continue reading "Norwegian Lesson"
Posted by barry at 7:54 EM
Oktober 18, 2007
Day of the Parasite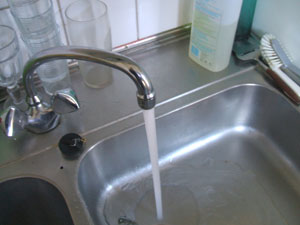 04.30 Wednesday morning. I turn out the light and go to sleep.
06:38am, I'm woken by a text message from my flatmate, who's away on her farm: "The news tells everybody in oslo to boil the drinking water even to teeth brush.. Fordi det er små parasitter i vannet. Regner med at du ikke hører nyheter." The Norwegian part of the message means "Because there are small parasites in the water. I figured that you didn't hear the news." Yes, of course I wouldn't be listening to the radio at that time of the morning, I was asleep! Well, well, bad news travels fast, as my father says from time to time. I made a mental note and went back to sleep.
Continue reading "Day of the Parasite"
Posted by barry at 12:51 FM
Oktober 12, 2007
Oslo Politics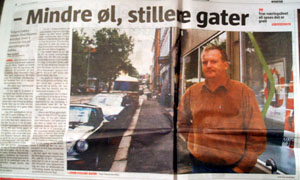 Last month there was a local election in Oslo, and it's amazing how the traditional left-right divide remains so pronounced. Judge for yourself whether you think this is extreme or not. Here is a list of some of the things the left-wing parties were FOR and the right-wing parties were AGAINST:
Continue reading "Oslo Politics"
Posted by barry at 8:28 EM
September 28, 2007
Confusion over the Kjeller Incident
On 12 September, the environmental organization Bellona reported on their website that "The Norwegian Institute for Energy Technology (IFE) experienced a leak on Saturday in a pump used in conjunction with the recombination circuit at the Kjeller reactor outside of Oslo, resulting in a small release of radioactivity into the environment for about 15 minutes, IFE officials acknowledged over the weekend."
When an English friend told me about this, I was very confused. "But Norway doesn't have any nuclear power stations," I said. "It's all hydro-electricity here."
He then pointed out that there was a large golfball-like object outside the city, and it was from there that the radioactivity was released!

Continue reading "Confusion over the Kjeller Incident"
Posted by barry at 5:26 EM
September 24, 2007
North FAQ?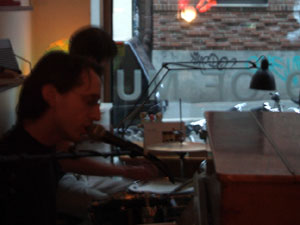 Random picture of me: singing with Dacianos in June 2007. Click for a larger one (a new feature added by popular demand from North readers).
One reader emailed me this list of questions, adding that "What I was thinking was that if you kept a list of some of the more interesting and humorous questions and answers from people (not just me) you could put them on your site for all to read. This would also save people asking you the same questions over and over again." While I might construct a Frequently Asked Questions page, most of the emails I receive are along the lines of "Am 31 years a Ghanaian based in Italy looking for Norway woman for a serious relationship that i hope to get to marriage" or, occasionally, "Hello, I am a vampire!" So I'll answer these new questions as a blog entry for now.

Posted by barry at 8:53 EM
September 13, 2007
The Psychic Princess (postscript)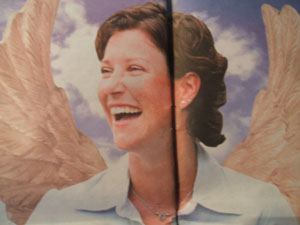 So the Princess finally opened the angel school about a month ago. The teaching began in August, but without a location for the school! So I can't go there to tell you what it's like.
Continue reading "The Psychic Princess (postscript)"
Posted by barry at 4:53 FM
August 15, 2007
The Psychic Princess (part 2)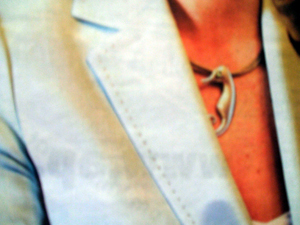 I don't want to leave the subject of Norway's psychic princess Märtha Louise just yet. I'd like to report on what the reaction to her opening an angel communication school has been like in Norway.
Continue reading "The Psychic Princess (part 2)"
Posted by barry at 8:10 EM
Juli 28, 2007
The Psychic Princess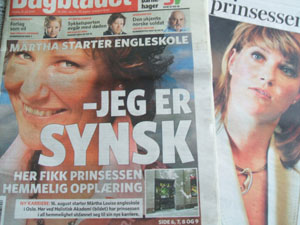 At last, something actually happens in event-shy Norway. Princess Märtha Louise, 4th in line to the throne, has declared "I am psychic" and is opening a school to teach people how to communicate with angels. The princess has been in contact with winged celestials, having previously had her third eye opened by communicating telepathically with horses.
Continue reading "The Psychic Princess"
Posted by barry at 11:52 EM
Juli 18, 2007
Fellesferie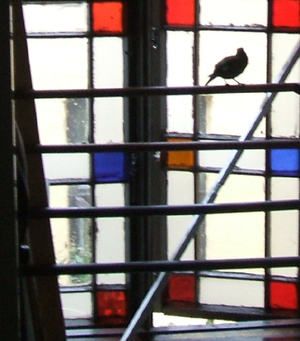 I title this picture "Nature: bored." A bird flew into my hallway, looking for something different. The streets and gardens of Oslo offer nothing to anyone anymore.
It is July, the most hideously vacant month in the calendar, a month in which I have all the time in the world to write about the particularly torturous phenomenon of the Norwegian summer.
Continue reading "Fellesferie"
Posted by barry at 5:38 EM
Juli 14, 2007
The Magic Symbol (part 2)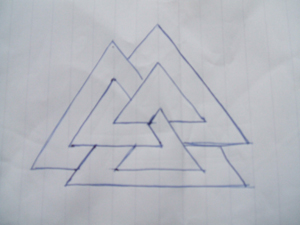 More about the magic symbol. This time I can't pretend it's too much of a secret. The editor of blather.net greased up his research elbows and emailed me some pertinent information about it, thus rousing me from my drunken squalor.
Continue reading "The Magic Symbol (part 2)"
Posted by barry at 2:39 EM
Juli 5, 2007
The Magic Symbol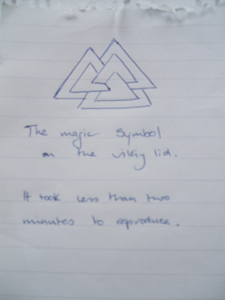 One interesting thing for a tourist to do in Oslo is visit the Viking Ships museum, where you get to see, er, Viking Ships, but also some of the fancy stuff that was discovered with the boats. There's a particular pot lid with this magic symbol on it. My niece sketched it for me, and wrote, "The magic symbol on the viking lid. It took less than two minutes to reproduce."
Continue reading "The Magic Symbol"
Posted by barry at 5:37 EM
Januar 14, 2007
Vikersund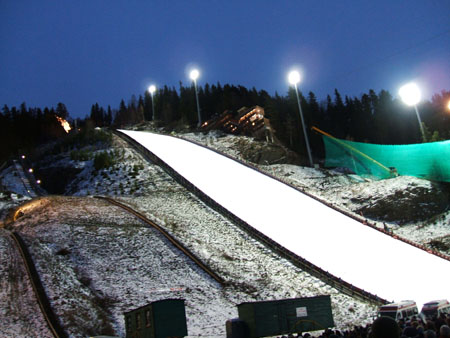 Vikersund is a small place in the countryside that hosts one of the biggest ski-jumps in the world. Holmenkollen is a stunted dwarf compared to this jump, which has had a record of 219m achieved on it ...so far. I went to Viksersund to attend a ski-jumping (ski-flying to be exact) event, a world cup event, apparently, and I was wondering if the record would be beaten. So I stood with Norwegians in the freezing snow, and many of them were all dressed flags painted on their faces etc.
Posted by barry at 4:11 EM
Desember 17, 2006
North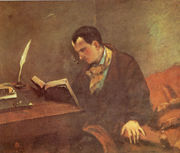 Posted by barry at 5:09 EM
Oktober 21, 2006
Return to Telemark

I've been out travelling in "real" Norway! Yes, I took another visit to Telemark, a part of Norway I've written about before. This time I was not with a busload of Americans, and I had a working camera. The mist prevented much in the way of photography, but here you can see an old wooden house that stands on my friend Ingebjørg's farm. It's either from the 1100s or 1300s - and, it's said, definitely not from the 1200s.
Continue reading "Return to Telemark"
Posted by barry at 5:27 EM
Oktober 15, 2006
Zero
I may be the poorest person you know! At least I was, in the tax year 2005.
In Norway, everyone's incomes and the amount of tax they have paid are made public on the revenue service's website. You can look up anybody. I think this is fantastic. Imagine the consternation this would cause in Ireland where everyone is vague about their true earnings! Ha.
Best of all, when you look me up, you just get zero! As a matter of fact I did do some work in 2005, and I paid tax on it, but the tax was returned to me this month. I earned so little that it was tax free, and so little it doesn't even register. Or, at least that's what I'm saying!
Instructions:
Posted by barry at 5:46 EM
August 27, 2006
Love !

Our guest writer has departed and I, Barry, have returned to my own blog.

Thank you to all the people who send me comments via the contact form. I get very interesting feedback from this blog, and the private nature of this correspondence gives it a very personal touch. This week I want to let you know about one particularly touching response.




Posted by barry at 4:28 EM
August 20, 2006
When West Goes North (Part 2)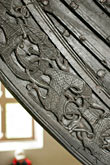 This week's entry is also written by blather.net's editor Dave, as a followup to last week's. Where is Barry?
I'm jolted awake by a roaring in my head. I desperately try to take in my surroundings. I appear to be on a passenger aircraft. None of the other passengers look alarmed. I try to act inconspicuous, then realise I'm wearing headphones, and follow the cable into the seat pocket in front of me. I find my Ipod inside. The noise in my head is the intro to Understraum, from the album Straum by Norwegian fiddle player Nils Økland. I must be on the return flight from Norway. I had my Ipod on shuffle, so it's just coincidence - or synchronicity - that I'm woken up by a Norwegian musician.
Continue reading "When West Goes North (Part 2)"
Posted by daev at 11:40 EM
August 6, 2006
Norwegian Women

If ever there was a title to a blog entry that was going to bring in traffic from search engines, this is the one. I have received requests from readers to write upon this subject and now I have decided that IT IS TIME. I write this with some reticence, however, because no statement on this matter could ever be considered final.
What do I know about this subject? You may think that as a certain type of man, I am bound to have met only one type of Norwegian woman. Not so. I am many types in one, and have encountered many kinds of females. Based on the company I keep, it is as often asked "Why isn't Barry happily married living in the suburbs with 2.4 children?" as "Why isn't Barry lying justifiably murdered in a ditch?"
I am sure that if I was gay, what follows would be a tedious article about clothes and deportment. Instead, you are about to read the straight foreign man's guide to Norwegian ladies, with all the important facts you need to know!
Continue reading "Norwegian Women"
Posted by barry at 7:08 EM
Juni 25, 2006
One Year in Norway
So, one year in Norway. Has it lived up to my expectations or was I naïve? Is there really a reason why I'm living here, or am I just an aimless drifter who has ended up in an obscure outpost of old Europe?
Continue reading "One Year in Norway"
Posted by barry at 3:27 EM
Juni 18, 2006
Holmenkollen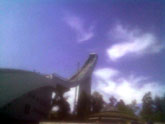 More than one million people visit Holmenkollen Ski Museum every year, which is very brave of them because it's very high in the sky. I didn't look down as I ascended, but now that I am up here I can see how frightening it is.
Continue reading "Holmenkollen"
Posted by barry at 6:58 EM
Juni 11, 2006
Devil Country

What a dubious place I live in! Did you know that John Milton associated Norway with Satan in Paradise Lost? When Satan is lying upon the Burning Lake, Milton compares him to a whale deceiving men into thinking it is an island:
"...that Sea-beast
Leviathan which God of all his works
Created hugest that swim th'Ocean stream:
Him haply slumbering on the Norway foam"
(Book I lines 200-203)
Milton here is only hinting at the shadiness, the very fishiness, of Norway. He gets much more explicit later on.
Continue reading "Devil Country"
Posted by barry at 12:12 FM
Mai 21, 2006
A National Day is a National Day

As an Irishman, my national day is St. Patrick's Day, 17 March, and it's a fairly unpleasant affair. Although the children of Ireland get to go out on the streets and watch colourful parades, the day swiftly descends into public displays of alcoholism and casual street violence. Then the next day, there's litter to be seen everywhere, and Ireland looks like a complete shithole. Norway's national day, Grunnlovsdagen ("Constitution Day") is on 17 May, and it was my first experience of it. How would it compare with the Irish experience, at street level?
Continue reading "A National Day is a National Day"
Posted by barry at 2:32 EM
Mars 26, 2006
Sámi in Norway

Some readers of this blog will know a lot about the Sámi people, some will know nothing. I write here for the latter group, as any description of Norway and other northern countries would be incomplete without touching upon this topic, and I'd like to get the basic history across. My source book is The Sámi People - Traditions in Transition by Veli-Pekka Lehtola (2004 edition).
The Sámi are an indigenous ethnic minority, with their own culture, living in the northern parts of four neighbouring countries: Norway, Sweden, Finland and the Kola peninsula of Russia. There are between 60 and 100 thousand of them, 40-50 thousand living in Norway (half of these in the province of Finnmark). Within the Sámi community there are many different groups, each with their own language. Davvi Sámegiella has the most speakers: 17 thousand, with 10 thousand of these living in Norway.
Continue reading "Sámi in Norway"
Posted by barry at 3:50 FM
Februar 26, 2006
Fram

This bust of polar explorer Fritjof Nansen can be seen in Frammuseet, the Oslo museum that contains his ship, the Fram. The basic facts about the ship are: it was built by Colin Archer (a Norwegian of Scottish descent), it was launched in 1892, it's 39 metres long, its "depth maindeck to keel" is 4.75 metres, and it has sailed further North and further South than any other "conventional vessel" - North latitude 85° 57' and South latitude 78° 41'. The Fram's special egg-shaped hull allows it "to be lifted by the ice pressure instead of being crushed."
Posted by barry at 5:55 EM
Februar 19, 2006
Welcome to New Tokyo

It hit the news a few weeks ago: Oslo has now overtaken Tokyo as the most expensive city in the world. This was based on a survey of the cost of living by the Economist Intelligence Unit. So what does it mean to be in the most expensive place on Earth?
Continue reading "Welcome to New Tokyo"
Posted by barry at 2:42 EM
Februar 12, 2006
Arbeid: Blogging live from Mu

Some time ago I wrote an entry called Arbeid, which was about working in Norway. Tonight I'm updating you on that subject, from my place of work. Yes, I'm blogging to you live from behind the bar at Sound of Mu. It's 8.30pm and there are eight people drinking here.
Continue reading "Arbeid: Blogging live from Mu"
Posted by barry at 8:35 EM
Januar 29, 2006
Takras

Ok, so I was in the Sound of Mu, opening the bar for the day. Petter was there, folding a piece of A4 paper in half. "How long have you been in Norway?" he asked. "Since June," I replied. So this was my first winter. He said he'd have to introduce me to a feature of Norwegian winter called takras.
It was raining outside, indicating both that the temperature had risen, and that the snow was beginning to melt. This meant the ice on the roofs would become unstuck - and fall off. Petter and I went out onto the street outside Mu and he pointed to a menacing shard of ice on the roof, high up above us. Soon, it would fall, to the peril of whoever stood below.
Posted by barry at 12:41 EM
Januar 22, 2006
Snø

O snow, thou art warm.
Someone said to me that the bleak, depressing part of winter is not now, in the cold, but earlier in winter, before the solstice, when the days are getting darker. Now, when it's -8 degrees, the snow, a white blanket, brings more reflective light. Also, each day now is a little brighter, leading to spring. Oslo folk found a way to love the snow. They go cross-country skiing on the well-lit tracks outside the city.
Posted by barry at 8:33 FM
Januar 15, 2006
VÃ¥r Frelsers Gravlund

("Our Saviour's Graveyard"). This graveyard, established in 1808, is Oslo's most famous cemetery, and many of the great Norwegians of history are buried here. On this 'warm' January afternoon (it's about 7 degrees, and there isn't any snow), I take a stroll through the Gate of the Abandoned Glove... Of course, that's not its official name, but there's a hardened, weather-beaten and presumably abandoned glove on the gate and it doesn't look like it's going to be removed any time soon.
Continue reading "VÃ¥r Frelsers Gravlund"
Posted by barry at 2:18 EM
Desember 25, 2005
Sound of Mu

Our story begins in 1864. Diego de Landa, Bishop of Yucatán, Mexico, publishes an alphabet that can be used to translate the hieroglyphics of the three Mayan codices. Enter the translators. The Abbé Charles-Etienne Brasseur interprets the Troano codex to be about a land called Mu, tragically destroyed by a volcano. Augustus de Plongeon's version is similar, although he sees much more about Mu in the codex. He comes to believe it is a lost continent in the Caribbean Sea.
Continue reading "Sound of Mu"
Posted by barry at 2:48 EM
Desember 18, 2005
The Online Norgesvenner Museum

Let me begin with the question: why am I living here in cold, expensive Norway? Unlike almost all other foreign men in this country, I wasn't press-ganged into moving here by some weeping, homesick girlfriend, nor was I avariciously lured by the black gold of plentiful oilfields.
Nay, there can only be one category to which I belong. I must be one of the norgesvenner ("Friends of Norway") that I hear whispers about in the bars and streets of Oslo. Yea, these fabulous and strange creatures come from afar to become peculiar objects of Norwegian affection in every fjord and fjell, despite the fact that they are often fameless and obscure throughout the rest of the globe. I now institute the Online Norgesvenner Museum. Can I persuade you to take the tour?
ENTRANCE. The first exhibit is Bonnie Tyler, pictured here in her original glory.
Continue reading "The Online Norgesvenner Museum"
Posted by barry at 8:42 EM
Desember 11, 2005
When Will There Be a Requiem for Radioactive Toothbrushes?

This is Torbjorn Davidsen: artist, actor, protestor, Nordmann, but most of all a father. On the day that the International Atomic Energy Agency (IAEA) and its director Dr Mohamed ElBaradei were awarded the 2005 Nobel Peace Prize, he made a strong individual protest, by carrying a gravestone 20 kilometres on his back, to put on the lawn of the Nobel Institute.

Continue reading "When Will There Be a Requiem for Radioactive Toothbrushes?"
Posted by barry at 6:22 FM
Oktober 30, 2005
Trondheim

I'm inside this building, the tallest wooden house in Norway, as I type this blog entry. I'm in Trondheim to play a konsert and I'm staying in the old "anarchist squat" area of the city, literally on the "wrong" side of the train tracks. Artist types [ there's someone standing right outside painting on an easel] have developed this little spot into a nice little wooden community, and I'm to perform in their bar this evening.
Opposite me is a massive concrete structure where German U-Boats docked during the war. The Norwegians were going to blow it up, but then realized the required amount of dynamite would actually raze Trondheim, so they kept it. In fact, they are adding to it; there's scaffolding on it now.
Posted by barry at 1:23 EM
Oktober 9, 2005
Arbeid

("Work"). I have been unemployed long enough to realize I don't really want a proper job and money and all that, like the rest of the hamster people on the universal treadmill. Of course, the only way out - at least for now - is to sell my body. So that's what I'm doing. In fact, I'm going one better, by selling my personality as well.
To advertisers. And movie moguls.
Posted by barry at 2:50 EM
September 18, 2005
Valg 2005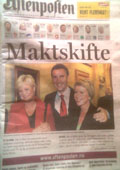 ("Election 2005"). The single word in this newspaper headline, maktskifte, means "power-shift" and this announces that the reigning government lost this week's general election in Norway. The three people you see are the leaders of the three political parties that will form the new coalition government.

In the centre you see Jens Stoltenberg, leader of Arbeiderpartiet ("the labour party"), which received the most votes in this election (32.7%).

On the left is Kristin Halvorsen, leader of S.V. (Sosialistisk Venstreparti, the "socialist left party"), which received 8.8% of the vote.

And on the right is Ã…slaug Haga, leader of Senterpartiet ("the centre party"), which received 6.5% of the vote.
Posted by barry at 11:51 EM
September 11, 2005
Panteautomat

Here's something which may or may not be unique to Norway, but I haven't experienced a system like this elsewhere. Whenever you buy a soft drink bottle, or a beer bottle or a beer can, the money you pay for it includes pant. The amount of pant you pay depends on the type of can or bottle. For example, a 0.5l plastic bottle of water has 1kr pant and 0.6l has 2.5kr. This is a money deposit that is returned to you if you bring your empties back to the shop. This is best experienced in a supermarket, where you can do this at a self-service machine, the Panteautomat.
Continue reading "Panteautomat"
Posted by barry at 3:09 EM
September 4, 2005
Stave Churches

Medieval Stave Churches, so called because they are constructed with wooden staves, could once be found in various parts of Europe, but they have survived only in Norway. There are 28 here and I visited two of them.
Most of the stave churches were built between the 1130s and 1350. The Black Death spread in Norway from 1349 and construction of all kinds soon ceased.
Continue reading "Stave Churches"
Posted by barry at 4:06 EM
Juli 24, 2005
Telemark
As you can see, I have no photo(s) from my travels through the Norwegian province of Telemark. This is because I have until now been using the camera on my phone, and now that my contract with T-Mobile in London has ended, the phone is locked, until I receive the pin number with which to unlock it so I can put a new sim card in it. I paid T-Mobile for this pin back in June, and despite phone calls, emails and a hand-written letter, they still haven't given it to me. So no phone, no camera. If you are in the UK or wherever else T-Mobile "operate", don't make my mistake of becoming one of their customers! This is the worst "customer service" I have ever experienced. Let their logo stand here as an anti-advertisement for their "services".
Posted by barry at 11:03 EM
Juli 17, 2005
Bergen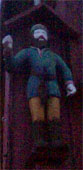 Up until now I've been writing about my experiences in the city of Oslo, capital of Norway. But Norway's previous capital was the west coast city of Bergen, a far more dramatic place, which I have just visited.
Oslo and Bergen are not near each other. I think the train distance is about 470k and we took the roads. I went with the summer school who organized a bus tour for about 65 of us. We stopped overnight at Lærdal and then arrived in Bergen the following evening.
Bergen is famous for its constant rain, but while there I experienced everything from downpour to beautiful sunshine. I was told this was atypical, even for July. So expect rain if you go there. I'm sure this is something that may put you off the place at first, but once you get beyond that there is so much to discover. Bergen has a character and feeling I can barely describe. The streets display architecture from all sorts of historical epochs, all jumbled together chaotically. The small city is on an incline, moving upward from fjord water to the high, misty forest that overlooks all.
Posted by barry at 10:13 EM