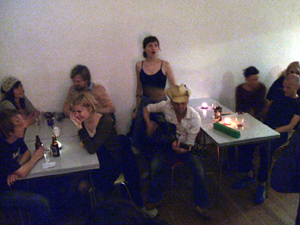 There are certain advantages to the desolation of Oslo in the month of July. For one thing, our bar is one of the few places that actually has something going on. This week we had some busy events, on Thursday, Friday and Saturday, during which we were thanked for keeping the city alive.

We had our summer party on Saturday, and were treated to a visit from the UK: Amity and Mark of Morning Bride turned up and played us a few songs acoustically (see picture). On 22 July we then closed, and will re-open on 2 August. This is for necessary renovation work on the interior.
It's good that most of my friends living in our apartment block also remained in Oslo in July. We have a massive wooden table in the yard, and have our meals outdoors when we can.
Festivals happening in remote spots of Norway often mean all sorts of foreigners pass through Oslo on their way in or out of the country. Bryan O'Connell of Si Schroeder said hello on his way back from one festival, and found himself hired as an extra musician in Salvatore, on their way to another.
Another good thing is that I have 22 July to 2 August almost free of responsiblity, so now I can remain indoors, in my tower, writing novels. In the long days and nights ahead, my state of consciousness will alter, cleansing my mind (and the world) of unnecessary interference from my personality. Long may the blank nothingness of summer reign!