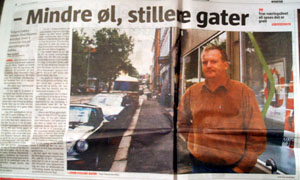 Last month there was a local election in Oslo, and it's amazing how the traditional left-right divide remains so pronounced. Judge for yourself whether you think this is extreme or not. Here is a list of some of the things the left-wing parties were FOR and the right-wing parties were AGAINST:

Building more car parks to prevent the increase of traffic in the city centre; continuing to allow library books to be lent for free; continuing to allow school bands to practise at school for free; keeping the Munch Museum at its current location; offering full-time positions to the 5,000 part-time workers in welfare services for the elderly; giving free security alarms to the elderly; establishing a crime-prevention team in every district; preventing the sale of more council housing; tighter control on alcohol licensing hours and on the granting of serving licenses; and preventing the privatization of water, care homes, hospitals, kindergartens, traffic wardens, the fire brigade, Oslo concert house, the maintenance of public parks, the pensions of public servants, the administration of schools and the administration of refuse disposal.
As you can see, it seems the right-wing don't want the government to provide anything at all. And, as if to prove that the affluent majority of Oslo would rather pay less tax and buy more ivory back-scratchers, the right-wing parties won the vote and are in control of Oslo's city council.
However, that's not the whole picture. In the election of the 15 district councils (bydeler), control of ten of them went to the left-wing parties. How much control the district councils have against the city council I don't know.
My district, Grünerløkka, has Paal Haavorsen (pictured) of Arbeiderpartiet (Norway's Labour Party) in charge of it. As you can see from the newspaper (Østkantavisa 13 Sept 2007), he stands for "Mindre øl, stillere gater", which means "less beer, calmer streets". You see, in Norway you can't vote for library books and kindergartens and at the same time vote for the relaxation of the licensing laws. A left-wing vote means more government regulation. If you want to vote for fun, for some reason you have to be against the welfare state. I conclude that the right-left divide is too extreme here, yet that is perhaps only because I'm Irish and see alcohol as fun rather than as the oppressor of the workers.