November 29, 2013
Emanuel Vigeland Mausoleum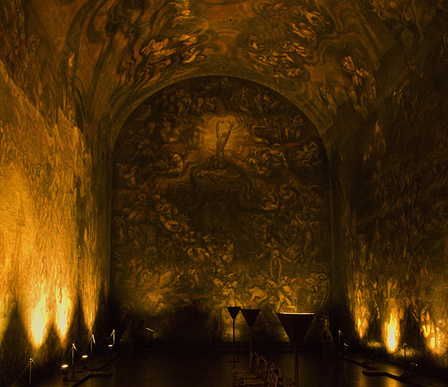 This image of the mausoleum is the main one from the Emanuel Vigeland Museum website.
This has already been written about in this blog, back in 2006, but it happens that last year I wrote a piece about it for a magazine that declined to publish it. Also around the same time I reviewed a Charlemagne Palestine concert that took place in the mausoleum, which another magazine declined to publish. It seems that North is as good a place as any to merge and publish the two unpublished articles from June and August 2012.
Continue reading "Emanuel Vigeland Mausoleum"
Posted by barry at 2:27 EM
Januar 28, 2011
Counting Down to 22 January 2013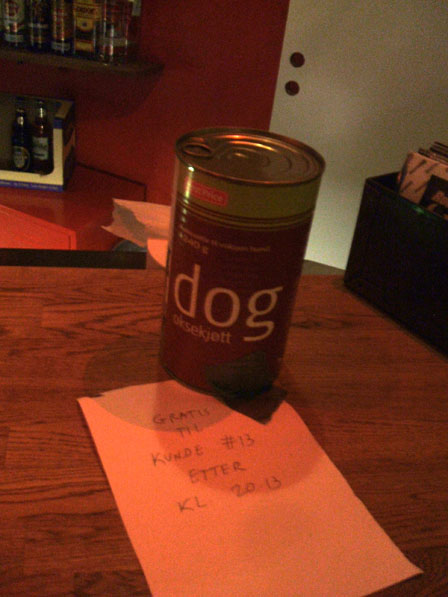 22 January. Free dog food to the 13th customer after 8.13pm, i.e. 2013 hours, a tribute to the year 2013 using the 24 hr clock.
Continue reading "Counting Down to 22 January 2013"
Posted by barry at 4:36 EM
Mai 13, 2010
Scream Scene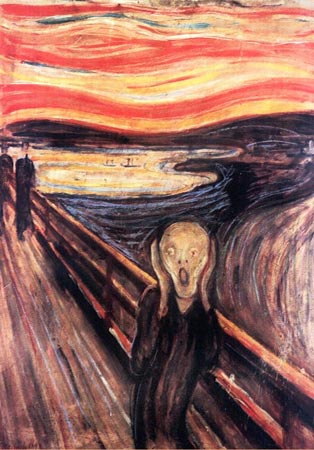 In my blog entry of 6 March 2006, I described my attempt to go to the spot on the hill of Ekeberg overlooking Oslo which provides the setting for Scandinavia's most famous painting, The Scream by Edvard Munch. There was too much snow for me to make it up the trail that time. Four years later, a friend who frequented the spot walked me up there. If it wasn't for her it would undoubtedly have slipped my mind forever, but here at last are some modern photos of the Scream scene.
Continue reading "Scream Scene"
Posted by barry at 8:06 EM
Februar 16, 2009
Premium Bananas Music Hall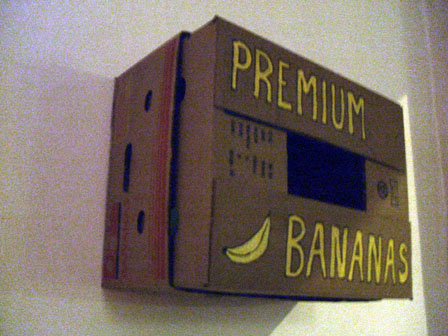 About a year and a half ago, artists Trond Arne Vangen and Frode Fivel completely changed our bar with cardboard and convincingly made it look like an old-fashioned bar with old-style wood furnishings. Now the duo are back with more cardboard, with a concept based on a banana box. I've got some photos here, which should show you (especially readers who have been here) how dramatic a change this is to the normal use of the space.
Continue reading "Premium Bananas Music Hall"
Posted by barry at 11:23 FM
Oktober 8, 2008
Dacianos in Skien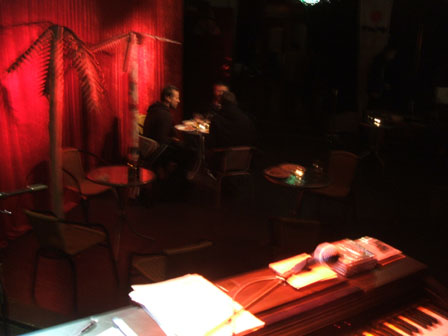 (click for closeup)
On 4 October I took my third trip this year to Skien with the Sound of Mu collective... This time it was the "finisage" of the summer-long Tempo Skien art festival. We converted an extremely commercial-looking venue into a more appealing "cabaret" with fake trees. Two of our bands played: Jae and Dacianos.
Continue reading "Dacianos in Skien"
Posted by barry at 1:18 EM
Juli 11, 2008
Recent Art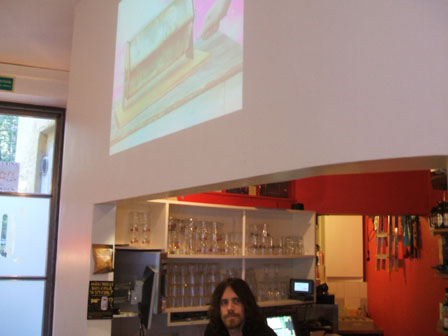 I've been looking through my uploaded photos of recent art exhibitions and music shows we've put on. There's a lot missing (sorry Jens Hamran, sorry Somadrone) but here's some pics that weren't lost. First off, the Hilmar Fredriksen exhibition. He projected a pretty cool film onto the bar, and you can see a frame from it, with our barman Martin underneath looking, er, arty. Click to enlarge.
Posted by barry at 11:32 EM
Juni 6, 2008
Skien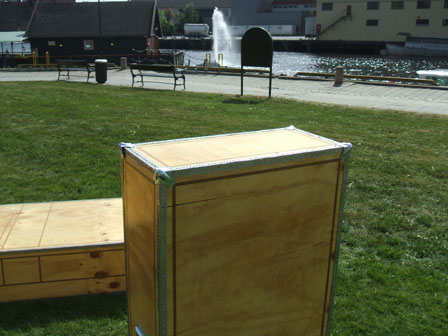 What's this? It's the edge of art...
These boxes are artworks by Kristina Müntzig, part of a collection of 'fake' furniture placed in a public park in Skien, Telemark, as part of Skien's public art festival, Tempo. Rather than showing you the art itself, I'm showing you where it meets the harbour. Where it meets 'reality'! Kristina was only one of about a dozen artists who placed their strange objects around the town.
My own 'art collective', Sound of Mu, were involved in our own distortion of Skien's reality, as we upped sticks and moved there for one day, to host Tempo's opening event. So into our hired van went musical instruments, a projector, all our microphones and DI boxes, a frying pan, even parts of the floor (each piece of wood having its own story to tell, apparently)... yes, Mu was packed up and driven to Skien on 31 May.
Posted by barry at 5:49 EM
Mai 9, 2008
I Like What You've Done With The Place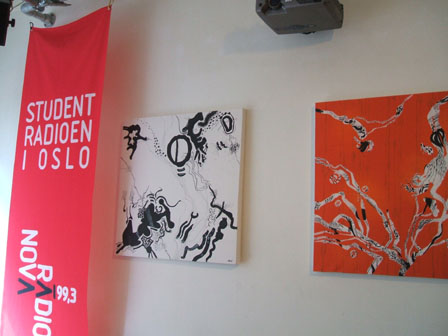 Since the last blog things have ticked along nicely but I've been unsure about what to blog about. I've stayed at home and we've been hosting a number of "cultural events", as we tend to do. Here are some pictures, each one enlargeable by clicking. This first pic shows the exhibition of Clas Hansen alongside the banner for a live radio broadcast that Radio Nova did from our bar on 10 April.

Continue reading "I Like What You've Done With The Place"
Posted by barry at 6:23 EM
Mars 15, 2008
Mu: Acoustic Laptops, Charles Hayward and Ergocracy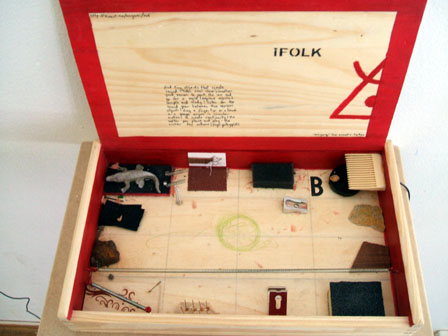 Bored, bored, bored of people making electronic music "on their laptops"? Then welcome to the iFolk, the new generation of acoustic laptops.
Continue reading "Mu: Acoustic Laptops, Charles Hayward and Ergocracy"
Posted by barry at 4:05 EM
Februar 24, 2008
By;alarm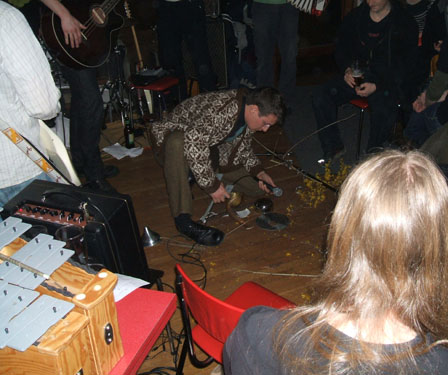 Here you can see Origami Arktika smashing up Sound of Mu.
Posted by barry at 11:58 EM
Februar 10, 2008
Photos of photos. Hmm. I shouldn't do that, should I?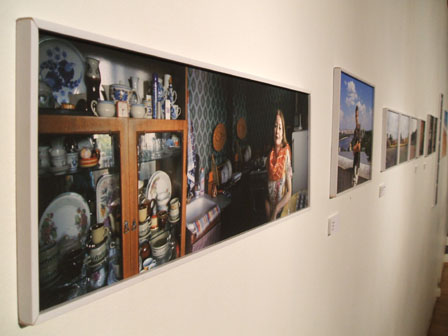 Another sneak peak into the gallery that is Sound of Mu. This week we have an artist exhibiting from Berlin. The photographs are by Tina Schimansky and appear on one wall of the bar in her hand-made frames.
Continue reading "Photos of photos. Hmm. I shouldn't do that, should I?"
Posted by barry at 1:29 FM
Februar 3, 2008
Birds
I've been neglecting the "Norwegian art" category of this blog. Plus, I don't think I have ever shown you any of the exhibitions at our gallery at Sound of Mu, and we've had about two a month for over two years. So, I promise from now on to give you a slice of contemporary Norwegian art. This is the current exhibition, by Hanna A. Høiness, casually photographed by me. Amateur photographs of professional art: it could be a new movement.
Posted by barry at 11:32 EM
August 20, 2006
When West Goes North (Part 2)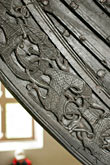 This week's entry is also written by blather.net's editor Dave, as a followup to last week's. Where is Barry?
I'm jolted awake by a roaring in my head. I desperately try to take in my surroundings. I appear to be on a passenger aircraft. None of the other passengers look alarmed. I try to act inconspicuous, then realise I'm wearing headphones, and follow the cable into the seat pocket in front of me. I find my Ipod inside. The noise in my head is the intro to Understraum, from the album Straum by Norwegian fiddle player Nils Økland. I must be on the return flight from Norway. I had my Ipod on shuffle, so it's just coincidence - or synchronicity - that I'm woken up by a Norwegian musician.
Continue reading "When West Goes North (Part 2)"
Posted by daev at 11:40 EM
August 14, 2006
When West Goes North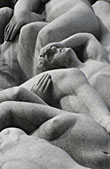 This week's entry is written by blather.net's editor Dave
I'm sitting in the waiting area of Dublin airport's Pier C, waiting to board a flight to Oslo. It's a busy Friday afternoon - across the water, in Heathrow and other UK airports, chaos reigns, thanks to the arrests of suspect bombers.
I'm people watching. Today's game is figuring out who at Gate C44 is Irish, who is Norwegian, and who is neither. Some travellers are obvious Scandinavians - tanned, blonde hair, tall. I mark a few Irish people off my list, smug in my pigeonholing. As I join the queue for the flight, I realise I've got it wrong - overhearing some people talking I realise that some of my borderline Nordics are actually Irish, and vice versa. The vikings, after all, did make themselves comfortable in Ireland.
Continue reading "When West Goes North"
Posted by barry at 2:49 EM
Mars 19, 2006
Munch: Woodcarving and Icecarving

Edvard Munch's craftmanship extended far beyond oil painting. In the late 1890s he created highly experimental woodcarvings that greatly influenced German expressionists. He adapted printing plates, mixed colours on plates, used randomness, etc. Often these woodcarvings were of motifs that appear in his best-known paintings, e.g. The Sick Child.
Earlier in the 1890s, he worked on many of these motifs in icecarving. Pictured above is the Ice Scream, which as you can see is a version of his most famous motif, executed on ice.
Continue reading "Munch: Woodcarving and Icecarving"
Posted by barry at 10:14 FM
Mars 12, 2006
Tomba Emmanuelle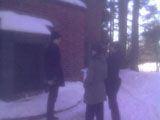 Bizarrely, this is me (on the left) being interviewed for television. I was at a tourist site in the Oslo suburb of Slemdal and a crew from TV Norge were picking people off as they exited. The site in question was Tomba Emmanuelle, the mausoleum containing the ashes of Emanuel Vigeland, brother of Gustav.
It is a little-visited location, and for that reason they only open it for four hours on a Sunday. I have been there four times now. On this occasion, one of my sisters was visiting me, and I included it on her itinerary. The mother, father and daughter from my house came along too, so we had two families.
Continue reading "Tomba Emmanuelle"
Posted by barry at 7:18 EM
Mars 6, 2006
Scream Scene (attempt)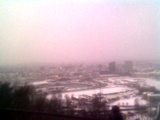 The scene depicted in Scandinavia's most famous painting, Munch's Skrik (the Scream, as seen here), is from a road overlooking the city of Oslo, the Oslofjord and Hovedøya, from Ekeberg hill. The painting shows the exact spot where Munch says he experienced a "scream through nature," so, curious tourist that I am, I went out to Ekeberg to see if I could find it. A couple of artist friends of mine, Per Jonas and Heidi, live out there, and Per Jonas told me where to go to seek Munch. The first picture here is the best view of the city you can get from the road, so that was a good place to begin the quest, a place called Brannfjellveien, "the fire mountain way."
Continue reading "Scream Scene (attempt)"
Posted by barry at 7:21 EM
Januar 15, 2006
VÃ¥r Frelsers Gravlund

("Our Saviour's Graveyard"). This graveyard, established in 1808, is Oslo's most famous cemetery, and many of the great Norwegians of history are buried here. On this 'warm' January afternoon (it's about 7 degrees, and there isn't any snow), I take a stroll through the Gate of the Abandoned Glove... Of course, that's not its official name, but there's a hardened, weather-beaten and presumably abandoned glove on the gate and it doesn't look like it's going to be removed any time soon.
Continue reading "VÃ¥r Frelsers Gravlund"
Posted by barry at 2:18 EM
Desember 4, 2005
Egedius

This painting, Spill og dans (Play and Dance), depicting a fiddler and a dancer, hangs in the same room in Oslo's National Gallery as masterpieces by Degas, Picasso, Cézanne, Van Gogh, Gaugin and Courbet, as well as six of the most important works of Edvard Munch. So whose painting is this, to be given such major prominence?
It was painted by Halfdan Egedius, a Norwegian who died before his twenty-second birthday. He was born Halfdan Johnsen in 1877, but later gave himself the name Egedius, because let's face it, that's a much cooler name than Johnsen.
Posted by barry at 3:01 EM
November 27, 2005
Krohg

In the mid-nineteenth century, European art and literature moved away from the idealistic drama of Romanticism, and Realism emerged: the attempt to accurately and naturalistically depict everyday life. Christian Krohg (1852-1925) was a Realist painter and writer from Norway. He was preoccupied with depicting the the struggle for existence among the poor, something that people didn't necessarily want to be confronted with: his 1886 novel Albertine, which was about a poor girl who becomes a prostitute, caused great controversy because of it subject.
Posted by barry at 3:41 EM
November 20, 2005
Werenskiold

The next stop on this mini-tour of the history of Norwegian art is painter and illustrator Erik Werenskiold (1855-1938). As a painter he was influenced by French naturalists, depicting farming communities in their natural environment, and he was also a portrait painter, best known for portaits of writers such as Bjørnson and Ibsen.
Continue reading "Werenskiold"
Posted by barry at 7:31 EM
November 13, 2005
Tidemand and Gude

This painting, Brudeferden i Hardanger (the bridal voyage in the Hardanger fjord), hangs in the National Gallery in Oslo, and is one of the best known paintings from the National Romantic period of Norwegian art. It is often re-enacted with live actors; in fact some people get married that way! It was painted by Adolph Tidemand (1814-1876) and Hans Gude (1825-1903).
Continue reading "Tidemand and Gude"
Posted by barry at 1:38 EM
November 6, 2005
Dahl

Johan Christian Dahl (1788-1857) is the 'father' of Norwegian painting. He was the first Norwegian artist to gain international standing in his lifetime. He moved to Dresden in Germany in the 1820s. There he became a professor of art, and an important figure in the Romantic movement. He even lived in the same house as Caspar David Friedrich, the most significant painter in German romantic painting.
Landscape painting before Romanticism was not held in high regard. The Romantics brought it to a new level. They dispensed with the unemotional, distant feeling of neoclassicism, and began to show the exciting drama of nature. This was influenced by philosophers who distinguished the 'beautiful' from the 'sublime'. Nature was sublime: a great power to gaze in awe upon.
Posted by barry at 11:33 FM
September 4, 2005
Stave Churches

Medieval Stave Churches, so called because they are constructed with wooden staves, could once be found in various parts of Europe, but they have survived only in Norway. There are 28 here and I visited two of them.
Most of the stave churches were built between the 1130s and 1350. The Black Death spread in Norway from 1349 and construction of all kinds soon ceased.
Continue reading "Stave Churches"
Posted by barry at 4:06 EM
August 28, 2005
Vigeland

One of the most important artists in Norwegian history, and especially in the history of Oslo, was the sculptor Gustav Vigeland (1869-1943).
The Vigeland sculpture park on the West side of Oslo is a place with a very special atmosphere. Seeing all the sculptures of human figures, including babies and the aged, in their expressions of joy or sorrow, anger or tenderness, almost gives the impression that all of human life is displayed here.
Posted by barry at 10:54 EM
August 7, 2005
Munch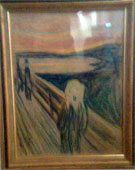 I want to write about Norwegian art, so of course I must start with the best-known Scandinavian artist of all, Edvard Munch (1863-1944). Pictured here is a version (from 1893) of his most famous work The Scream, behind bullet proof glass (see the shine?) at the Munch Museum in Oslo. The security features didn't exist until recently.
Last year, armed robbers grabbed a more famous version of the painting (Munch made five), along with his Madonna, and now the Munch Museum has airport-like security. It's a very different place to the one I first visited three years ago, when movement through the galleries was not so restricted. However, this museum will always be an exciting place to visit, as it is the largest collection of Munch's works to be seen, because he left his estate to the city of Oslo. Recently I have also seen the Munchs in the Rasmus Meyer collection in Bergen, and those in the National Museum in Oslo.
Posted by barry at 4:16 EM