November 13, 2005
Tidemand and Gude

This painting, Brudeferden i Hardanger (the bridal voyage in the Hardanger fjord), hangs in the National Gallery in Oslo, and is one of the best known paintings from the National Romantic period of Norwegian art. It is often re-enacted with live actors; in fact some people get married that way! It was painted by Adolph Tidemand (1814-1876) and Hans Gude (1825-1903).
Tidemand painted the landscape, and Gude the people. It was painted for the "tableau" held at Christiania Theatre in 1848 (Oslo was called Christiania at the time), an event which also featured Norwegian violin legend Ole Bull, and the poet Andreas Munch. Like most Norwegian artists of their generation, Tidemand and Gude were based in Germany, but their presence in Norway at the time is explained by the 1848 revolutions in Europe.
Both painters were committed to painting the Norwegian landscape, and the life of the Norwegian people, but like Dahl, they had to do it from Germany, and became well known across Europe. Gude began giving financial support to Norwegian painters, so that they would not have to leave their homeland like he did. This was a very significant development in terms of starting a national art at home.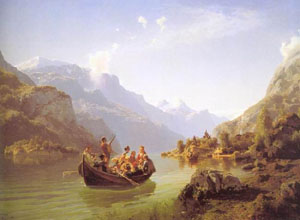 A larger view of the painting can be obtained on this site.
Update: a reader emailed me to say that "Hans Gude painted the scenery and Tidemand painted the people (not the other way around)."
Update: another reader writes: "Your reader is right, but not only the painters were the other way around. The painting was not made for the tableau, but the tableau was made after the painting – (sic) only not after the version bow (sic) belonging to the National Gallery in Oslo, but a very similar (now privately owned) version with a bird cherry in bloom on the peninsula with the church in the background."
Update: yet another reader writes: "Hello - I came across your website and I noticed an inaccuracy in the body of your text. You indicated that "Tidemand painted the landscape, and Gude the people." Gude was a landscape artist and painted the landscape in "The Bridal Journey in Hardanger" while Tideman painted the people.Thank you."
Contact Me
Posted by barry at November 13, 2005 1:38 EM


post<li> - Post to Social Networking Sites