Last weekend, I went to see Charles Fort's former home, at 39A Marchmont Street in London, now a hardware shop. I took some photos of the building, and off the silver plaque on the wall.

Charles Hoy Fort (1874 – 1932) was an American writer and researcher into anomalous phenomena, known for his tongue-in-cheek sense of humour, and his studies into strange events. Without him, there would be X-Files, or no popular accounts stories of rains of fish or frogs. Really. He even coined the term 'teleport. More here »
So, I'm outside his house where he lived between 1921 and 1928, close to the British Museum, fiddling with my camera and tripod. A young guy came out of the shop, and walked across the street towards me.
'Damn it, I thought, he wants to know why I'm making photographs of his shop, and is going to try and chase me away'
He arrives.
'Why are you photographing the shop?'
'Because of the Charles Fort plaque', I said, pointing across the street.
'Ah…, it's just that one our customers wanted to know.'
The boy goes back across the street, and says something to a man outside the shop, who looks up, then bursts out laughing. He turns around, and strides across the street towards me, then veers to his left. As he passes me by, he points up at the sky.
'Be careful, there could be a rain of fish!'
And with that, he was gone.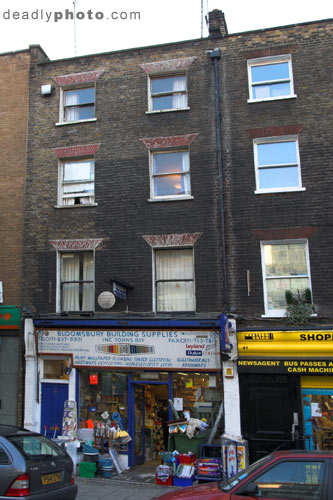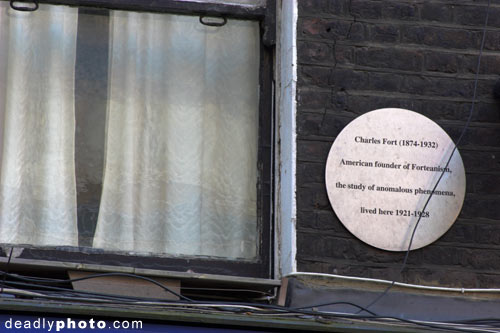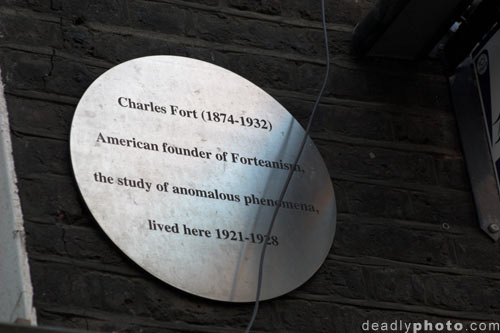 Get high-resolution, printable versions of these photographs from davewalshphoto.com »
A visit to Charles Fort's grave in Albany, New York »
Blather biography of Charles Fort »
Charles Fort on Wikipedia »
Charles Fort Institute »
Fortean Times »
The Quotable Fort »
The Quotable Fort II »
Books by Charles Fort »
Writing by Charles Fort, presented by Mr X »
Streetmap showing location of 39A Marchmont Street »