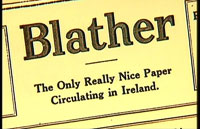 "[Blather] provides a low-key, entertaining weirdness unmatched elsewhere" – Fortean Times
Read the full review here (pdf)
"This wry website dishes out healthy portions of irreverent commentary on all things Irish. It's a savvy way to get up to date on current events and attitudes"
– Lonely Planet Ireland »
Read More Comments about blather.net »

'Negative Capability, that is when man is capable of being in uncertainties, mysteries, doubts, without any irritable reaching after fact and reason.'

– Poet John Keats, letter to George and Thomas Keats, 21 December 1817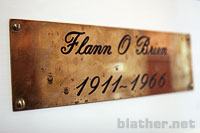 About Blather
or Walsh's Dublin Weekly Impartial Newsletter
"As we advance to make our bow, you will search in vain for signs of servility or for any evidence of a desire to please. We are an arrogant and depraved body of men. We are as proud as bantams and as vain as peacocks."
"Blather doesn't care." A sardonic laugh escapes us as we bow, cruel and cynical hounds that we are. It is a terrible laugh, the laugh of lost men. Do you get the smell of porter? – from the original Blather, issue 1, published in 1934 by Brian O'Nolan a.k.a. Flann O'Brien a.k.a. Myles na gCopaleen.
In No Laughing Matter, Anthony Cronin wrote of the original Blather, "..its editorial said, was 'a publication of the Gutter' which would achieve 'entirely new levels in everything which is contemptible, despicable and unspeakable in contemporary journalism'. Blather had 'no principles, no honour, no shame'; its objects were 'the fostering of graft and corruption in public life, the furtherance of cant and hypocrisy, the encouragement of humbug and hysteria, the glorification of greed and gombeenism'" (Cronin, pg 72)
Even today, Blather pines for these same lofty standards.
More on Flann O'Brien »
Renowned for its dry wit and drunken analysis, Blather came into being in spring 1997, part of a phalanx of newsletters published by Nua, a now defunct Irish Internet company. Before long, Blather had gathered a cult-following of thousands, gaining infamy as a prime source of weird news and humour. Dave Walsh, the author, then jumped ship, taking his wild talents with him, and blather.net was born. In the intervening years, a lot of strange stuff has happened to us. We've had abusive emails sent to us, and hate websites set up about us. We must be doing something right. After a while, we got tired of writing about the paranormal all the time, and starting writing about other rubbish instead.
These days, Blather's three main contributors are based in Dublin (Dave), Oslo (Barry) and London, (Damien). We've got a bunch of other people writing for us – some are too slack to post often (like Sue!) or too shy to give us profiles (ye know who ye are)
Read Shameless Hijack – the story of where Blather got its name.
About Dave Walsh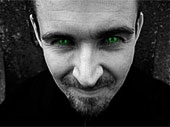 Dave Walsh is a writer, photographer, and editor of Blather.net, possibly the most arrogant and depraved website either side of the Shannon. Walsh originally hails from Co. Wexford, where he spent his childhood privateering and wrecking on the river Slaney, but went on the run after he and an accomplice, William Lamport were implicated in public horseplay involving a wealthy dowager and an undisclosed quantity of strawberry jam. He likes strawberry jam. Do you? While Lamport landed a job in Mexico as Zorro, Walsh remained on the run, but soon tired of this, and took to his bicycles. Apocryphal reports allude to Walsh keeping a harem of velocipedes in the master bedroom of his Dublin 3 mansion.
In 1803, following a brief epiphany while convalescing from dueling wounds on the Greek island of Corfu, Walsh signed up to work with the environmental group Greenpeace, and spends a considerable amount of his time hand-publishing inflammatory pamphlets on the 'Internet', from a ship's cabin on the high seas, through ingenious training of pigeons and albatross. He now divides his time between Co. Clare, Co. Dublin, New York, Alaska, Antarctic, and the Red Light District of Amsterdam.
When he's not raising hell on the oceans, chances are that Walsh can be found imbibing a pint of plain in well-known Dublin hostelry called Grogans, smuggling absinthe from Brunei, making scandalous daguerreotypes, scaling mountains, or indulging in decadent hedonism. He has a strange obsession with the eurasian otter (lutra lutra), and is on informal speaking terms with the Dobhar-Chu, a strange creature that lives in Glenade Lake, just north of Ben Bulben.
Articles by Walsh have also appeared in The Irish Times, Mare, The Yoke, Fortean Times, Wired, Fringeware Review, Signum, Disinformation, and rakes of other publications.
Contact Dave »
Photo: Angela Halpin, Lensload.com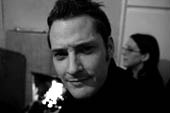 Damien DeBarra was born in 1975 and grew up in Clontarf, north Dublin, Ireland but moved to the UK in 2002. Having insulted just about every man, woman and child in Ireland and Britain, he then decided to chuck it all in and leg it somewhere warm. He then spent a year and a half going slowly mad in Valencia, Spain.
After a terrifying experience in an illegal Valencian all-night kebab shop/night-club (involving hallucinogenic drugs, dehydration and a woman in an Elvis suit) he scarpered back to the UK and now lives in London, England. He doesn't talk to anyone and passes his time dry-humping people's legs on the tube.
He now works in the e-learning sector: spending his days poring over social networking sites and writing multimedia learning solutions. His general internet activities involve instructional design, information architecture, social network facilitation, general web 2.0 wankery, stalking ex-girlfriends and writing ill-considered, badly-spelt and utterly pointless blogs. Before becoming a (digital) media whore, he had previously spent several bizarre, but wonderful, years working in the National Museum of Ireland, in Dublin. Late at night, he can still hear the screaming.
Before embarking on a career of guerilla education, he attended NUI Maynooth, reading English and Classical Civilisation, where his passion for all things ancient and odd began. He is currently undertaking a Masters in e-Learning at the University of Edinburgh, Scotland. He's been writing for blather.net since 2002 when, for reason passing understanding, Walsh was stupid enough to give him a password to the site. His key interests are archaeology, technology, women in knee-high socks, graveyards and graverobbers, "things that go bump in the night" and the eternal search for a "Good Rubber Chicken".
He is, still, making a less than fruitful attempt (sixty-nine drafts and counting) to write what is now laughingly referred to as his first "novel".
DeBarra is, according to Prof. Conor Ryan (Dean Emeritus of Literature at the University of Muncie, Indiana) a "staggeringly bad writer".
Barry Kavanagh


Barry Kavanagh has been thinking, and writing many things, including unpublished novels, all these years. Short fiction of his sees publication from time to time. He has been an organizer of voyages, art spaces, music venues and concert series, and he spearheaded the 'alternative' musical group Dacianos, who deployed five albums in the underground between 2000 and 2011. His palace is impervious to assault.
Sue Walsh


Sue Walsh was partly brought up by cats in her native Wexford, where along with her brother, she scoured the river for junk. At the age of three her mother caught her carrying kittens in her mouth. She lived in the woods for a while, then the lure of the stage was too much, and she ran away with a theatre company. This enabled her to keep her multiple personalities happy, and so she is continuing to act whenever the opportunity arises. When not on stage or the silver screen, Sue can be found scribbling away and conducting séances. She is still scouring the river, hoping to find treasure in amongst the junk, just like Suzanne in the song…
The A to Z of Blather
A is for Abroad, a photographer's log,
B is for Blather, our premier blog.
C is for the Club of dev'lish Hellfire.
D is for 'Diggin' in the Dirt', a quagmire.
E is for E. Howard Hunt's death palaver,
F is for Flann, an inspiration for Blather.
G is for Globaleyes, game of the hour,
H is for Hau-en-ted Dublin, macabre.
I is for 'I, Patrick' an' all dat,
J is for Jasper the time trav'lin' cat.
K is for Khan and his nuclear deal,
L is a Load of Blather, for sale.
M is for Music, for listenin' and buyin',
N is for North, blog hyperborean.
O is for Orang Pendek, that rogue,
P is for Plame, whose cover was blown.
Q is for Q-shaped light in the sky?
R's for Return: the Pyramid won't die!
S is for Shitegeist, our arrogant side,
T is for Tombs, from megalithic times.
U is for UFOs, which we never see,
V is for Vampires, who have emailed me.
W is for 'Waking the Dead', done with tact,
X is for Planet X (dwarf planet in fact).
Y is for Yetis, by which we're not vexed,
Z is the Zeitgeist, with which we are meshed.