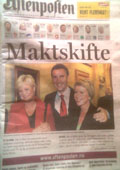 ("Election 2005"). The single word in this newspaper headline, maktskifte, means "power-shift" and this announces that the reigning government lost this week's general election in Norway. The three people you see are the leaders of the three political parties that will form the new coalition government.
In the centre you see Jens Stoltenberg, leader of Arbeiderpartiet ("the labour party"), which received the most votes in this election (32.7%).
On the left is Kristin Halvorsen, leader of S.V. (Sosialistisk Venstreparti, the "socialist left party"), which received 8.8% of the vote.
And on the right is Ã…slaug Haga, leader of Senterpartiet ("the centre party"), which received 6.5% of the vote.

This coalition will be a challenge for all concerned. Arbeiderpartiet has been in power before but has never had to share power, and this will be S.V.'s first experience in government. But there was general dissatisfaction with the previous coalition government, so this is probably a change for the better.
The coalition that has been in power since 2001 was a minority government consisting of the Kristelig Folkeparti ("Christian people's party"), Høyre ("right" i.e. right-wing, or conservative, party) and Venstre (which means "left", but it is not a socialist party; it is more like an old-fashioned liberal party). This minority government was dependent on support from outside from Fremskrittspartiet ("the progress party"), a right-wing outsider. In this election, Kristelig Folkeparti received 6.8% of the vote, Høyre 14.1% and Venstre 5.9%. So much for the government.
But Fremskrittspartiet received 22.1% of the vote, and it is now the second biggest party in the country. Its policies include privatising public services and restricting immigration, and it is led by the iconoclastic Carl I. Hagen. He has said that Norway can never have a properly functioning right-wing government as long as the right wing has to depend on the religious Kristelig Folkeparti to get into power. This may be true, and this may have helped Fremskrittspartiet receive more votes to become the biggest right-wing party of them all, but the likes of Høyre and Venstre would never let Fremskrittpartiet into government, as they see this party as not much more than a simplistic populist movement.