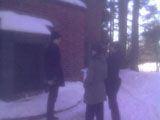 Bizarrely, this is me (on the left) being interviewed for television. I was at a tourist site in the Oslo suburb of Slemdal and a crew from TV Norge were picking people off as they exited. The site in question was Tomba Emmanuelle, the mausoleum containing the ashes of Emanuel Vigeland, brother of Gustav.
It is a little-visited location, and for that reason they only open it for four hours on a Sunday. I have been there four times now. On this occasion, one of my sisters was visiting me, and I included it on her itinerary. The mother, father and daughter from my house came along too, so we had two families.

Emanuel bought the building in 1926, and spent the rest of his life designing the most spectacular mausoleum. It was ready in time for his death in 1948. He had all windows removed, so one enters a chamber of dimly-lit darkness. Thus the first thing one notices is the extreme reverberation in the room. In fact, when I was rambling on to the TV crew they said they wanted to focus on what I was saying about the sound. The slightest shuffle is amplified, and lasts for a considerable amount of time. I said something about how different people react to the sounds: some try to make no sound at all, some try to sing, and some shut their eyes and listen to all around them.
The visual art consists of massive frescoes, covering floor to ceiling, and there are also sculptures in the corners. The themes are remarkably similar to those of brother Gustav's: human figures enact the cycle of life: sex, birth, and death in one writhing mass. In places, it displays a celebration of life, in others a moving acceptance of death. One of my party remarked that going there and spending time in there was like some kind of ceremony or ritual.
One might think that with such amazing frescoes, this blog should have led off with a picture from inside this mausoleum of high art. This was not possible because of the darkness, and flash photography is not allowed. But you can see some details at the official website. Please visit if you're ever in Oslo on a Sunday!