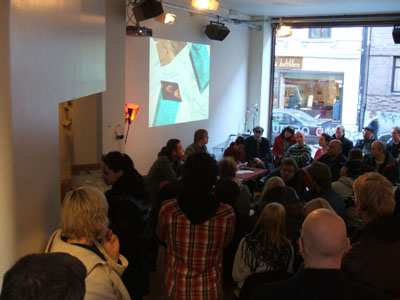 This evening, 50 people gathered in the bar I manage in Oslo, Sound of Mu on Markveien in Grünerløkka, to form an organization to protect Grünerløkka from big businesses moving in and ruining the character of the area. Everyone there was either running a small business or resident in the area.

The petition that's been in existence for some days (see last week's blog entry) has resulted in 3,500 signatures so far, and raised awareness about this issue. We are the community and we should have a say in what moves into the area. This hopefully will have impact on the local politicians, "who are supposed to be working for us," as someone put it.
The idea is not to have a negative campaign against big business, but to change the way they operate. They shouldn't be taking away a culturally vibrant part of the city. The small businesses don't want to lost their livelihoods, and the residents don't want to be living in shitsville. Landlords might be able to make more rent out of chain stores – in the short term – but the value of their property will decline when the area turns into a fluorescent abyss. This could easily happen over the next year or two.
This new organization, apart from campaigning and taking action, will also organize a festival, a community-led Grünerløkka Day, to highlight the positive things about the area and make it obvious why it's worthwhile keeping it unique.
If you live in Norway, sign the petition.