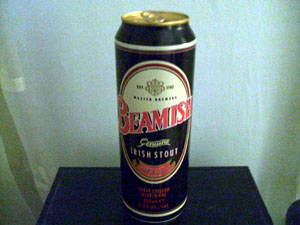 Friday. The first of a million nights in. The start of winter in Oslo; minus one degree according to the thermometer hanging outside my window. Grieg's opus 57 on the record player. Potatoes on the boil. A text message comes through on the telephonic device.
Per Gisle: Guess what I am drinking? Beamish… found two cans at Majorstua. Mm.

Barry: Were they the last 2? I would have bought the lot
Per Gisle: Only two. Last two in Norway?
Barry: I would guess so. I left a Beamish glass in Brugata for you
Per Gisle: Yes thanks. I am holding it in my left hand
Barry: I must broadcast this event on the internet. Have you anything to say to the millions of Beamish fans out there?
Per Gisle: Beamish makes me wanna drink!
Why is this important, you wonder? Read part one.
Who is this man, you ponder? Per Gisle is, among other things, half of The Birds, the other half being Cotton Casino (ex-Acid Mothers Temple).