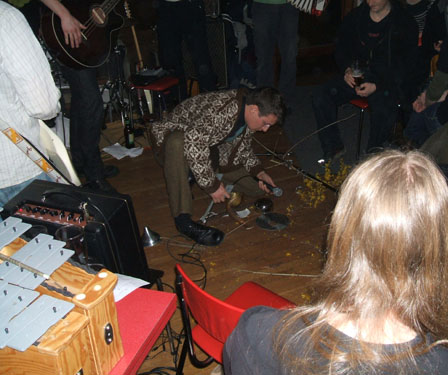 Here you can see Origami Arktika smashing up Sound of Mu.

By;alarm is a an alternative to the corporate rock festivals and award ceremonies of Norway, namely By:Larm, Spellemann and Alarmprisen. It's based around artists that have often been "categorized as too weird" or "for a small market". By;alarm runs concurrently with By:Larm, and to add confusion both took place in Oslo this year. But By;alarm does not claim to be the anti-By:Larm. Rather it sees itself as a festival that is broader and more adventurous, booking artists for their quality rather than for their market potential.
By;alarm 2008 took place 21-23 February, and the concert stages were Spasibar, Paragrafen, Mir, Sound of Mu, Verksted Mandelbrot, Taxi Takeaway and Amatøren. The festival was organized as a collaboration between the DIY music organizations Metronomicon Audio, Norway Rat, Handmade Records, Looop and Spoon Train Audio. Click the band names below to get to the myspace pages and hear the music.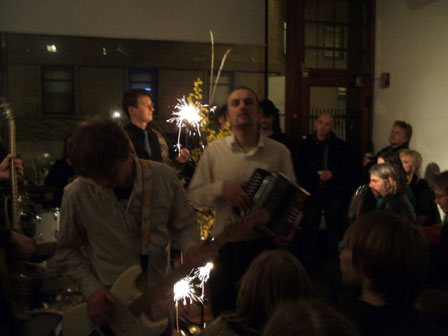 Origami Arktika setting fire to Sound of Mu.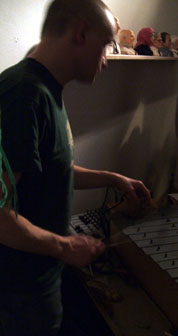 Kai Mikalsen from Origami Arktika.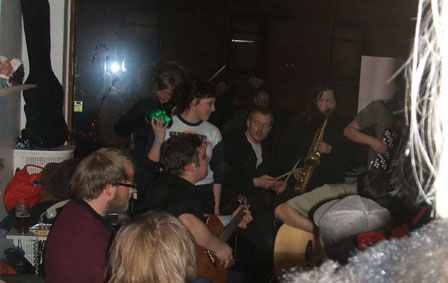 Somewhere in this crowd you can see Truls and the Trees.



On Friday night I DJed at Spasibar. One of the live acts was Koppen. Here you can see Koppen on the left, giving his equipment a confused look, while one of his co-rappers blisses out behind x-ray spex. Note the intimidating mosaic of the owners of Spasibar on the wall.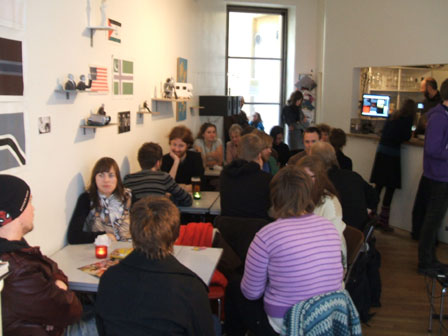 On Saturday afternoon my band Dacianos played. I took this picture of some of the audience, about half an hour before the show. It's taken from the front door of Sound of Mu. Can you see that Koppen is there? Spot Spiderman on his hat.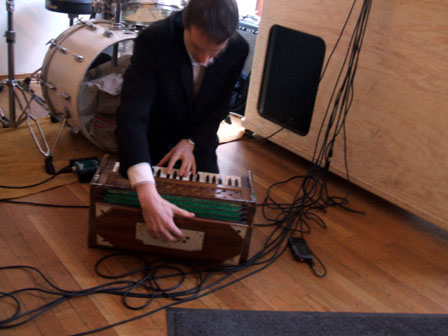 Here I am playing the harmonium and if you look very carefully you'll see I'm also playing the dictaphone.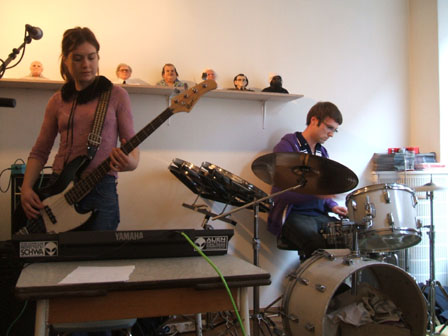 The rhythm section. Marie and Håkon.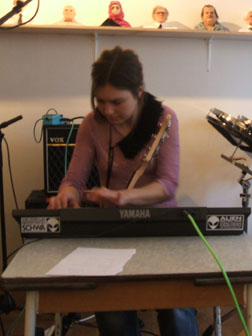 Unfortunately Marius (metallophone) and Ilmar (cello) aren't in any of these pictures, but here's Marie playing the keyboard and the bass at the same time!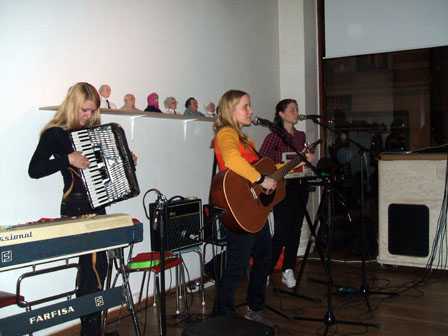 The songwriting geniuses Children and Corpse Playing in the Streets (middle and right), featuring the Spirit of Linda McCartney (left), at their soundcheck.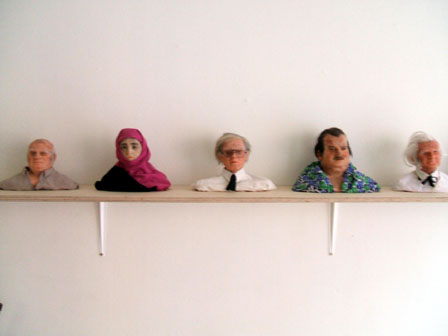 In the background to many of the photos you've seen parts of Gisle Harr's exhibition at Sound of Mu.