Ahead of the curve, that's us. Back in the dark days of 2004, we fine upstanding reprobates at blather.net called for the esteemed Senator David Norris to made President of Ireland.

A seed was sown, somewhere, perhaps in the zeitgeist by our demands. Other people were apparently of the same mind – and a Facebook page "Senator David Norris for President" was born. At the time of writing, this, 15,850 people are fans of the page.
After years of saying "no" to the idea, David, spurred on by the Facebook attention, has decided to now run for the presidency. Read this great story about it in UK newspaper The Guardian.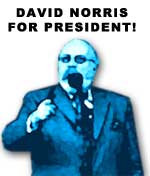 You can read about David's exploits here on Wikipedia: Born in 1944, he's an independent politician, civil rights campaigner, university lecturer, the first openly gay person to hold public office in Ireland, and a Joycean scholar. That's just a few points – David's a national treasure and can't be done justice via a mere list.
Sign the petition calling for The Irish Labour Party, The Green Party and Independent Members of both Dáil and Seanad Éireann to nominate Senator Norris. Remember, children, vote early, vote often.
Our original Senator David Norris to made President of Ireland posting.
David Norris official website
– Dave