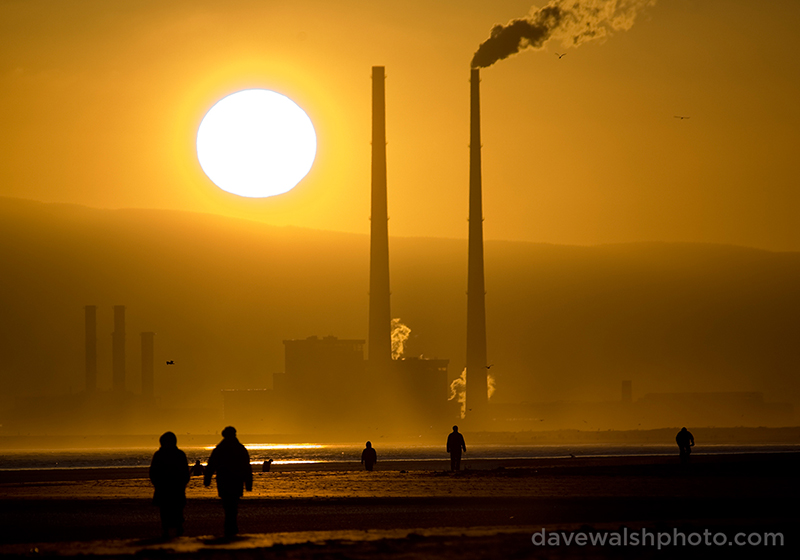 Get high resolution image: Ireland divests from fossil fuels – climate change .
Source of solar energy setting behind user of fossil fuel energy – sun setting behind Poolbeg Generating station, Ringsend Dublin, The Walkers are on Bull Island, in North Dublin.
This image was "Highly Commended" in the "Changing Climates" category at the 2009 Environmental Photographer of the Year competition. More »
The image has also been published by the BBC (Climate change: Ireland on the verge of its 'greenest government ever'), the New York Times (Ireland Moves to Divest From Fossil Fuels), the US National Public Radio (Ireland Expected To Become World's First Country To Divest From Fossil Fuels) and others.

This is a chance photograph taken in December 2008 – with a colour cast from the evening sunlight, taken while along Dollymount Beach on the Bull Island UNESCO Biosphere reserve in North Dublin. I'd been out looking for seals to photograph when I saw this scene unfolding in front of me. I had my 400mm lens on, so I used it to photograph the sun dropping behind the Dublin hills and Poolbeg electricity generating station – which operates on a mixture of oil and natural gas.
The photograph speaks to me of future climate change and the resultant global warming. With an overheating planet, we still insist on belching out emissions from fossil fuels. The people in the photograph – although actually a couple of kilometres across the water from the building, appear to be marching blindly towards it, in a mixture of confusion and hope.