Blather's Dave Walsh attempts to take The Taking of Christ

BLATHER'S Dave Walsh was yesterday licking his wounds after security personnel ejected him from the National Gallery of Ireland in Merrion Square, Dublin.
Walsh's The Taking of Caravaggio's The Taking of Christ
(click image for t-shirt)
A spokesperson for the Gallery said that Walsh was attempting to wrestle Caravaggio's The Taking of Christ from the wall of the gallery, while making loud comments about 'blasted picturehooks' and wearing a the blue jersey of the Italian national cycling team.
According to witnesses, Walsh was dragged by his heels from the room, while shouting 'Give Italy back to the Italians' and 'dia l'Italia di nuovo agli italiani'. He was cheered on by his entourage, which was mostly made up of Italian language students, and his mother, who was visiting from Wexford.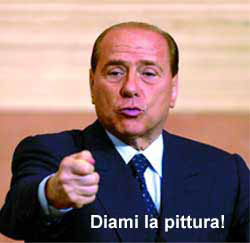 Walsh's attempts to remove the painting are thought to be connected to the alleged attempts by Italian Prime Minister, Silvio Berlusconi, to repatriate the painting, which depicts Christ's arrest in the Garden of Gethsemane. Berusconi, however, has denied any such plans, and went on to blame P45, which he described as 'un web site irlandese molto divertente'.
For more on the Caravaggio debacle, see P45 Comes Clean

Purchase a Blather 'Caravaggio'T-shirt
Update: February 17th 2004:
Caravaggio in National Gallery is only 'a copy' experts claim »
P45.net Statement on Caravaggio affair »
Update: February 18th 2004:
Irish Independent: Gallery chiefs defend masterpiece »
The Australian: Caravaggio the real thing: Ireland »
BBC News: Gallery defends Caravaggio work »
Art Expert sez they're BOTH originals »
Update: February 20th 2004:
Ok, the latest news is that there may be three Caravaggios; the Irish one, the Rome version, and another one, hanging in a museum in Odessa, in the Ukraine. This is the theory of apparent art expert and painting-finder Sir Denis Mahon.
Irish Independent: And the real Caravaggio masterpiece is . . . um, both of them »
Update: February 22nd 2004:
The Guardian: In search of the real Caravaggio »