"Small, far away…" (image by Canon Camera, used under a Creative Commons Sharealike License)
UPDATEORAMA!
13/10/08
Dave here – well, I saw Karl Nally's 'workshop' at the Paracon on Saturday – and the infamous video. I can safely say that the video posted below IS NOT Nally's one. Nally showed a video from a mobile phone – quite pixelated showing thrree glowing dots on a black background, in a roughly triangular. There's a sound – apparently the noise of a car's indicator, as the garda that Nally says provided the footage was in his car at the time. Part way through the video, a red line appears, stretching from the left hand white dot to the bottom of the frame. This, apparently, is the "red laser beam".
Some interesting points – Nally kept referring to "anoraks" who dared to criticise his footage – the same footage that he refuses to put online for scrutiny, and is now apparently charging money for a peep at it.
Those anoraks must include us members of Blather High Command, although we're far too fashion conscious to resort to anoraks. Unless it's raining, of course. Secondly, Nally rebutted the possibility that the 'UFOS' were caused by chinese lanterns launched by a wedding party. Interestingly, the reason he gave was that while the lanterns were launched at 22:35 hours, the UFOs weren't seen until 22:45… so, no Karl – there's obviously no connection between the some newlyweds launching glowing aerial objects over a small town, TEN BLOODY MINUTES before a garda sees UFOs in the same vicinity. Good christ.
In the same talk, Nally talked about a politician, apparently in the west of Ireland who had claimed to have seen a UFO. Nally hinted that a politician – a man of such lofty standing – was hardly likely to lie. I find his sweeping faith in the integrity of the gardai and politicians somewhat quaint, in a week when the Morris Tribunal was finally put to bed. A politician who doesn't tell the truth? Couldn't happen here!
As I've written in the Blather review of Nally and Butler's "Conspiracy of Silence; UFOs in Ireland":
There's a twisted logic here – on one hand, the testimony of professional witnesses – such as pilots and Garda officers (police), or other traditional authority figures – are taken at face value. On the other hand, if a UFO report is explained away by the members of the authorities, they're automatically assumed – usually through a series of rhetorical questions to the reader – to be servants of a grand conspiracy.
Finally, another high point – Nally kept mentioning that the images and footage he has collected have been "analysed" and "authenticated" by an "expert from Trinity College". However, when asked about the skillset and credentials of this expert, Nally dodged the question, instead referring to some third party to answer the question (I didn't catch the name). For all we know, this "expert" could be a first year drama student holding up the Buttery Bar with a can of Dutch Gold.
UPDATE 09/10/08
Is this the video? A commenter to blather (see below) posted this link to us, saying that this is the video in question. You can make up your own minds…
Also, the Meath Chronicle posted this piece claiming that the whole things was a result of a wedding:
'Because of Dunboyne Castle's proximity to Dublin Airport, Andrea and Lyndon had to get permission from the Irish Aviation Authority and the local Gardai before releasing the sky lanterns.
"If all these people were so convinced it was aliens, just a little research with the Irish aviation authorities would have told them what it was," Andrea said.
End Update

UPDATE:
07/10/08
Some comments posted below an article on the Tribune claim that the UFOs were nothing more than, you guessed it, our old friend, the Chinese lanterns. Regular blather.net readers will know that a great many UFO flaps from the last two years. Carl Nally himself also posted though, stating that the lanterns had nothing to do with it.
End Update
Original post
Old Blather favourite Carl Nally is back with a bang. Okay, well, a triangle. From the Irish Independent:
Dramatic eye-witness testimony was heard at a conference over the weekend which, delegates were told, provided "definitive" proof of recent UFO activity in the skies around north Dublin and Meath.
Footage, filmed on a camera phone at 10.35pm on August 3 near Dunboyne was also played and replayed to over 70 delegates who attended the fifth Irish International UFO conference in Carrick-on-Shannon.
The triangular shaped image, with lights at each point, which appeared to send a red laser-type light towards earth, drew gasps of amazement from the 70 or so delegates who attended the world premiere of the footage.
"There is no footage like this in the world. It is the most amazing and spectacular I have ever seen," said Carl Nally, co-founder of UFO and Paranormal Research Ireland and joint author of 'Conspiracy of Silence'.
Read full article
Okay now – hang on a second there. Let's take a closer look for a moment.
'And Fianna Fail Town Councillor in Trim, Jimmy Peppard, ran indoors for a camera on August 8 when he spotted a triangular-shaped object measuring "about a mile in diameter" in the sky, where it remained static for about half an hour.'
A mile in diameter? Measured against what? Clouds? Birds? Did anyone ask?
Then this from Nally:
He later described the laser beam footage as the best footage on the planet and said it would be shown all over the world. "This is what the sceptics are crying out for. What all this footage has in common is that trained observers, honest people, took it. What better could you get than a senior garda, a politician and a pilot," he said.
A Fianna Fail politician is a trained observer? In what? Looking the other way? Since when is a Garda a trained observer in aerial object identification? Dr. Itiel Dror of the University of Southampton has spent years helping the US Air Force train its pilots to tell the difference between US and foreign aircraft and has still found that this identification of airborne craft is notoriously difficult and requires specialised training based around a deep understanding of cognitive processes. Were our Garda and the pilot in question that well trained to be able to positively identify a craft as being from another world?
How about we take a look and chat about it before deciding what it is?
We've yet to see the video ourselves and would appreciate it if anyone could point us to a link. We're obviously hoping that Carl Nally and his colleagues will be placing it on Youtube or similar so that the rest of us can make our mind up.
Blather on Carl Nally's book.
Also see previous Blather articles involving UFOs and Meath.
Photos from the conference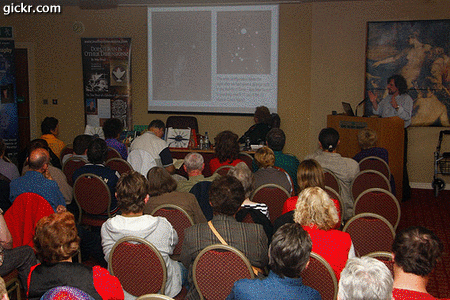 (via realboyle profile on Flickr)
More about the conference