October 30, 1998
The Irish Hellfire Club: No Smoke Without Fire
Posted by daev
The history of Dublin's Hell-Fire Club, Rathfarnham. Overlooking Dublin city from the south west, at an altitude of 383m (1264ft), is a foreboding ruined hunting lodge, marked on Ordnance Survey maps as the 'Hell-Fire Club'. Current urban lore insists on telling us that it was - and still is - a site commonly used for the practice of 'Satanism' and other occult activities, and that the Devil himself made a brief appearance there at some unspecified time in the past. In a story similar to the one attached to Loftus Hall (a haunted house on the Hook Peninsula), a mysterious stranger seeks shelter on a stormy night, and a card game ensues. A member of the household drops a card, and sees that below the table, the otherwise affable and charming visitor has a cloven hoof. His or her screams made the Devil 'aware of her discovery, and he at once vanished in a thunder-clap leaving a brimstone smell behind him' (Seymour and Neligan).

More Hellfire Club photographs »
The elusive and rather ambiguous exploits of the Irish Hell-Fire Club have intrigued Blather for some time. While for most people the name denotes a ruined hunting lodge in the forested Dublin mountains, visited on Sundays by hordes of escaping suburbanites, it originally refers to an organisation alleged to have devoted to their time to the practice of unbridled hedonism.
The Club, also referred to as the Medmenham Club was formed in 1741 by Sir Francis Dashwood (1708 - 1781) at West Wycombe, Buckinghamshire, and became notorious for its rumoured sexual orgies and 'occult' activities. Much has been written about Dashwood and his friends, with varying levels of luridness... but our interest lies with the Irish Hell-Fire Club, founded in 1735 by the 1st Earl of Rosse, Richard Parsons, known to be a 'sorcerer, dabbler in black magic... and a man of "humour and frolic"' (Somerville-Large). It was apparently disbanded following his death in 1741.
Weston St. John Joyce mentions Mount Pelier on page 123 of his The Neighbourhood of Dublin, published in 1912:
'Making our way over the gorse and heather up the slopes of the hill from Mount Pelier House, we at length come into view of the old ruin on the top - an interesting and conspicuous object from afar, but proving a most unprepossessing structure on closer acquaintance. It is variously known to the Dublin folk as the Hell-Fire Club House, the Haunted House, and the Shooting Lodge, although it really possesses no valid claim to any of these designations, it having been built, apparently as a mere freak, for use as an occasional summer residence, by the Right Honourable William Conolly of Castletown, Speaker of the Irish House of Commons, about the year 1725, shortly after he purchased the Duke of Wharton's estate in this neighbourhood.'
St. John Joyce mentions another Satanic appearance, due to the use of part of a local megalithic standing stone in the construction of the lodge:
'Shortly after the house was built, the slated roof was blown off one night in a tremendous storm - by the agency of the devil it was popularly believed, on account of the sacrilegious conduct of the builder in desecrating the old carn. But Squire Conolly was not a man to be easily beaten, and so he set to work and built a massive arched roof of stones keyed together as in a bridge, and of such impregnable strength that it has effectually withstood the efforts of wind or devil - whichever it was - from that day to this.'
St. John Joyce also expressed uncertainty with regard to the tenuous occult significance of Mount Pelier:
'With regard to one of the names which seems to have taken the fancy of the public, it is to be observed that while the Hell-Fire Club may have held some of its meetings in this house, it is tolerably certain that it was never one of the regular meeting-places of that mysterious and iniquitous body, the ordinary rendezvous of which was the Eagle Tavern on Cork Hill.'
As with the exploits of other larger than life characters, the stories of the Hell-Fire Club vary, but most mention the Eagle Tavern, once on Cork Hill (by Dublin Castle) as the main centre of operation, where the "Bucks" swigged Scultheen, a 'special mixture of whiskey and butter'. "Bucks" were a class of gent '"whose whole enjoyment and the business of whose life seemed to consist of eccentricity and violence"'(Somerville-Large).
Somerville-Large tells us 'popular supposition associates [The Hell-Fire Club] with the gaunt ruin on top of Montpelier Hill, and the odd black mass have taken place in Mr. Conolly's airy shooting lodge. The club is supposed to have set fire to the place to give it a more hellish appearance, while the reputed burning of a lady in a barrel sounds like an outdoor occasion'.
Andrew Behan, who unfortunately seems have been possesed by the dark forces of H.P. Lovecraft and the Necromonicon, reckons that it is possible that ;the Hell-Fire Club did indeed carry out black masses and orgies on Montpelier Hill', but 'merely used satanic regalia to spice up their bawdy drinking sessions.' Behan's essay can be found at several locations on the web, which doubtless will lead to the inclusion of various characters from Lovecraft's Cthulu Mythos in the future lore of the Irish Hell-Fire Club.
Behan also mentions the story of a priest, who stumbled across the club's fun'n'frolics (there's no mention of what he was doing wandering about Mount Pelier Hill at night), and discovered that the centre of attention was a huge black cat.
'Breaking free from his captors the cleric grabbed the cat and uttered an exorcism which tore the beast apart. A demon shot up from its corpse. Hurtling through the roof it brought down the ceiling and scattered the assembly.'
Behan also mentions that Conolly 'is said to have met the devil in the form of a "black man" in the lodge's dining room, which is probably a variation on the card-game story.
Unfortunately, Behan doesn't provide us with references or basis for his theories (well, discounting the Cthulhu Mythos stuff). He also claims that Parsons was also known as Jack St. Ledger - which Blather deems doubtful - Colonel Jack St. Ledger seems to have been a real person (who, according to Somerville-Large, was so obsessed with the Duchess of Rutland that he would drink the water in which she had washed her hands).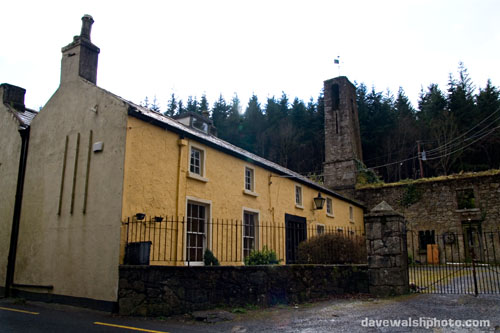 Get high resolution version »
The website of Killakee House, a restaurant further down Mount Pelier Hill, tells us some more about of the Hell-Fire Club shenanigans, including of the burning, which they believe occurred around 1740, while it was in the hands of Richard Chappell 'Burn-Chapel' Whaley, so called because of his Sunday entertainment, which entailed riding around setting fire to the thatch of Catholic chapels.
Anyway, the folk at Killakee tell of how, following a black mass, a footman spilled a drink on Whaley's coat, after slipping on the mass of drunken bodies on the floor. Whaley poured brandy upon the man, set him alight, and soon had the entire building ablaze. Most were too drunk to escape.
The webpage continues to talk about Whaley's death at the age of 34, in 1800, no mean feat for a man who burned down a building in 1740. I would imagine that they have confused him with his son, Buck Whaley, famous for having travelled to Jerusalem and back for a bet (no mean feat in 1789). "I was born with strong passions" begin Buck Whaley's Memoirs, "a lively imaginative disposition and a spirit that could brook no restraint. I possessed a restlessness and activity of mind that directed me to the most extravagant pursuits; and the ardour of my disposition never abated until satiety had weakened the power of my enjoyment". Whaley junior did indeed die in 1800 at the age of 34, following a masochistic squandering of his personal fortune.
Killakee House itself is no stranger to weirdness, with mention of spectral black cats (related to the sacrificed moggie of Hell-Fire Club days?), and the discovery of a dwarf human skeleton below the floor in 1970.
And so the ambiguity surrounding the Dublin Hell-Fire Club abounds. Does the Hellfire Club building really have anything do with the club of the same name? Were the members (of the Irish branch) students of the occult, or students of drunken revelry?
Whatever about the various specifics, it is entirely possible that some meetings of the club took place at the now ruined building on Mount Pelier Hill, even if only briefly. To quote V.S. Pritchett:
'I was brought up on the legend that the sinister little ruin on top of the Dublin Mountains which is called the Hell-Fire Club was the site of the orgies; but historians now say there is no evidence. I incline still to the legend on the general ground that what goes on in cities is nothing to do with what goes on in the country.'
Sleep Well...
(See also Hellfire and Harlots, the Blather issue following this one, and Accidental Satanists, Dave (daev) Walsh's talk at Fortfest 99)
More Hellfire Club photographs »
Photographs (2006) of the English Hellfire Club - Medmenham Abbey and the tunnels at West Wycombe

NOTES:

Recommended: Geoffrey Ashe - The Hell-Fire Clubs: A History of Anti-Morality

John Seymour and Harry Neligan, True Irish Ghost Stories, (1926), p266
ISBN 1-85958-050-5

True Irish Ghost Stories (Amazon.com)
Weston St. John Joyce, The Neighbourhood of Dublin, (1912), pp. 123-4
ISBN 0-7089-9999-9
Peter Somerville-Large,Irish Eccentrics(1975), pp. 147-8 and 210-215
ISBN 0-946640-67-X
Irish Eccentrics (Amazon.com)
Irish Eccentrics (Amazon.co.uk)
Peter Somerville-Large, Dublin: The Fair City, (1979,1996), p129
ISBN 1-85619-791-3
V.S. Pritchett, Dublin (1991), p55
ISBN 0-7012-0750-7
Andrew Behan, The Hell-Fire Club
The 'devil and the ball of flame' story was also mentioned in The Smoking Cannon
FOR THOSE OF A DELICATE NATURE
Blather co-conspirator Paul Clerkin has astutely observed this entry in St. John Joyce's The Neighbourhood of Dublin (a copy of which now resides in the Blather library), concerning an apparent rodent problem in 18th century Dublin suburbia...
'Walsh's Impartial News Letter of 16th May 1729 contains the following curious item of news in regard to this neighbourhood: - "This morning we have an account from Merian that a parcel of these outlandish Marramounts which are called Mountain Rats who are now here grown very common... walk in droves and do a great deal of mischief." The account then goes on to relate how these mysterious pests devoured a woman and a nurse-child in Merrion and that the inhabitants "killed several which are as big as Katts and Rabbits... This part of the country is infested with them. Likewise we hear from Rathfarnham that the like vermin destroyed a little Girl in the Fields."'
Weston St. John Joyce, The Neighbourhood of Dublin, (1912), pp. 30-1 ISBN 0-7089-9999-9
PAGAN BASHING?
It was just last week that we that discovered one web-site, which linked itself to us, has accused Blather of 'pagan-bashing', a curious pastime which we are not consciously engaged in partaking of.
In fact, the Blather article in question - the Hallowe'en Issue - dealt with a backlash against the fictional work of Bram Stoker. Despite this, it has been listed amongst the ' [link dead: http://www.mills.edu/PEOPLE/ug.pages/boza.public.html/danica.public.ht
ml/harassment.html] pagan-bashing web sites we've found so far '.

Dave (daev) Walsh
30th October 1998


Posted by daev at October 30, 1998 12:14 PM





post<li> - Post to Social Networking Sites
Posted by: sarah at January 22, 2006 2:42 PM
---
---
Posted by: Dave at January 22, 2006 3:10 PM
---
---
this is not shite,i believe it and ur intiteled to ur own opinion but its NOT shite ok!!!
Posted by: sophie at March 18, 2006 3:09 PM
---
---
Thank you Sophie. Blather.net is vindicated!
Posted by: Dave at March 18, 2006 8:01 PM
---
---
beware for the devil may take you
Posted by: ------------------- at April 4, 2006 6:23 PM
---
---
Hi Dave,
Love the site.
Back in 1999 / 2000 I was doing a bit of research on your site for a CD-ROM a team of us were producing for a college project about the Hellfire Club. I was in touch with you back then. We were going to send you a copy. Did you ever get it?
Posted by: Paul McKenna at May 15, 2006 7:16 AM
---
---
Hi Paul - did I not thank you for sending it? I just dug it out of the shelf for another look - it's great stuff!
Posted by: Dave at May 15, 2006 11:08 AM
---
---
Death will come to those who visit the hell fire club,,,
I am the evil that sits on the hill......JNB
Posted by: johnbrady at May 20, 2006 12:06 PM
---
---
I'm looking for books that have been written on, or that have something in them about the two known Irish Hell-Fire Clubs. Please contact me if you can help.
Posted by: Frank O'B. at August 2, 2006 10:19 PM
---
---
I've been up the hill, and I got a strange sensation from the Building there... I'm no psychic, but there definetly was something weird going on there. I normally don't believe in shite like this, but I'm getting close to it...
Posted by: Bram Annema at August 19, 2006 11:43 PM
---
---
yes indeed the hellfire club is the home to occult practises now only because people believe false legends and ubscribe to the idea they are carrying on a myth. the man that was arrested two or three years ago for creeping around the hellfire club at night brandishing a sword told the gardai he was possesed by an ancient spirit living in the house. strange place though
Posted by: john crog. at September 1, 2006 1:45 PM
---
---
We do mushrooms up there in autumn just before halloween, nice evening skies, there is negative stories attached to it but we've never had any bad trips, it is still an ancient pagan site. however at halloween you do get some weirdos walking around
Posted by: Paul at September 5, 2006 1:30 AM
---
---
I have just been up in the hell fire woods and club up the stairs and all, imust admit it is freaky but that could be cause i know of all the rumours already walkinginto the house. What realy stuck in my mind walking in the house was those men years ago being in that excact same spot with there guns in there hand praying for there lives, and me walking in with my head held high not a bother in the world not worring at all that my life may end here, its just mad how times have changed for the better,just be carefull anyone who does go of the stairs cause the person that was with me did fall down th bottom half of the stairs on the way back down but he was ok :) kelly tallaght
Posted by: kelly ann at September 5, 2006 4:58 PM
---
---
it is a bit weird alright as i walked in to this place i got a strange feeling!!!
Posted by: emma at September 19, 2006 8:24 PM
---
---
that is a very interesting story! i once brought my dog inside the club and he suddenly went crazy and jumped out d top window. i tink despite some parts of the story it is based around true events.
Posted by: kim thomas at November 2, 2006 11:42 PM
---
---
looks good. david mcp is shittin it once he reads this
Posted by: neil moro at November 25, 2006 1:50 AM
---
---
Thanks for the informative and well-documented site!
I visited Dublin's Hell-Fire Club back in 2001. My friends took me, and told me nothing but that we were going for a walk in the hills. I was ignorant to name, fame, and legend, but still I had a strong sense that there was something more to the place... there really is some tangible energy up there; I still remember it vividly. I can't wait to revisit.
Posted by: rea at November 28, 2006 8:59 PM
---
---
Rev 20:10 And the devil that deceived them was cast into the lake of fire and brimstone, where the beast and the false prophet are, and shall be tormented day and night for ever and ever.

Posted by: Mark Fitzpatrick at December 4, 2006 8:49 AM
---
---
when i was in my teens and living in rathmines dublin,myself and friends used to sleep in the Hellfire club,very eerie place,,at weekends on our way to glencree youth hostel,paid the place a visit last year,,but not the same,,,,now living in Darwin australia
Posted by: tom brennan at December 11, 2006 9:36 AM
---
---
Has any one ever found pictures of the INTERIOR of Loftus Hall in Wexford?? I would love to see some if at all possible...
Posted by: tracy at January 11, 2007 3:55 PM
---
---
I'm hoping to film a music video up in the aowl hellfire club @ night for a big Dublin band (can't name them for obvious reasons) anybody know who actually holds the ownership of the Hellfire club in Dublin?
Posted by: Shane at January 13, 2007 2:17 PM
---
---
Posted by: Dave at January 16, 2007 1:49 AM
---
---
haha shane i already beat you to the punch. i already filmed my music video at the hellfire club in dublin. defintately something eerie there. after gang fights and south central riots in LA that shit still freaked me out..take my advice bring some battery powered lighting it sure is dark in there..peace...thee suspect
Posted by: thee suspect at January 20, 2007 11:04 PM
---
---
Just reading the book 'Hellfire' which makes judicious use of the legends surrounding the Club, made me want to know more, excellent site
Posted by: Maggie at January 27, 2007 10:22 AM
---
---
When I was real young and staying in Tallaght in the summer a load of us kids would walk up to the Hell Fire Club, as the crow flies. We'd stay the night and it was pretty creepy. I didn't believe in ghosts or the like then or now but that place is seriously creepy. Just looking at it from afar it seems like a ghost house.
Posted by: Magic Mark at March 6, 2007 3:21 PM
---
---
me n me mates go up der wen wer not in skul n drink!1 gud laf it duz be. . but d udda nite we all stayed der. . good friday it woz. . n we wer jus lyin der wit a few cans wen we noticed dat der wer dem devil worshipers der! luckly day didn see us coz day probly wuda kilt us!! we jus ran in ta d forest n left all are stuff der!! we went bak t next day t get dem. . it woz d scariest time of me life coz it woz pitch black n we cudn see were we wer runnin t!! we were on d road den n a car went speedin past us so we jus hid in d bushes!! i rang me uncle n he piked us up n we stayed in me mates gaf da nite!! but oh my god neva again will i stay dr!!
Posted by: dildo 123 at April 10, 2007 1:32 PM
---
---
I often visit the hell fire club.In the last few years there has been 2 suicides.a man hung himself from the top of the stairs.i was up there a few sundays ago wit the my dog and she would,nt go up near the stairs, the dog was whimpering. something spooked her.it was only a few days after that i heard from a work college what had happened there, jayzus i got a chill up the spine when i heard.
Posted by: maddog at April 21, 2007 3:17 PM
---
---
I am living about 3mile from the hell fire club and have been there many a time. Over the years i have brought dogs up there and not one of them would walk around the club. something spooked them every time. There is some strong force up there.
Posted by: celticirish at May 9, 2007 10:23 PM
---
---
My Uncle lives below the Hellfire Club.In 1992 I was out for a walk with the dog and stayed out too long.It was pitch black when I had to pass the ruins.I decided to go in to test the stories.The dog,a Rottweiler,was very reluctant to enter.I stayed for about two minutes and left feeling relieved to having tempted fate.I was scared out of my brain.
Posted by: Mike at May 14, 2007 5:20 AM
---
---
the hellfire is a portal to the other side. there is a lot of negative energy both in and outside the walls of the place,there is something eerie about the woods at the back of the hellfire too.great for sun bathing on the roof in the summer though
Posted by: maddog at May 15, 2007 5:47 PM
---
---
I WAS BORN IN KILLAKEE HOUSE IN 1960 THERE WAS A SIGHTING OF A HEADLESS PIANO MAN IN A TUXEDO BY MY LATE MOTHER. IN THE BALLROOM. ALL TRUE.
Posted by: BREDA HAMMOND at June 15, 2007 3:34 PM
---
---
im goin ta d hell fire club tonight ta stay over... and if i run into any of those devil freaks i look forward ta seein if their devil can protect them from my 12 gage bullets
Posted by: darren at August 21, 2007 1:35 PM
---
---
i plan on making a photography project of this abouloutly beautiful and captivating and also stunning land mark.
we have our very own black hill legends of burkitsville (blair witch)
cant wait to camp out in or infront of it, as a white witch myself i look forward to greeting any visitors that come to me.
come all hallows eve i will have a party with the unknown
Posted by: minerva at August 29, 2007 11:07 PM
---
---
We are reseaching the history of Killakee House and would appreciate any photos, maps, history.
Posted by: Paulol at October 15, 2007 11:21 AM
---
---
supposedly there was a woman stuffed in a barrel, doused in brandy and set alight because she spilt a drink on a club member. strange place. does anybody know anything about masseys wood
Posted by: wendy p at October 26, 2007 11:48 PM
---
---
its freaky i watched scariest places on earth i was like im never going there cuz two college kids went there and they saw somthing out in the woods behind it and then wen they wer outside something was in there room
Posted by: power of three charmed fan at October 29, 2007 2:54 AM
---
---
im gonna get all you devil worshiping freak...i have been sent to take you all out....i dare u to go to the hellfire club t night and sty ever again...i wil be disguised wit my friends in tents...but beware i have a .380 semi handgun, plenty of knives and 3 grenandes....u mother fuckin satan worshiping freaks are s good as dead...i will be there most nights..i wil even lesve u gays my name nd number...dts hw confident i am of victory....
08571640584
andrew slaughter
Posted by: andy at December 16, 2007 3:00 AM
---
---
andrew slaughter? MORE LIKE andrew WANKER!
Posted by: BMTV at December 21, 2007 10:17 AM
---
---
ha ha ha ha ha andrew fucking slaughter wha a fucking bell end. im no satan worshipper i believe in god but man come on .380 semi?,3 grenades? lots of knives? stick 1 of them grenades up your hole pull the pin and do us all a favour.. 1 less idiot to deal wit!!!!!!!!!!!
Posted by: maddog at January 27, 2008 7:50 AM
---
---
my friend and i went into the club last week at around 11. we'v gone to some freaky places with cameras and tape recorders to see if anyhting would happen, untill now nothing really has happened anywhere, but as soon as we entered the club, our camera would not work, tape picked up nothing. we were going to the stairs when cold rush blew through my friend, i spun round after hearin a shuffeling in the room behind me then what sounded like a pile of fist size stones was kicked over right beside us in the doorway of the other room to our right. there was nothing in the spot we heard the sounds but empty floor but it was enough to send us at out and down the mountain. something is not right there. DC
Posted by: darach at February 6, 2008 6:09 PM
---
---
Over fifty years ago I, with a crowd of students from the
Higfh School of Commerce, in Rathmines, cycled, one Sunday arfo to the renowned Hell Fire Club and saw nothing but clouds, rain a few disgruntled goats or ratty sheep and felt the cold wind of disappointment in our loins before we had to cycle all the way back home again.
So much for the hauntings - maybe there were a few atrocities carried out in the twenties and there were no ghosts, then either.
Posted by: Adrian Kavanagh at February 7, 2008 2:14 AM
---
---
I was there today with my boyfriend. He had heard about it and told me some stories. I'm usually very skeptical about these kinds of stories so I didnt think much of going to visit it. However when we got to the top of the mountain the sight of the building made me feel uncomfortable. My boyfriend didnt think twice about entering but it took me a minute to be persuaded. I hated being in there I felt uncomfortable the whole time.It wasnt until we started going upstairs that I began to believe that there really is someting not right about that place. just as i walked up I suddenly felt like I was going to get sick. It was very strange it came on so quickly. It passed after a few minutes but I couldnt wait to get out of there!!
Posted by: N.C at February 24, 2008 8:22 PM
---
---
Where bout is the hell fire club. I,ve been wanting to visit it for years but i cud never find any1 2 ask where bouts in the dublin mountains it was and how2 get there?
Posted by: steo at March 3, 2008 11:24 PM
---
---
I remember 30+ years ago as a kid we lived in Templeogue and had a view out the bedroom window of the Hell-Fire Club. It used to scare me shitless and I still don't think I'd like to walk around it now alone. They'd be better off bulldozing it for everyone's peace of mind.
Martin
Posted by: martin byrne at March 17, 2008 5:35 PM
---
---
I have been in the Hell Fire Club a few times. Each time I go there it is the same errie feeling. Even on hot summer days I still get chills when I go inside. Also brought my dog up there and this dog would follow me into fire. Strangly he wouldn't go in to the building. He stayed aboout 2 feet from the walls and barked and barked until I came out. Very strange place.
Posted by: Liam at March 28, 2008 10:48 PM
---
---
i luv goin up te the helfire club but it reminds me of the time my lil sis fell off the roof and broke her leg but i caught her
Posted by: Ashling at March 29, 2008 8:02 PM
---
---
I go up there all the time for picnics with freinds. One time I was climbing up the chimney ( to get to the roof) and i was so scared the devil was going to get me, and then right above me a fricken bird flew out of a nest in the chimney wall, scared the bejesus out of me, I fell all the way down cutting myself up badly. I tell you that Bird MUST of been a manifastation of the devil. What else could explain it????lol
Posted by: Laura at March 31, 2008 10:22 PM
---
---
I was sceptical until tonite! Just back from our visit to the Club, and as said above, there is something so odd and just uncomfortable, i felt anyway, but the smell, and the sever coldness on my neck, and the odd cow/bull like noises were enough to scare the living crap outta me. The most gut wrenching bits were the sight of the forest which surronds it and the first view of the building from the drive way,, so creepy!well considering it was 10pm and really dark! but nevertheless i had an unusal yet exciting experience!
Posted by: Gary at April 9, 2008 12:49 AM
---
---
im 32 living in dublin all my life and only visited it twice.my two friends came over from wales last month who love all the storys of myths and legends and what better place to take them.there were three of us with 2 dogs a rotty and a german sheperd.lol even when we only got to the car park they were shitting themselves and wanted to go back as it was 11 at night and pitch dark.as we hiked up to it we felt uncomfortable with the woods on either side peircing with eyes of the deer in the distance,we had camcorders with us and playing them back the next day there were visions you couldnt account for.when we got to the top and seen the house that really freaked them out.i dont know but did any1 here if u walk around the house 3 times after midnight the devel appears?well not even thinking that we nearly did just looking for the entrance.when we got into the house and went upstairs as some1 said earlier downstairs we heard stones being kicked like mad off the walls,the dogs were barking like crazy got off the leads and ran down.when we got downstairs and went outside both of them were sitting quietly and the burn marks of camp fires where its said devil worshipers sit.i have all this on camera.anyway its a place i,ll always remember and my 2 friends cant stop talking about and are definatly comming back to visit.any1 with a weak heart or planning to go up there on their own shouldnt.its a cold dark and freaky place to go to on your own.p.s that crowd from most haunted we should start a campain for them to come to our most haunted place to see what they think.
Posted by: Damien at April 16, 2008 8:20 AM
---
---
Does anyone know how to get to the hellfire club from the m50? (am heading down from 'de nort') for a gonder at it!!
Posted by: rosie at April 24, 2008 2:07 PM
---
---
Posted by: dave at April 24, 2008 4:08 PM
---
---
who one the pocker match luicifer or the men
Posted by: ellieward at May 17, 2008 6:31 PM
---
---
i was there last night and i didnt think it was that bad the view of dublin is savage if you want a real scare the is a house in closilla not far from lucan. but i can not gon inside that house but i went inside the hellfire club does any knw what that pointed stone is.
Posted by: loco at May 19, 2008 4:25 PM
---
---
me and my pauls went up yesterday we did not know way there was a crack in the mirror but we had a crack we are going up tomrrow
Posted by: ellieward at May 21, 2008 5:51 PM
---
---
We used to always go there as Kids and my da used to tell us the stories... it used to scare the shit out of me... i havent been up there in years... but the last time i went up there was cans evrywhere... will yis fuckin pick up ur cans after yis fuckin nackers ha ha
Posted by: Jake at June 15, 2008 5:24 AM
---
---
i mountain bike up ter and in massy wood. every time i go up i go into the club but i never get any strange sensations .i wud luv to stay a ni to see wat wud happen. te forest behind it for me is scaryer.it feels as if u ar being watched
Posted by: ste at June 18, 2008 3:31 PM
---
---
hello agian i just wanted to say that my little sister made her commuion and she had her dinner in maynoot and we went to the hell fire club my little brothere was scared
Posted by: ellieward at June 25, 2008 4:26 PM
---
---
im ashlings sister de 1 who broke her leg. so dis is how it happenend i was just after running up de hill and we were all scared to climb it so i said il do it! and i got just haf way up and a rock came flyin out and i fell. i could av been paralised if it wasnt for my lovely sis!!! o nd b 4 i was goin in and i got the fright of my life coz wen i walked in der was lyk a dip in de ground nd me fooy got caught. i tawt it was de devil hahahah im so blonde
Posted by: jessica(ashlings sis at June 27, 2008 9:29 PM
---
---
Hey, love your site. You's keep it real and an open mind.
I've been up there more times than I want to recall.
Even though I have seen and felt some indescribable things in and around the Hell-Fire Club, also in the days/weeks after visiting the Club. I think I will always find myself going back there. For curiosity, my deep interest in it's history or just the need to interstand and not fear what I've seen and felt up there.
You's are doing a great job, please keep it up.
All the best. - Simon
Posted by: Simon M at July 13, 2008 9:52 AM
---
---
Posted by: Eoin at August 5, 2008 6:43 PM
---
---
I've just set up my own weblog looking into the Hell Fire Club http://dublinhellfireclub.blogspot.com/ while I come at it from a different angle to you guys I have to admit this site was a major inspiration for my own.
Posted by: Chris Lowe at August 13, 2008 4:47 PM
---
---
Posted by: Chris Lowe at August 13, 2008 5:07 PM
---
---
I just came across this blog and was very surprised that the Hellfire Club and Killakee House (so named in recent times, it was in fact the dower house to the original Killakee house the ruins of which are in Massey's Woods)of Black-Cat fame, arouse such feelings. I spent most of my summer holidays in Killakee House, which was owned at the time by my Grandaunt. The Hellfire Club was if you like our back garden. It was well before affluence allowed rubbish throwers access to what is really quite a lovely area. Concerning the feelings you get in the woods, strange for such modern woods. I remember when the trees were being planted and the old turnstile being removed to make way for the road. The stories are many and varied, and some, in accordance with the old folk, are based on fact. Lord Massey's woods on the other hand lend themselves a lot better to eerie feelings, given its long history. However, I enjoyed reading the many articles.
Posted by: Declan Jones at October 4, 2008 7:26 PM
---
---
I think that this ia a brilliant site, very interesting.
Cheers Dave, you rock!
Ive been to the Hellfire Club just once at about 3.00am. Didnt know the thing about circling it 3 times. Ill be going back soon to take pictures for a project im doing on it. It is quite an eerie place but i dont believe in paranormal stuff whatsoever so i just wasnt scared at all. To me, its just an old, run down building, with the occasional "devil worshippers" strolling around, trying to be all mysterious and scary and what not. I am very intrigued by the history of the site though
Thanks alot for the info
Posted by: Anne at December 3, 2008 4:49 PM
---
---
I think the main reason that your dogs wont walk aound it is because the place stinks of piss!
Posted by: Darragh at January 16, 2009 10:33 PM
---
---
Just seen a comment their about circling the house 3 times , does it work in the day too???
Posted by: Gav123 at February 15, 2009 1:48 AM
---
---
I worked in Killakee house back in 1982/83 when the house was owned by Josef Frei and his wife Eileen. It had many famous diners [including members of U2]!
It did have an eerie feel to it, especially when empty of patrons and i sensed a feeling of being watched when in the room with the famous cat portrait. The owners two great dane dogs would sometimes refuse to go in certain parts of the house and diners would complain of feeling a chill, even though the three coal fires[where the portrait hangs], were always lit!
I also sat on the back of a motor bike and took a spin around the hellfire club, late one night [dont know how the bike got up that hill]!
I was fearless in my youth ha ha!
Posted by: Lorraine Day at March 29, 2009 8:30 PM
---
---
hey did u know that cassino marino of the malahide rd connects to the hellfire club by a tunnel under ground,and that seemingly years ago people would dissapear in the tunnels,!xgreat site;)
Posted by: catriona l at April 3, 2009 1:16 PM
---
---
i was up there campin recently and me and me mates saw sumtin in the forest behind the house we got in the tents and it started to circle our tents it wasent a dog or fox it was huge it sat there for ages.it dident want food there were four of them they looked like wolves or sumtin could sum 1 please exsplain wat it couldeve been? it just looked at us
Posted by: robert at April 6, 2009 7:38 PM
---
---
was it brian cowan and mary harney by any chance?? probably not! i could,nt see them turning their noses up to food!...prob deer or foxes mate?
Posted by: jr mcgrane at April 7, 2009 3:54 PM
---
---
there are also a lot of dogs in the area too that wander up there!!
Posted by: jr mcgrane at April 7, 2009 3:56 PM
---
---
hi im james from dublin, its not 14:38 and my friend jack is picking me up at 5pm to go visit the hellfire club. i have to be honest, im shittin meself. im not into devil worshiping and im not very religious at all, im normal and me and me mate just like driving and we drove around glencree the other day so today we've decided to drive to the hellfire club. we wont be there long but when we do it im going to write back to you and tell you in fine detail what its like. sight sounds smell etc. wish me luck.
Posted by: James-21-dublin at April 25, 2009 2:40 PM
---
---
Ive always enjoyed going to the hellfire club although ive never been there at night. Ive never had any strange experiances up there but i would not be surprised if there was some strange shit going on up there.Some interesting comments-hearing the noise of stones being hit of the walls etc.
Posted by: mark at April 29, 2009 4:32 PM
---
---
I grew up in the southside of Dublin in the 1960/70s and, although I have lived in London for most of my life, I have vivid memories of visiting the ruin. Like most south Dublin kids, I was intrigued by the ruin's distinctive silhouette on the summit of Mount Pelier, that can be seen from most places in the southwestern suburbs, and wanted to know more about it. I visited it with my family in the early 1970s on a very hot summer's day. On entering, it was noticeably cooler than outside as would be expected from a covered stone ruin, but after going up the stone steps towards the main hall, the temperature became absolutely freezing, like walking into a coldstore even though there was no wind or discernable breeze. We too had our dog with us and he entered for no more than a few feet before refusing to go any further. He whimpered and whined so much that my Dad had to take him outside and wait there for the rest of us.
Apart from that, I personally experienced nothing in the area that I would consider strange but my younger brother did in 1985. He and I were great motorbike fans and we used to go on tours together. In the early 80's I was forced to go and seek work in England and he stayed at home and would frequently go on ride-outs up around the mountains and down again. If none of his friends was available, we would go it alone. On an evening in early autumn, he rode up alone to cover the route of the Cruagh Climb (a popular time-trial mountain road race when we were young) and stopped for a rest on the twisty tarmac mountain road at a point very close to the steep loose footpath leading up to the Hellfire Club. The sun had just set and darkness fell. With his motorcycle engine turned off and in the heavily wooded surroundings, it soon became almost pitch dark. Just as my brother was considering starting up, he felt the bike creeping forward as if being pushed from behind. He thought little of it as first and pressed down on the brake pedal. At that point he found it odd that the bike was moving forward yet facing uphill. Something prompted him to jump off the bike and he turned around to see the outline of an old crone covered in a black shawl that seemed to be wrapped heavily and loosely around her head so that her face couldn't be seen. She appeared to be holding a stick or cane and began prodding it against the rear of the motorbike and repeatedly howling, "Get away from here". As you might expect, my brother didn't take much persuading. He jumped on the kickstarter of his Yamaha DT175 turned around in the road as quickly as he could and hurtled the bike down the mountain towards the suburbs. As he rounded each bend in the road, the old crone appeared gesticulating in the verge again and again at each apex until he got out of the Killakee House area. Stocking Lane may be more populated now, but at that time, the first glimmer of civilization one encountered after coming down the mountain road was a pub called Allens although it's called something else now. My brother didn't drink alcohol but, in the circumstances, he felt he needed a drink to steady his nerves. On walking up to the bar in Allens, the barman looked him straight in the eye and said, "you look like you've seen a ghost" to which my brother replied, "I think I have". After bringing him his drink, the barman asked, "did it look like and old woman dressed in a black shawl?" Relieved and horrified in equal measure, my brother answered, "Yes, how did you know?" The barman revealed that one or two locals had had a similar experience late at night over several years. The barman pointed out one of them in the pub at the time but my brother did not approach him or take the matter any further. Neither of us has, until now, mentioned the incident to anyone. We're not cranks, nutters, druggies or conspiracy theorists, just ordinary professional people who have never otherwise had such an unexplained experience. My brother is a successful market gardener in the South and, to this day, he says he will never forget that evening twenty-five years ago. I am curious to know if anyone else has had this experience in the HellFire Club/Killakee area or has heard about anyone who has. If so, please post the accounts you have heard. Many Thanks.
Posted by: Jim Powell at June 13, 2009 4:09 AM
---
---
Wow, Jim, fascinating story!
Posted by: Dave Walsh at June 13, 2009 10:40 AM
---
---
always loved going up there to mountain bike when i was younger, house was always grand for me, its definitely the woods around house that are eerie, masseys wood is even scarier, even on brightest day dark as anything.
Posted by: cathal at July 6, 2009 3:48 PM
---
---
i lived in brookfield tallagth when i was younger and we use to visit the hellfire club when we were kids,i remember all the stories about the devil appearing.but one story i remember was the one about the club going on fire at a certain point in the year and it would burn all night abd could be seen from tallaght.the next day the club would have been untouched as if it didnt happen.can anyone else remember this story.email me at tony_mcc@hotmail/com
Posted by: tony at July 8, 2009 4:32 PM
---
---
I've wanted to visit it for years, will make my way up there at some point!
Posted by: David at July 23, 2009 11:16 PM
---
---
Hi

Great stuff about the Killakee House and Hell Fire Club. At the top of page Daev mentioned that Killakee House has a website? I cant Find it , you know the name of it?
Posted by: Plumber at July 24, 2009 12:12 AM
---
---
Plumber, I think the website is long gone - Kilakee House went out of business.
Posted by: Dave at August 14, 2009 1:00 AM
---
---
Hi all,
I lived in Killakee House with my family for 15 years or so and can corroborate that it wasn't the friendliest house on earth. It did have a 'vibe', especially in the tower room. And yes, it always felt as if one was being observed. The whole area of the hell fire club and Massey's is odd to say the least and many things happened over the years we lived there. Lots of different theories for the disturbances were mooted; ranging from the paranormal to a famous water douser (is that what you call them?), who knew that there was water running beneath the property and reckoned that was the cause of the 'vibes' people felt. Anyhow .... it is worth a visit, if you dare, stay overnight in the central ruins in Masseys or if braver in the hell fire itself - yiks! Finally, perhaps urban myth, but we were told that the house was exorcised a number of times over the years, culminating in a papal exorcism allegedly. We had a few memorably 'persuasive' experiences in our family and although I have so many terrific memories of growing up there, I would pass on the option of spending a night there.
Posted by: Nicole at August 17, 2009 10:20 PM
---
---
hi now i havent wrote in a long time but i went back and heard a strange nosie and i took a picture at the mirror and there was a shadow behind me so i made a face at it and i was kind of scared but i turned around and theres my dad kneling down on the ground thats was a bit funny bit i smacked him for giving me a fright
Posted by: ellieward at August 20, 2009 4:47 PM
---
---
Interesting experiences folks but let me share with you an absolutely terrifying experience i had in the place a year or so ago.I still have nightmares as the incident was so unsettling.
On a damp evening last August i set out for a stroll in the area, not having been in the area for years. I had taken a flask and packed sandwiches with me (Aldi- i recommend the mediterranaen salad and feta cheese ones). Anyway, i digress, so with my sandwiches and a flask of hot tea, and being desirous of a spot of sustinence i sat on a stone not far from the Club. Dusk fell and the lights of the city twinkled into life. On the way i passed a couple of people walking dogs but nobody after that. Not surprising given the inclemency of the evening.
Emboldened, i made my way to the Club entrance as night started to fall, realsing the madness of the situation. All was a silent hush. Then i heard a shuffling sound from the room on the right. Peering in, my eyes adjusted slowly to the semi-darkness. I could make out the shapeof a robed figure, like a monk. I wanted to leave but found i couldn't and was absolutley rooted to the spot. whether through some primeval force or through sheer fear i'll never know.
Anyway, as i stood the figure slowly turned to face me. The dark hood of his cloak gradually lightened as his face swung into view. It wasn't the devil. It was worse. For beneath that cloak a face stared coldly at me wearing an eerie, threatening sneer that i can only describe as the personification of evil. This was a man whose face i knew. None other than ex PD Minsiter Michael Mc Dowell himself. As i ran from the placei heard him cackle a grim threat; "I'll be back"!!
I'm still on the Vallium but the Doctor tells me i'm improving. Slowly.
Posted by: dave at September 4, 2009 9:56 AM
---
---
My dad was fishing at Lord Massey's years ago. It was around dusk and as the sun was setting, he heard a thundering noise, like a horse running, behind him on the banks of the river. When he turned he saw a man in a cape with old style clothing, wearing a strange mask on the back of a horse, about 20 feet away. his horse was dark and was heavy set, like the horses of the olden days. He stopped and looked towards my dad, and the horse reared up on it's back legs. My dad was scared, thinking he had encountered some kind of a nut and he might be dangerous. Not quite knowing what to do, he turned back to his fishing, for a minute, and when he looked back the man and horse had disappeared. He did not hear him gallop off, as he did his arrival. He says this was the scariest thing that happened up there, and his hair stands up oh his neck to this day when he remembers it.
Posted by: Tina at October 8, 2009 3:38 PM
---
---
Hi folks,
I visited the Hellfire Ruin last year when I was studying in Dublin. It was a beautiful sunny day and myself, my friend and our two lady friends decided to take a stroll up the trail and observe the view of Dublin and to check out the ruin of the house.
Me being quite superstitious and intrigued by the paranormal, I must admit I was shitting it at the entrance to the lodge. I had heard of some of the stories surrounding the lodge and of some of the supposed goings on up there.
Anyhow, as myself and my friend spent around 20 minutes looking around the place, I decided it was time to go back outside to our ladies who had politely declined from checking the place out...
But as I turned to go back down the stairs, I saw what I believe to have been an 'orb'... One of those small white dots similar to dust in light. I would have dismissed it as such but for it's movement. From my vantage point looking just over the top of the stairs, this orb popped up, maybe a foot from the ground, made a few irrational movements and then seemingly dissapeared. There was no breeze or wind blowing through that particular section of the upstairs that could have caused it to have been a piece of dust or something so I'm pretty convinced it was something of the other sort...
I was reminded once I had left the house that a few people had committed suicide on the stairs of the house, so that really put the shits up me...
But just my experience, and gospel truth.
Stephen
Posted by: Stephen at October 10, 2009 5:32 AM
---
---
I went back to the hellfire last Sunday and noticed a granite stone just to the North West of the Club and it has a carving in memory of a man who died in 2002. Aged about 60. David, can't remember his surname, but dedicated by family and someone called "Pug". Anyone know anything about this? Interesting to know the dead man's attachment to the place and the significance of having the stone there.
Posted by: dave at October 28, 2009 10:57 AM
---
---
WE WENT TO THE HELL FIRE CLUB A FEW MONTHS AGO FOR ARE FIRST TIME JUST AS IT WAS GETTING DARK WE ARRIVED AT THE HOUSE WE WALKED AROUND IT AND IN IT .IT WAS FREAKY ALRIGHT BUT WE DIDN'T SEE ANYTHING WE TOOK A FEW PHOTOS AND THAT WAS THAT ON RETURNING HOME ABOUT A WEEK LATER WHEN ONE OF OUR FRIENDS POSTED THE PICTURES ON FACEBOOK WE REALIZED THAT IN ONE OF THE PICTURES THERE WAS A DARK FIGURE TO THE RIGHT OF US WE DONT KNOW WT THIS IS . IF YOU LOOK REALLY CLOSE AT THE HEAD YOU CAN MAKE OUT A EVIL LIKE FACE ITS HARD TO SPOT BUT WHEN YOU DO ITS FREAKY ..EVEN IF YOU DONT SPOT THE FACE ITS STILL PRETTY SCARY ANYWAY .
Posted by: DERMOT DAVE AND RYAN at January 13, 2010 6:01 PM
---
---
Posted by: Liam at January 25, 2010 5:23 PM
---
---
Went up there tonight. Been up a few times when I was younger with the scouts. it was always good fun up there and with 30 of us, not really scary.
But tonight it was the three of us and was eerie as hell. We walked from templogue to get there too so we were knackered. When we were leaving the ruins we heard two consecutive screams coming from somewhere far back into the woods behind the building. Probably easily explainable (definately wasnt fireworks though) but still horrifying nonetheless.
Interesting read anyway :)
Posted by: Peter at October 26, 2010 12:00 AM
---
---
Took a photo inside this place a few years back only to reveal a face of a lady, hair kinda tied back with a frilly thing around her neck, still have it.
The room was jet black, no light entering it at all so nothing can explain the image!!
Posted by: Peter at October 26, 2010 12:15 PM
---
---
Hey loving this site, it's really good. I have a very odd story from the Hellfire club. For years my parents brought me and my older brother up there to walk our dogs and even went to Lord Massey woods too to walk the dogs. I never had any strange feelings or anything like that. Sure I was jus a kid out with the family and playing with the dogs on the walk.I will admit although, I never went into the house, but always waited outside with mum and watched my dad and brother go in and used to hate the way my brother would tease me from the top windows. But the last time I went up there was seriously the last time for a reason.....
I was about 13, so early '90's, and myself, mum, dad and the 3 dogs went to go for a walk up there. It was no different feeling to any other time I was there. My dad was doing something to the car after we had parked and myself and mum went on ahead with our dog Cally. As we came around the 1st corner not far from the car park (early afternnon and lovely sunny day), me and mum were chatting away and the dog was a bit a ahead of us sniffing around and so fourth, she stopped suddenly which made us stop. Her hackles were right up and she was shaking...as we looked ahead we encountered this big black dog, it was basically a rotweiller but without the tan markings, it was all black including the eyes. It was snarling at us and bearing it's teeth. We froze on the spot for a minute not knowing what to do.... then mum told me to go get dad, I turned back very slowly and as i looked back at my mum I noticed it was gone, couldn't ever explain it. It had literally VANISHED.I got the feeling it was trying to block us from goin up there. We ran back to my dad and try explaining it to him, he thought we were jus been hysterical women and to jus get over it, but after a while when we got home he belived us. I have told a few friends about it and they have told me that it's called the "devil dog"...does anyone know about this dog or even heard of it ??
Like i say i have never been up there since and don't think i could again.I can still it fresh in my mind when i speak about it and it gives me serious chills.
thanks a million for reading, Ciara :0)
Posted by: Ciara at October 29, 2010 11:13 PM
---
---
the dog you seen is an allasashin look a like only its all black its called a Jackel saposealy the hound from hell
Posted by: john at December 6, 2010 4:48 PM
---
---
i was up there the other day and it was not the same as i remember it as.
Posted by: andrew darcy at June 6, 2011 7:19 PM
---
---
FAO: Andrew, have to agree. I havn't been up there in over 15 years but decided to bring the dogs up few weeks back to check it out. My dog hasn't been the same since, thinking he might be possessed!
Posted by: Declan at August 2, 2011 3:59 PM
---
---
I am telling u now u no the stone behind the hell fire club well on the sixth of january next year (2012) dig all around it And move it to where the front door is in the hellfire club then go back around sprinkle some sea salt around where it was then dig deep down aprox 2 ft there you will find a statue of satin made out of granit lift him up and place him somewhere near u then replace the big statue that was there before u moved it and place her back where she was then place the statue on top fill in the holes in the statue of satin with pieces of granit of the roof then then the gate to xpiopa ( commnly known as hell) shall open in the form of a mirror to gain entrance to 'hell' say black mary rise before me and my sole. You shall the be allowed in to xpiooa u are know free to talk to statin warning do not call her satin instead call her madam or even bolyen would do.i should let you know that u can ask of favours of ms madam but in return she is allowed to keep ur sole in xpiopa to do her biiding warning this is not a joke or should not be acted out as any joke
Posted by: William at October 23, 2011 11:18 PM
---
---
i was up there and under the wood chippings there is floorboards ,i think that is freaky !!
Posted by: tara at October 24, 2011 9:08 PM
---
---
I worked as a waiter in Killakee House restaurant for about a year and a half, in roughly 1992-1994. In my time there I found the place to be unsettling at the very least. It was the kind of place where, if you found yourself in one of the large rooms alone at opening or closing time; a strong shiver would run down your spine, and you would have to leave. I remember it was near impossible to heat up the upper and lower overflow rooms. So much so they had about 10 plug-in radiators in each of them, despite the large open fire blazing away nightly. There was an account of a fellow workmate actually seeing the "giant black cat" out the back of the restaurant. One night I managed to get a couple of quite scary stories out of the owner's son. He dismissed any weirdness or ghostly activity at first, as this was his home I was enquiring about. Reluctantly, and only after about 15 minutes of hassling him, he reported that one night he was in his bed with one of his dogs, a small Jack Russell terrier lying asleep at the end of it. When, the Jack Russell suddenly stood up and peered across at an armchair in the corner of the room, and started growling. The dog jumped down off the bed, and while continuously growling, walked slowly towards the armchair, with his head low to the ground. He went on to say that when the terrier got close to the chair; he suddenly lept back with a yelp, as if something had taken a swing at the dog. Take what you will from it but at the time I didn't think of the storyteller to be much of an 'imaginative fibber'. As for the 'house' on top of the hill, well that's another story...
Posted by: Paul at November 11, 2011 3:13 PM
---
---