Flann O'Brien: Comic Genius
Posted by daev
Blather.net wouldn't exist if it wasn't for St. Flann!
Originally published on disinfo.com

Evil is even, truth is an odd number, and death is a full stop
- 'At Swim-Two-Birds'

Brian O'Nolan (1911-1966), best known as either Flann O'Brien or Myles na gCopaleen, spent most of his life in Dublin, Ireland working as a top level civil servant. As civil servants were not allowed to write under their own names, O'Nolan introduced a vast array of pseudonyms - and so for over thirty years, Myles na gCopaleen wrote the 'Irish Times' column 'Cruiskeen Lawn', a satirical take on life in Ireland. No one was safe from the surrealistic wit of Myles. Today, it is Flann O'Brien that most people are familiar with, and the novels 'he' wrote.
Authored in 1939, but unpublished until 1966 (posthumously), 'The Third Policeman' seems like some mad merger of 'Alice in Wonderland' and 'Dante's Inferno'. Arguably his best work, it is a murder thriller, a vision of eternity, a visit to hellish rural police station, and the tale of 'a brief, tender, unrequited love affair between a man and his bicycle'. It's a world where the policeman spend their time stealing bicycles, to limit the amount of atomic transference between humans and their modes of transport . . .and all the while, another narrative unfolds in the form of intrusive footnotes - at one point of the book, they even threaten to take over . . .
These footnotes deal with the questionable works of De Selby, a scientist who believes that night is merely 'black air' - an accumulation of sooty substances in the atmosphere, and that sleep is a series of fainting fits, brought on by the inhalation of such air. De Selby has turned up again since - even in the works of Robert Anton Wilson. In O'Brien's later novel, 'The Dalkey Archive' (1964), De Selby appears in the main text, armed with his patent gas that can manifest characters from classical history (James Joyce also appears in the same book, working in a bar, and sewing cassocks for Jesuits, unaware that his books have been published).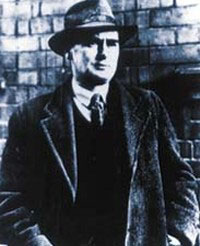 'At Swim-Two-Birds' (1939) is O'Brien's first novel. It has four beginnings, and has, effectively, a book within a book, within a book. The first book deals with a slovenly, if talented Dublin student, who is working on a literary masterpiece. His book deals with a nefarious and cruel Dublin author, who grossly mistreats the characters he employs in his novels - adult humans, who have 'entered the world with a memory but without personal experience to account for it'. We're treated to the world created by another Dublin author of cowboy stories - with pitched battles between bandits, cowboys, Indians and the local Dublin police force . . .meanwhile, said cowboys are running riot around the countryside with demons, fairies, and characters from Irish mythology . . .'At Swim-Two-Birds' is tough going, but well worth it, and was even recently made into a movie, set in rural Austria with German dialogue!
Amongst O'Brien's other works are the novels 'The Hard Life' (1961), a weird tale of Dublin adolescence, 'An Beal Bocht' (1964), also known as 'The Poor Mouth', a satire on the 'traditional' Irish peasant story; various plays, including his adaptation of the Capek Brother's 'Insect Play' ('Rhapsody in Stephen's Green'), 'Faustus Kelly', a Faustian Irish political drama; and countless newspaper articles, published as 'The Best of Myles', 'Myles Away From Dublin' (1985), 'Stories and Plays' (1976), 'The Various Lives of Keats and Chapman and The Brother' (1976), 'The Hair of the Dogma' (1977), 'Myles Before Myles' (1985), and 'Further Cuttings from Cruiskeen Lawn' (1976).
If intrigued, one could do worse than procure a copy of 'The Third Policeman'. Bicycles will never seem the same again!
Read an excerpt > >

LINKS:
The No-Bicycle Page
A spring-board into the works of Flann O'Brien, with excerpts, and links.

Foolishness & Codology
Blather.net article about the 'Festival of Fools' (1999).

Shameless Hijack
Blather.net article about Brian O'Nolan.

At Swim-Two-Birds
'Internet Movie Database' entry for Kurt Palm's movie adaptation of Flann O'Brien's novel.

Dalkey Archive Press
U.S. publisher of much of Flann O'Brien's works.

Brian O'Nolan Collection
The Brian O'Nolan collection in Morris Library is the largest O'Nolan holding in the world, measuring approximately six linear feet. It contains correspondence, most of it to and from O'Nolan between 1938 and 1966, as well as typescripts of all O'Nolan novels except At-Swim-Two-Birds.

Flann O'Brien
Simple page about Brian O'Nolan/Flann O'Brien.

The Third Policemen: Review
This is one of the strangest novels I have ever read!

Flann O'Brien: Portrait Of The Artist As A Young Post-Modernist
Synopsis of the excellent book by Keith Hopper.

The March Of Mind, On Flann O'Brien
It's a bit hard, trying to write an article about Flann O'Brien, when you know next to nothing about the man and all you have by way of recommendation for the job is an endless capacity for delight in his work.

An Insoluble Question
A short story by Flann O'Brien: " 'I will make a cup of dark, mysterious, uncharted tea,' said the Oldfellow."
Notes & Quotations on Flann O'Brien
Conan Kennedy conjectures that the name de Selby is taken from the De Selby Quarries on Mount Seskin Road between Terenure and Blessington... and pursues the connection with Walter Conan (1867-1936), proprietor of a tailoring firm which made academic gowns and shared buildings and business interests with the De Selby company as well as being - more significantly - was the inventor of a meat preservating system, incandescent gas lamps, a keyless lock and an index carding sysem and a depth charge (patent fuse) that was adopted by the British war office as an anti-submarine weapon...
Posted by daev at November 27, 2003 11:58 PM