February 17, 2006
The Hellfire Club Tunnels and Caves, West Wycombe
Posted by daev
In yet another episode in a never-ending series, blather.net returns to the lair of the English Hellfire Club - Sir Francis Dashwood's party-house at Medmenham Abbey, and the fantastically kitsch tunnels in West Wycombe.
Back in 1998, blather.net visited the Hellfire Club tunnels, in West Wycombe, Buckinghamshire - which, in case you don't know, is about 50km out of London. Back then, I knew very little about photography - I pointed and I shot, and was pleased enough. Now, I know a little more, and hope I've presented some better images of one very, very odd place.
I've already written extensively on blather.net about the Hellfire Clubs, both the Irish Hellfire Club and their English counterparts. So, rather than getting into an explanation of 18th century rakes and satanists, I'm going to stick with talking about our recent visit.
In November 2005, a crack blather.net & Strange Attractor team descended upon West Wycombe. First, however, we decided to track down the whereabouts of Medmenham Abbey, where Sir Francis Dashwood, and his Knights of St. Francis had their Bacchanalian raves. Many writers confuse the two - claiming that the Hellfire Club had their orgies in the tunnels, while in fact, Dashwood commissioned the digging of the tunnels quite late in life, and after the heyday of the 'club'.
We found Medmenham Abbey easily enough - on a beautiful stretch of the Thames, between Henley and Marlow. The problem is, if you're on the same side of the river as the Abbey, you can't see it - the walls are too high. We decided to see it from the other side of the river. Back in the car, we made for Hurley, via Henley. Before heading out on the towpath, we visited the churchyard in Hurley.
The Thames has abundant wildlife here - grebes in the water, and kites (the bird of prey) flying overhead. And then there's the camera-loving llama in a field along the way.

About a half-hour walk took us up where got a full view of the Abbey - these days, it's a privately owned residence, and by the looks of it, the owner has plenty of money. Cistercian monks founded Medmenham Abbey about 1145, which survived until the dissolution of the monasteries in about 1540. In the mid-17th century, Sir Francis Dashwood - then Chancellor of the Exchequer - got his hands on what was left, and used it as a scandalous private club for his friends.
More about Sir Francis Dashwood &raquo
It's a quick drive from Hurley to Marlow, and then on to High Wycombe. Driving out of High Wycombe towards the village West Wycombe, the Dashwood Mausoleum is visible on top of the hill, directly ahead. It's a quick, but steep climb up to the mausoleum - a massive flint structure that looks more like a fortress than a last resting place for the dead.
Just up the hill is St. Lawrence's Church - built by Dashwood, from the ruins of an old Norman tower, which itself was inside the banked enclosure of West Wycombe Camp - an iron age fortification. Dashwood, in a fit of Italian fervour, modelled the tower on the customs house in Venice - and put a large golden sphere on top. This (Christian ) church is claimed to be 300 feet (91m) above the 'Inner Temple' of the caverns.
Back down the hill, are the slightly tacky entrances to the tunnels. When we visited, we got the impression that the staff hadn't quite cleared up after Halloween, but instead we're putting together a 'scary Christmas' theme from the Samhain leftovers. The cafe and souvenir shop has lots of plastic tat - rubber bats and the like. The management seem obsessed with marketing the place as a good, clean, wholesome family day out. Disney with a slight edge. This is ironic, given the history of the place, and Dashwood's carry-on.
Inside, the disembodied voice of the recently-deceased most-recent Sir Francis Dashwood greets us, telling us the story of the caves. The tunnels aren't natural - they were dug out by local workers at the behest of Dashwood following a crop failure. They used the chalk from the caves to build what is now the A40, in order to rejuvenate the local economy.
However, instead of digging a quarry, Dashwood created a bizarre tunnel system, with a banqueting hall, an inner temple - and even a fake River Styx. Everywhere in the tunnels, carved faces leer. I don't remember so many the last time - I have a suspicion that some of them are fairly recent, but I can't be sure. They cute carving of a cat on one wall is definitely suspect.
But enough blather from me - enjoy the photographs...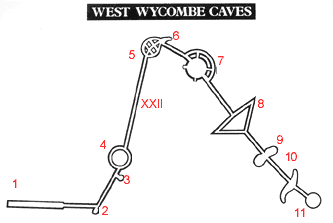 Entrance

Tool Store

Whitehead's Cave

Lord Sandwich Circle

Franklins Cave

Children's Cave

Banqueting Hall

Triangle

Miner's Cave

River Styx

Inner Temple

('XXII' refers to a marking on the wall, mentioned in a poem of the time... )
To purchase high resolution copies of these photographs, please visit davewalshphoto.com »


Medmenham Abbey, on the Thames, where the Hellfire Club had their meetings. It's between Henley and Marlow.


The Dashwood Church, West Wycombe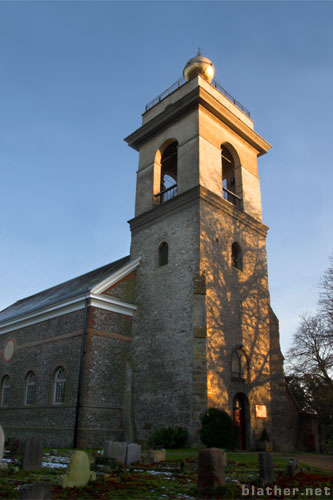 The Dashwood Church, West Wycombe

To purchase high resolution copies of these photographs, please visit davewalshphoto.com »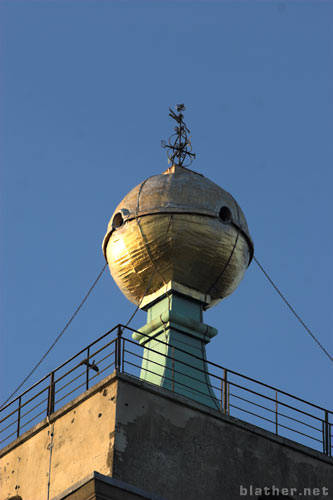 The Golden ball on top of the Church. It has a little hatch, allowing access for a couple of people. Dashwood used to use the ball for sending heliograph signals to his friends, apparently.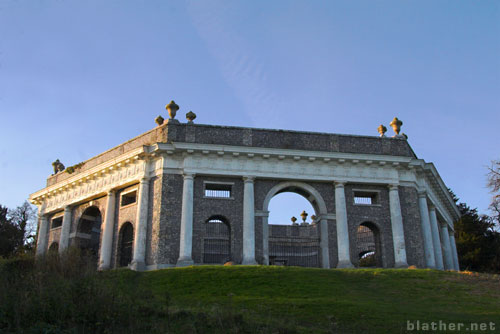 The Dashwood mausoleum. Hammer fans might recognise it from the movie based on a Dennis Wheatley novel, To the Devil a Daughter (1976)

To purchase high resolution copies of these photographs, please visit davewalshphoto.com »
To purchase high resolution copies of these photographs, please visit davewalshphoto.com »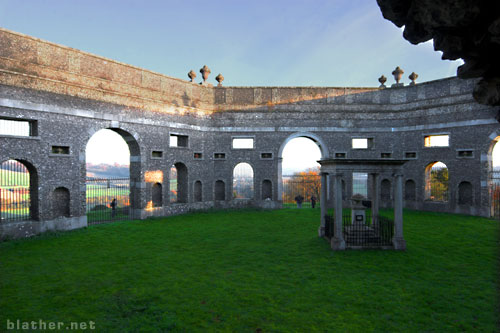 Inside the mausoleum. Note the tiny people!



The entrance to the Hellfire Club Tunnels, at West Wycombe


The blather.net Strange Attractor gang.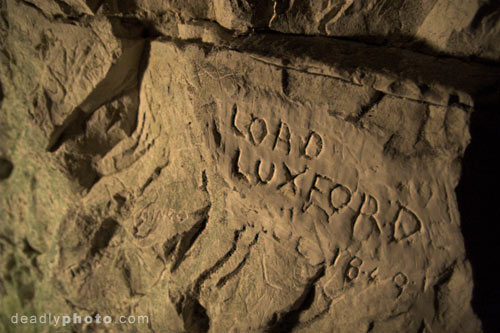 Who was Lord Luxford?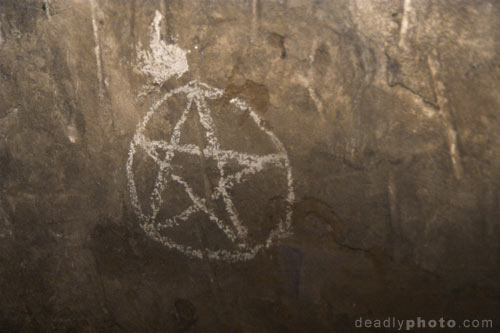 A pentagram. Modern or ancient?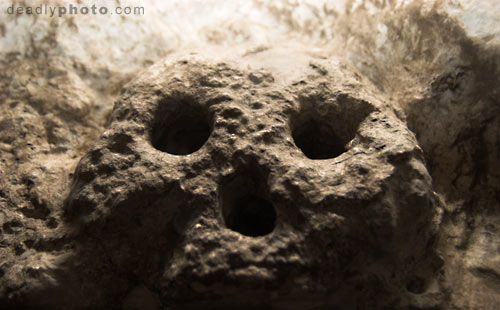 Carved Skull


A copy of a page from the cellar book from Medmenham, kept in the tunnels at West Wycombe, detailing what the Knights of St. Francis were drinking.


More tacky mannequins - Dashwood, a baboon and some friends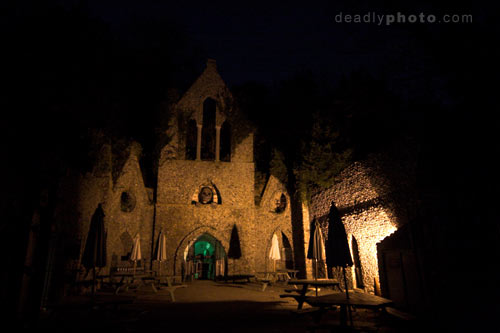 The entrance to the Hellfire Club Tunnels at night. Note tacky skull in centre of photograph.
To purchase high resolution copies of these photographs, please visit davewalshphoto.com »

Posted by daev at February 17, 2006 11:39 PM


post<li> - Post to Social Networking Sites
For those tunnel shots, borrow some cheap slave flashes next time...
Posted by: Colman at February 17, 2006 7:55 AM
---
---
Posted by: damien at February 17, 2006 9:06 AM
---
---
Hi Colman - thanks for the comment. That was the first time using my 550ex flash, so more flashes would been too complicated!
Posted by: Dave at February 17, 2006 3:25 PM
---
---
yeah, wizard or dunce, they're kind of halfway between aren't they?
Posted by: ro_G at February 17, 2006 5:53 PM
---
---
Gosh, it all looks very spooky. Apart from the tacky plastic people.
Posted by: Postman Pat at February 26, 2006 11:20 PM
---
---
well. i suspect the tacky dummies etc. may just about be enough to put me off visiting..its a shame they dont dress it a little better, lets face it with such an interesting past a person with a little imagination could have huge fun.. ah well.. thank you for your piece it was very interesting.
Posted by: gothy at March 17, 2006 12:49 PM
---
---
Posted by: Hilker at May 4, 2006 5:28 AM
---
---
"carved hither and tither in the soft chalk walls."
isn't it hither and thither?
Posted by: hagbard at June 20, 2006 4:28 PM
---
---
Hagbard (Celine?) you are right. I must have dropped me 'aitch' when I was in England. Fixed now, thanks!
Posted by: Dave at June 20, 2006 7:07 PM
---
---
nice photos... when do the caves originally date to?
Posted by: oup at July 1, 2006 12:10 PM
---
---
The caves were extended by Sir Francis Dashwood (later Lord le Despencer) between 1748–1752 to provide work for unemployed farm workers following a succession of harvest failures, and lie close to Dashwood's country house, West Wycombe Park (now owned by the National Trust).
http://en.wikipedia.org/wiki/West_Wycombe_Caves#External_links
Posted by: Dave at July 1, 2006 2:28 PM
---
---
You twat, I work at the caves and the "tacky skull" was there for our halloween late nights. God sakes, don't diss what you know nothing about. Fag head.
Posted by: Tacky Skull at July 3, 2006 11:56 PM
---
---
Well, Victoria, that's fine language coming from a member of the staff of the Hellfire Club Caves, Sir Francis would have been proud of yould. Great public relations stance too!
I would point our visit was was on November 19th, nearly three weeks after Halloween!
Posted by: Dave at July 4, 2006 12:06 AM
---
---
Well you aren't a customer now are you?!
Posted by: \m/ at July 4, 2006 1:48 PM
---
---
Well you aren't a customer now are you?! And yeah I think he would be proud of me and the rest of girls, we look after that place and love, see there you go, saying stuff you know nothing about. Well this is the last time I come to this site. Keep up the "fantastic" work friend.
Posted by: \m/ at July 4, 2006 1:50 PM
---
---
Victoria.
Damien here - I'm another regular contributor to blather.net. I find it informative that you managed to look at an article about the place you work, which has been lovingly written, complimented with some superb photography and a welter of links and information for prospective visitors and found the one thing from which you could have derived offence.
Blather.net has been responsible for more free publicity and press for the Wycombe tunnels and Dashwood estate than anyone else on the web: fact.
And you've been given it for free: fact.
About the skull. I'm sorry, but I was there that day. That skull *is* tacky. Empirically, undeniably tacky. With a capital 'T'. You may not like that, but again, it's a fact.
One last thing: if you're smart, you'll shut up now. We welcome comments from vistors but do not tolerate insults. Your use of the expression 'fag-head' is just such an insult.
And what's more, it's a pathetic, childish insult. If you're going to throw insults our way, you'll have to do a tad better. We get a slightly better class of flame-throwing around here.
Posted by: damien at July 4, 2006 6:07 PM
---
---
Hello, I also work at the caves, and I have been reading your website for many years. I found it quite interesting to read what people think about my place work. I am always amazed at how many websites there are on the caves, which only proves everyone loves them as much as I do.
We do a big halloween event at the caves every year, which attracts around 10,000 people in one weeks, purely for the fact the caves are dressed up in halloween costumes. Hence the giant skull which was there in the entrances, from what I could tell you were at the caves at the time when we dressing the caves for the next event. We would advise anyone who would like to the see the caves as it is "normaly" I would say dont visit October-November.
I would also like to apoligise for any offense by Victoria ( I will lock her down the caves for a week!!)
I would also like to say thank you for the website, because all the interest in these websites helps interest in the caves, but I would like to point out, photos of the caves should not be sold as photos produced down the caves are only for personal use and not commercial.
Susan
Posted by: Susan Carter at July 27, 2006 12:29 PM
---
---
wicked site, I have never seen the caves, however am reading a great deal of them, as well as reading on the "hellfire clubs"
cudos to you lads
Posted by: Ryan at August 20, 2006 12:12 AM
---
---
beautiful pictures. interesting enough i might want to visit.
Posted by: katrina at September 13, 2006 2:53 PM
---
---
Victoria - I agree with visitor Dave. You are INDEED foul of mouth and rude to people. Whether the skull was a Halloween decoration or not, it WAS tacky. Don't diss what YOU know nothing about....
Aquila non capit muscas....
Posted by: Isis at December 4, 2006 10:30 PM
---
---
I couldn't agree more. Anyone know knows me would too. I am indeed foul of mouth and rude to people.
Next?
Posted by: Dave at December 4, 2006 11:26 PM
---
---
I have also been to the caves ..I i want to give Victoria some support.All the staff there work very hard around Halloween..particularly Victoria. they are all pround of what they do at the caves
The skull is only "Tacky" if you see it that way ..if your a boring old fart with no fun left in you .Halloween is for kids you lot Tacky is what Kids like .
Posted by: Beetlejuice at December 5, 2006 3:22 PM
---
---
Halloween?
We visited the caves on on November 20th 2005. I think you'll find that Halloween usually falls on October 31st!
Nobody's been slagging off Victoria or anyone else - it was her that came in here and started getting personal.
As a result - and this is going back to July 4th - blather.net received an email from Sir Edward Dashwood apologising for the nasty comments...
Posted by: Dave at December 5, 2006 3:30 PM
---
---
Posted by: Beetlejuice at December 5, 2006 4:42 PM
---
---
I'm just having one, thanks.
Posted by: Dave at December 5, 2006 5:06 PM
---
---
Posted by: damien at December 5, 2006 8:00 PM
---
---
Posted by: Beetlejuice at December 6, 2006 11:10 AM
---
---
Blessed be the sarcasm which flows on here! Let us not forget that these caves are beautiful & the history of interest. I still agree with Dave though - that Victoria, however good a worker, should refrain from personal insults - which she DID first initiate. Perhaps she will mellow.
Labor omnia vincit - Isis
Posted by: Isis at December 22, 2006 12:34 AM
---
---
What is wrong with you people?
Hard graft is put in to achive an enjoyable experience for you thankless arses.
Effort is made for unique events all year round, and most people love the fruits of our labour.
As already stated, thousands of people are attracted by the halloween event, and beyond.
For you to complain about the decorations used, that evidentally attract huge crowds, is quite frankly, pathetic!
Oh, and Damien? You'll find that's 'FACT' on all accounts!
Also, selling copies of your 'average' photographs is just the work of a puny deplorable twat.
Fag Heads!!!
Claudo istic coitus os - Reticentia Robertus
Posted by: Reticentia Robertus at January 5, 2007 11:51 PM
---
---
Reticentia,
am I correct in assuming that you also work at the caves? Judging by your passionate defence and knowledge of the set-up there, I think I can assume so.
If that's the case, I have to say we don't appreciate homophobic abuse from people whom we have generated a considerable amount of interest and godwill for.
The Blather.net articles are the largest body of information available to the public on the Wycombe caves and the Dashwood family history - for free.
We don't do this so that we can take pot-shots at the caves and all associated with them, but rather because we love them: they're a treasure to be celebrated and enjoyed (we hope) by all.
The continued ignorant, ass-hat and thoroughly offensive behaviour of folks associated with the estate is beginning to grate.
I'll remind you that Blather.net is the first port of call for most public visitors looking for information on the caves and estate and that it would be only too easy for us to publish a detailed account of how abusive it's staff are.
Dave Walsh, who writes these articles, is a nice guy who has devoted a considerable amount of time to celebrating this wonderful historical artefact. I, on the other hand, am a mean-spirited, uncaring bastard who doesn't care one jot for the folks responsible for looking after the caves (with the exception of the owner for whom I have total respect).
As I said, we love the caves, love their history and heritage and, I believe, have done more to rerpresent the caves and estate in a positive light than anyone else in the world, save the protectors of the estate itself.
Please think about that before shooting your rather childish, homophobic mouth off again.
Posted by: damien at January 6, 2007 10:54 AM
---
---
I'm still amazed by how much seething hatred that my *personal* impressions of the caves has generated - even a year later. Grow up, people! Sheesh!
Posted by: Dave at January 6, 2007 5:27 PM
---
---
Well, I for one would like to thank you for the fab photo's of the beautiful caves which are sadly missing from the official hellfire caves website. I am now determined to have my birthday party there 'cos WOW, what an awsome venue! Cheers.
Posted by: Lorrsie at January 11, 2007 11:08 PM
---
---
Enough of the "Fag Heads" and "Twat" talk. It's just immature & offensive. I'm sure the staff do their best to welcome visitors to these beautiful caves, but if adverse comments are being made, then I think it's time to look at new and interesting ways of encouraging them. The Halloween decorations were probably loved by groups of children, but it's also a serious festival for others, so it could've been seen as offensive. I persoanlly found it all rather amusing - which was the possible intent! Some greater thought at advertising this interesting place wouldn't go amiss - and make sure souvenirs are kept up to date!
Audento fortuna iuvat - Isis.
Posted by: Isis at January 13, 2007 1:43 AM
---
---
I would just like to say how brilliant this website is. the pictures are of a high quality which can only encourage more visitors including me who always enjoys halloween at the caves, which has prompted me to take the big step of taking it in as historical attraction. Well done Dave!
Posted by: Sandra Norris at January 22, 2007 3:47 PM
---
---
hey, great article! btw, just on what isis said about halloween being serious for some people. im a pagan n i find the tacky skull kind of offensive. I think the caves would attract lots more people if they decorated a bit more seriously and also scrapped the manakins. It would be so much better if there were real people. Im really thinking of having my birthday there though!
Posted by: Misti at January 22, 2007 6:09 PM
---
---
To Misti - Thank you! Siete ovviamente uno dei sequicamme del percosrso di destra! Get real people instead of mannequins - I'm sure we could provide some helpful suggestions to bring more tourists in to these caves. A shame, but necessary. Enjoy your birthday party!
Experto crede! - Isis.
Posted by: Isis at February 1, 2007 12:24 AM
---
---
Any new plans for this year? - Isis
Posted by: Isis at March 22, 2007 10:06 PM
---
---
Ugh..... no one around....
Posted by: Isis at March 29, 2007 10:27 PM
---
---
I'm very glad you have this site up. The pictures of the caves and tunnels the abby and the church and the mausoleum are absolutly wonderful! The internet is a super place to go when you can't actually visit these locations. It also helps in deciding whether to go and visit. I'm also glad the "tacky" skull was explained as not some permanent fixture and just a halloween thingie. For someone like me if the conversation hadn't come up I might have thought it was supposed to be there.
so at least some good did come out of the silly feedback you got. Personally I think just because one person thinks something is tacky doesn't mean it is.Someone else just might think its great. Just makes the world less boring.
Thanks for the great pictures.

Posted by: Patricia at April 25, 2007 6:38 PM
---
---
Posted by: Dave at April 25, 2007 10:53 PM
---
---
Planning on visiting the caves today. Thank you for the virtual tour— definitely helped me to plan my day. :)
Posted by: jEN at May 5, 2007 9:30 AM
---
---
Dude! thats freakin creepy! but kool none the less. Absolutley love the pics. I dont think we have any creepy stuff like that in florida anymore, cept Halloscream at Bush Gardens, but thats only durin Halloween.
Posted by: caitlyn at June 4, 2007 2:54 AM
---
---
good to see the wycombe caves represented here in words and pictures. i've visited the caves and mausoleum a few times over the past 40 years (man and boy) and enjoyed each visit very much. my father introduced me to the place and he was fortunate enough to be able to climb into the golden ball when he was young...alas it's no longer possible. nevertheless, this is a place of great atmosphere (mixing the magical, erotic and eccentric) and undoubtedly one of england's most unusual tourist destinations. as for the seemingly controversial mannequins, i find them folksy (rather than tacky) and not a little sinister. real people dressed in oldfashioned costumes would disneyfy the place...and that would be tragic.
Posted by: mancheeros at June 4, 2007 2:05 PM
---
---
Just saw the Hellfire Caves episode of Ghost Hunters tonight and all I can say is "Susan... you are tasty." You can guide me through the caves any time...
Posted by: JR at June 14, 2007 9:20 AM
---
---
I, too watched the ghost hunters episode on hellfire caves, and found it very interesting, along with this site, but I have a question..what`s wrong with you people? I don`t understand all the sarcasm, and hey....I LIKE THE SKULL!
Posted by: kjlady at June 15, 2007 12:30 AM
---
---
I, too watched the ghost hunters episode on hellfire caves, and found it very interesting, along with this site, but I have a question..what`s wrong with you people? I don`t understand all the sarcasm, and hey....I LIKE THE SKULL!
Posted by: kjlady at June 15, 2007 12:31 AM
---
---
Hi guys Real sweet site for us in America who may never get to see the caves in person. Very interesting story behind one pretty creepy place too. Thanks for the shots. They just need to hire "girls with more class" to work there.
Posted by: Lacy at June 15, 2007 3:36 AM
---
---
Some nice shots of the caves there. Despite it being in November you seem to have had some good clear weather judging by the blue skies.
I grew up near the caves and know the area well and have been to the caves many times over the years, I was even fortunate enough to have visited once when you could still get into the Golden ball but I was barely old enough to be able to remeber it now.
I now live in the US so seeing these pictures brought back some fun memories of past visits. The Caves are a great place to visit and in the past I spent quite a bit of time researching their history both fact and fancy, Legend and Myth which made visits even more rewarding. Next time you are there try lookin for teh secert passageway hinted at in this local rhyme
Take twenty steps and rest awhile
Then take a pick and find the style
Where once I did my love beguile
T'was twenty-two in Dashwood's time
Perhaps to hid this cell divine
Where lay my love in peace sublime

I think I knw where it is but I am not telling
Thanks Dave for a very nice piece.
Just a few comments on some of the heated discussion here though before I go though
1. For the US posters here reacting to what they see as Homophobic comments please be aware that the word "fag" has a different meaning in the UK than it does in the US. Two Nations divided by a common language and all that. I am not condoning the posts made by the alledged employee just pointing out that soem of teh words used dont neccesarily mean what you think they do. Peronally I woudl be more offended by being called a Tw*t
2. Whether the Mannequins (or any other decorations for that matter) are tacky or not is not a issue of fact but of opinion. Daves piece above is his opinion and no one should take offense at it, I read it and although I didnt entirely agree with his opinion I still found it a very infoprmative and well put together piece.
When I was younger I found them scary and these days I think they help give visitors some idea of what sort of scenes they might have witnessed when Dashwood and his friends used the caves for their parties. My only criticism is of them is that when I was last there they looked a little "tired" in need of a little TLC but again that is just my opinion. You have no idea what "Tacky" is until you have spent a halloween in the USA. However it is worth remembering that Halloween both in the US and the UK is primarily for the Children and that is who the decorations were designed to appeal to.
Any time I have visited the staff have been very friendly and helpful and obviously very passionate about their work.
Spread the love people ;)

Posted by: Spiceboy at June 16, 2007 1:43 AM
---
---
Ummmm, spiceboy? While I appreciate some of your information there, I resent your comment about Halloween in the states. What`s tacky to you may be considered fun to someone else. Yes, it is primarily for the kids, but we grown ups can have fun with it too. I`m 45, but I love to dress up and go to the Halloween parties, and I also enjoy taking my grandchildren trick or treating. In fact, HALLOWEEN is my favorite time of year here in the states. So, don`t knock it, huh
Posted by: kjlady at June 18, 2007 1:58 PM
---
---
Kjlady
Thats exactly the point that I made
"Whether the Mannequins (or any other decorations for that matter) are tacky or not is not a issue of fact but of opinion"
What is tacky to one person may not be to another.
Thanks for helping me prove my point :)
I am not saying it is all tacky, I enjoy Halloween too and take my daughter out trick or treating every year, but have you ever had a look around one of those Spirit Halloween Superstores? Iiiieeeww.
Posted by: Spiceboy at June 19, 2007 6:41 PM
---
---
We visited the caves today, last visit was 15 years ago, in this time alot of the inner chambers have been covered over and also the entrance to the stairs leading up to the church has been covered up, and no mention of them has been made at all in any of the booklets, you are only seeing a little of waht is really there, and as for the outer chamber that you are supposed to row a boat to get to, I also think has been covered up and hidden away, anyone else notice any of this from previous visits???
Kimmy
Posted by: Kimmy at June 24, 2007 5:20 PM
---
---
We visited the caves today, last visit was 15 years ago, in this time alot of the inner chambers have been covered over and also the entrance to the stairs leading up to the church has been covered up, and no mention of them has been made at all in any of the booklets, you are only seeing a little of what is really there, and as for the outer chamber that you are supposed to row a boat to get to, I also think has been covered up and hidden away, anyone else notice any of this from previous visits???
Kimmy
Posted by: Kimmy at June 24, 2007 5:20 PM
---
---
Greetings from the anitpodean shores. I'm an occasional tourist visiting blather from time to time because I find it fascinating and quite erudite. This feature by Dave is by no means different and I must admit I thoroughly agree with his opinion.
It seems the kitsch souvenirs and decorations somehow detract from the origins. Personally, I would prefer to see it in its pristine condition. I have a healthy imagination, one which doesn't need the aid of props.
You may consider seriously changing your approach to marketing. What I see of it is more akin to a fairground "Ghost Ride" with the cheap thrills aimed at - I'm not sure what exactly. Granted, it may appeal to children but is this your primary target market?
Many thanks to Dave.
The feline
Posted by: R Lewis at June 25, 2007 9:25 AM
---
---
I hardly ever watch TV - but weren't the caves featured on Most Haunted? I recognised the mannequins! It's not that they're tacky, as such, but now look somewhat jaded. Pity I'm too far away to suggest running the place for a month. If you inject some new ideas into this beautiful place, you'll get even more visitors - and isn't that the idea?
Posted by: Isis at June 28, 2007 8:45 PM
---
---
I find it sad that a historic site, especially one with such a dark history, is being "dressed up" on halloween as a tourist trap. Call me a bore, but i just feel it doesn't get the respect it deserves.
Posted by: Viktor at July 10, 2007 7:05 AM
---
---
Dear Sir
I live in the village and used to work in the caves almost 13 years ago for Sir Francis, fantastic man loved the community and the village. I also once tried to charge Sir Edward for his lunch! He held no grudge! The Caves has barely changed in that time, same freaky dummies, same narration and same dull lighting but the same spooky atmosphere! I also agree that having real actors down there would be fantastic but from a financial point of view quite costly! I myself loath Halloween as it is one big tack-fest although The Caves have done well capitalising on this. Your pictures are fantastic as you cannot see the details when you are down there, I liked the pictures from the Banqueting Hall the most! Finally to anyone looking to visit The Caves/ West Wycombe it really is a magical village rich with history and a great day out for budding historians! Be sure to check out the Dashwood house and grounds, the local pubs (the Plough, George and Dragon and the Swan) shops (Pauls newsagents has more sweets than Willy Wonka and the Village Store has a truly awesome amount of cards, giftware and fantastic foods! The Apple-Orchard has some magnificent furniture) but what you will really notice is a very close-nit and friendly community that makes for a great family day out! Well enough of the sales pitch I shall let you all judge for yourself!

Posted by: the village idiot! at July 27, 2007 8:49 PM
---
---
Dave, great photos! Thanks to you and this site for having such a wealth of information on the Caves and their history. It is so nice to find a treasure like this! If I ever get over there, I am sure going to visit!
Posted by: Pat at September 1, 2007 2:28 AM
---
---
G'day Davo mate, from Hervey Bay Orbloodystralia I reckon you done a grouse job, I've seen a lot of touristy places in me time,matter of fact I live in one complete with stuffed sharks, crappy shops selling overpriced rubbish to sunburnt Pommie tourists, and wonder as to why there has to be butt ugly crappy dressed mannequins, maybe it's a conspiracy by the dummies and there keepers of tourist land to be noticed
Posted by: Ian at September 9, 2007 11:02 AM
---
---
arguing on the internet is like trying to participate in the special olympics- even if youwin, you are still RETARDED
Posted by: Tyrant001 at October 28, 2007 12:02 PM
---
---
i have visited the caves on many occasions and the staff do a great job my kids love halloween there and i enjoy seeing a site used in such away as to bring enjoyment to so many
Posted by: fi at March 9, 2008 11:05 PM
---
---
You may like to know that the Hellfire club is still active, I was for a short while their Steward, but left to create my own, 'Hellfire Club.' The Ladies who work in the cave cafe, do indeed work very hard, and my best wishes go to them, although they do not know who I am. Your pages are good, and many thanks to you for keeping us in the public eye. President of the 'Hellfire Club.'
Posted by: Malcolm at April 13, 2008 12:07 AM
---
---
Hi dave
great site and note to all, victoria stoped posting after the email from sir Edward. perhaps her boss asked her to refrain from commenting about his caves. some points you may want to add so your members could look out for if the visit.
The cargo nets holding up the chalk ceilings in the main hall. holes were drilled through from the top of the hill and the cargo nets hoisted up from inside the cave using these holes.
The golden ball at the top. says on here room for 2-4 people , actualy 6-8 Would love to see some pictures of the inside one day.
you may also wish to elaborate on the baboon and why it is shown in the banqueting hall.
there is also the story of the stolen heart of paul whitehead from the mausoleum.
Posted by: baz at May 11, 2008 12:56 PM
---
---
Ay caramba brits! I had so much fun reading this section, the more deep I got the more fun, just like those caves must have been. Y para calacas, las de Posada!
Posted by: Alexes at June 16, 2008 7:29 PM
---
---
Having had some time studying the caves i thought i would run something passed the blather team.The much understated childrens cave,is at this point only 150 metres from the church on the hill.The floor is backfill and appears to be stepped downwards.The walls have candle shelves which also are cut downwards.Also inside the enclave the roof angles downwards,outside the childrens cave on the wall is a carving of sir francis dashwood..the only other one other than the inner temple,indicating that this is an important place.A good sauce also mentioned that this led to an underground church.Anyway just wanted to see what you at blather think.Could this be the area where the secret tunnel is or the fabled alter room.
Posted by: charlie at September 23, 2008 11:07 PM
---
---
Hi,
What a fantastic page you have here. I'm a relative of Dashwood and didn't realise the connection between him and the Illuminati. Fascinating
Posted by: David at November 6, 2008 12:22 PM
---
---
Great work on the caves and information. Too bad it's so cluttered by chaff. The only way we found to combat it is to immediately delete it; the prattle mustn't be allowed to stay, let alone drag on. When people can spatter digital litter, they too often will, even above quality information. I recently learned that Benjamin Franklin was involved in goings-on of the Hellfire Club. How interesting. How telling, though of what I'm not sure. So many secrets!
Posted by: EastGhost at December 2, 2008 5:15 PM
---
---
the mausoleum is a great place to visit at night. enjoyed a nice curry sauce and chips laying on the hill below it and very much enjoyed strolling around the outside of the mausoleum in the dark. very spooky ;-)
as for the caves, visited them near the end of the summer all on my own, very interesting place (especially when viewed totally alone) and i was lucky enough to be in there utterly alone apart from 1 person who was leaving as i entered the 1st chamber. the dummies are a tad on the tacky side but have a certain kitsch value about them. i'd say if your going, go in alone for an interesting experience.
super place to visit and it never looks any different on telly, am about to watch the ghost hunters season with it in and look forward to seeing what they make of it.
no doubt steve & tango will muck about as they always do.
Posted by: Anonymous at February 27, 2009 4:05 AM
---
---
I visited the Golden Ball and caves a few times in 1948, as schoolboys we managed to get 8 into the Golden Ball, but it was a bit scary for those sitting away from the only hatch! We were told that the Hell-Fire Club used to have drunken parties up there until the clergy objected - then they started the excavation of the caves for future orgies. The caves, we were told were shaped as per the internal organs of a woman (not very knowledgeably) and later parties became orgies with many a local lass losing her innocence there. There wasn't any lighting when we visited in '48, we had to take candles and hope they lasted. Later visits to the now commercialised, with lighting and commentaries were a disappointment as the atmosphere was quite different. Glad to see that it still attracts visitors though.
Posted by: Arthur at April 2, 2009 8:21 PM
---
---
Hello Folks, yeah i loved the place ,went for the first time the other month, can you get access into the grounds of the mausoleaum? it would be great to get a proper look around in there.
Posted by: Tim Wykes at November 7, 2009 12:49 PM
---
---
I Lived there in the area , and this is very important history, there is more than just being a cheesy american Ass. This sight is about the only one, not to complain but it's real. and there is no Holloween in England .... From a former Ass in Washington State.
Posted by: Barbara at November 24, 2009 10:22 PM
---
---
I've been there - One very strange and fascinating place!Apparently Dashwood and cronies used to stage drinking bouts in the golden sphere, we were told it could seat 6 people - not convinced though.
Posted by: waders at December 27, 2009 3:24 PM
---
---
benjamin franklin co-wrote the hymn book for the hellfire club
"The problem is, if you're on the same side of the river as the Abbey, you can't see it - the walls are two high"
"two" high? do the walls lean both ways like the hellfire club-swingers?
Posted by: skulluminatus at January 25, 2010 5:00 AM
---
---
La foto que dice "Another Demon" es la misma que sale en el atentado de World Trade Center" en la explosión es el mismo demonio
Posted by: Joe at September 9, 2011 8:55 PM
---
---
I visited the caves lately with the modern incarnation of the Hell-Fire Club. Quite an interesting group of occult intelligencia. The Mausoleum is quite lovely, and the Prior of the Hell-Fire Club had made arrangement for us to walk around inside the usually locked gates. Yes, the dummies are lame, but there's a still a lot of points of interest and hidden symbols to be found carved into the walls of the caves, see Eamonn Loughran's "Secret Symbols Of The Hell-Fire Club."
Posted by: Walter Five at January 19, 2012 10:20 PM
---
---