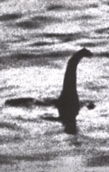 Today's issue (July 3rd 1998) of that not particularly erudite newsheet *The Star*, carries a report titled *Look out, it's Eskie!*, which tells the tale of a lake monster sighting on Lough Eske [a.k.a. Lough Easke], a few miles north of Donegal town, in north-western Ireland.
Diners and staff at Harvey's Point Hotel saw 'something' moving about, around 300m (328 yds) from the shore on Sunday 28th June at 2:30pm. Local B&B boss Annabel Clarke reckons that the beastie was up looking for food, while her husband Kieran commented that '"some lakes in Donegal are said to be connected by current to Scotland"'.
Disappearing rivers, caverns, connecting lakes (which does happen, e.g. Lough Mask and Corrib) are all classic motifs in lake monster lore. I even seem to recall claims of links between Scottish and North American lakes!

Chokin' on Brekkie
The article is accompanied by a photo of the hotel's banqueting manager, Seamus Caldwell – one of the witnesses – looking at the lake through binoculars, and has an inset of a plesiosaur illustration labelled 'COUSIN: Lough Ness Monster', which almost caused me to choke on my breakfast [Let me point out at this juncture that I don't normally read *The Star* over breakfast].
On a practical side, Lough Eske is at an elevation of about 100m about sea-level, and connects into Donegal bay by the River Eske which is only 3 or four miles long. I'm unfamiliar with the terrain, and Blather's readers are welcome to comment on the practicability of seals etc. entering Lough Eske. So far, I haven't come across any mentions of Lough Eske in lake monster literature, but Robert Lloyd Praeger does mention it on page 52 of *The Way That I Went*.

Lake of the Fish
'Lough Easke (*Loch eisc*, lake of the fish) offers a softer type of scenery, for though surrounded by hills on three sides, its sheltered position allows rich woodland to clothe its western shores (Plate V [photo included]). It is indeed a very beautiful lake, seen to its best advantage from the southern end, where the rounded summits of the naked Blue Stack Mountains (2219 feet) are seen rising behind the heathery hills that surround the lake.'
Lough Belshade, another two miles up river, have some tales attached. The Gaelic name, loch bél séad translates as the lake with the jewel mouth. it comes from a legend in the *Leabhar Breac*, which tells us that:

Fairy Mansions
'"*Coerabar boeth*, the daughter of Etal Anbuail of the fairy mansions of Connaught, was a beautiful and powerfully gifted maiden. She had three times fifty 50 ladies in her train. They were all transformed every year into three times fifty beautiful birds and restored to heir natural shape the next year.
These birds were chained in couples by chains of silver. One bird among them was the most beautiful of the world's birds having a necklace of red gold on her neck, with three times fifty chains depending from it, each chain terminating in a ball of gold.

Lake of the Harps
During their transformation into birds they always remained in Loch Crotta Cliath [that is, the Lake of cliath's harps] wherefore the people who saw them were in the habit of saying: 'Many is the *Séad* [that is, a gem, or jewel, or other precious article] at the mouth of Loch Crotta this day. And hence it is called *Loch Bél Séad* [or the Lake of the Jewel Mouth]."'
Robert Lloyd Praeger, *The Way That I Went* 1937, republished 1997 by The Collins Press
ISBN 1-898-256-357
(*The Star*, Friday July 3rd 1998)
Link added 3/6/03 – Nick Sucik's findings about the Lough Eske 'monster' (dead link)

The Blather of Norway
While on the subject of lake monsters, we may as well go so far as to share with you an upcoming Blather outing.
In Blather Vol 1. No. 42, back on February 27th 1998, we had a story labelled *A Monster Hunting We Will Go*, which told of a planned monster-hunt to Lake Seljord in Norway. In the following issue
Jan-Ove Sundberg, the leader of the expedition, gave us his views regarding to some rather spurious remarks from scientists regarding lakeside sawmills.
This Blatherskite is flattered to have been invited aboard as part of the team, or to be more precise the Global Underwater Search Team (GUST), which seeks to corroborate 250 years of lake monster sightings on the lake. The project runs from August 3rd – 20th, and 24-hour surveillance will be maintained by the 12 person team.
The proceedings will be filmed for both the Discovery Channel and the BBC. More details on the lake, the monster, the GUST team and the equipment we'll be using is available at the GUST website. More news as it all unfolds.
See also *Netman hunts Norwegian Nessie*, Sunday Business Post, June 28 1998, Page 11

What's in the Derry Air?
The Derry Journal Friday 19th of June 1998 tells us of *Close Encounters of the Derry Kind*, enlightening us as to how folks thereabouts are convinced of extraterrestrial contact during that week. The paper received various anonymous reports of 'round objects' seen 'high in the sky' over the Galliagh area at around 11am on Wednesday 17th. The object was said to be spinning, and reflective, but noiseless.
It was joined [how?, did they *arrive*, or just appear?] by two more, and '"all three could be seen spinning high in the sky."'
The claimants said that the UFOs moved across the sky, and two shot vertically upwards 'straight up into the atmosphere'. The other continued flying across the sky, and vanished.
The Journal seems to have had a ball investigating these claims, with little success. Derry airport said that *the* hadn't seen anything, while the RUC (Royal Ulster Constabulary) urged witnesses to contact their '"alien branch"'.
The article was accompanied by a photo with this caption:
'It was something like this…This special photofit images was similar to the spherical like object which several readers claimed to have seen circling Derry this week'
[Image shows shot of Derry, with stuck-on flying *saucer*]
So, is this just silly season stuff, or is there any credence to it at all?
[Thanks to Ciaran O'Neill from the Derry Journal for faxing me the article, and Patricia Sharkey for alerting me to this, and to earlier reports in the Donegal Democrat, a copy of which I have been as yet unable to acquire.]

An Irish Chupacabra?
Mention was made to me only this morning by one Gerry Minehan of 'goat sucker'-like creature which alledgedly haunted the Gougane Barra Forest Park area in Co. Cork during the 1930s. First I heard of it, though Doc Shiels does make mention of the Ballyvourney Beast in Fortean Times 34:20, seen about 10 miles north-east of Gougane Barra by Seamus Creagh and Pauline Dodds, way back in 1981.
They reckoned they had seen a lynx. Apart from it being the haunt of Saint Gobnate, the Pooka and a Spirit Horse got up to no good around Ballyvourney, according to Thomas Crofton Croker [link dead: http://faeryland.tamu-commerce.edu/~earendil/faerie/Croker/].
Morty Sullivan had a bit of a run-in with the Pooka, in the shape of an old woman, 'a sulphureous puff coming out of her mouth, her nostrils distending, and her eyes growing redder than ever'.

Gougane Barra
He was found battered and bruised the next morning by a bunch of pilgrims to St. Fin Barre's church at Gougane Barra, or so we're told. Unrelated of course, were the goings-on in a funeral home there in March 1997, involving an assault against a corpse by an former U.S. Marine (*The Irish Times* 19 June 1997).
In the same Doc Shiels article, according to a letter from a Miss Kathleen O'Shea of Cork City, had a bit of a weird experience on 4p.m. on the 9th of August, while walking near Smerwick on the Dingle Peninsula, Co. Kerry.
She was heading towards Ballyferriter, and the sky was "dark with rain clouds". As she made for shelter, "a giant black animal like a bat flew up. I screamed and fell forward. When I dared to open my eyes it had gone. I ran all the way to Ballyferriter. . ." An Irish Owlman, Mothman, Goatsucker or a Devil?
Raw
Blatherskite alter-ego pontificates on the work of Robert Anton Wilson in June's Purple Ept (dead link)
Dave (daev) Walsh
3rd July 1998