The Sunday People of August 22nd provides us with the painful headline 'O'Nessie Makes a Splash – Mystery monster has made an Irish waterway its home!', along with a picture of the alleged peist (gaelic; worm). It comes courtesy of reporter Stephen Maguire, who, having laid hands on a photograph of it, breathlessly informs us that 'this is the first picture of Ireland's own 'Loch Ness' monster'.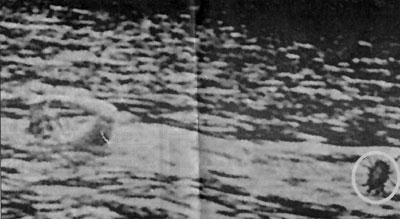 [Map of the Area involved. Killykeen is the area of water between Killeshandra and Cavan town.]


The photograph was taken by Sean Walsh (no relation to this writer), who was in a boat on the Lough Erne waterway, in Killykeen, Co. Cavan. One Claudia Westrich was swimming alongside, 'when she felt something pushing her down. She thought it was an oar from boat accompanying her on the swim but when she looked up the vessel was 5 metres away. She tried to get a good look at the creature but it dived under the water.' Oddly, Walsh is quoted as saying '"I was photographing calves on the foreshore. When I developed the film I realised what I'd taken,"'. This does seem rather odd, as the photograph seems to implicitly show Ms. Westrich (or something(s)) in the water, rather than adolescent bovines on dry land. He took the film to a local professional photographer, Ray Reilly 'to check for faults'. 'Ray confirmed that the film had not been tampered with' – does this imply the actions of a third party? In an attempt to interpret the tabloid presumption behind that statement, we would suggest that Mr. Reilly merely agreed that whatever it was in the photograph was really there at the time of shutter release, rather than added in later.
Walsh himself apparently told the Sunday People that 'he had no doubt the creature was real'. "I don't know what it is, but there is something in the water. It has been there for years – '"There have been several sightings. People say it is up to eight feet long with a spikey head. It's bizarre"'.

The paper also says that the 'creature' is thought to be some 300lb (136kg) in weight.


In a rather suggestive paragraph, Walsh 'revealed' two previous 'body contacts', the first one some 25 years ago, close to where Ms. Westrich had hers.


'"I could feel it between my legs and swimming all around me. It was a strange feeling. I have never been afraid of it. It only seems to appear when there are swimmers in the water"'.


Walsh is a founding member of the local swimming club, Cavan Icebreakers. Alex Moran, the club's Chairman, also claims to have seen the peist.

Other sightings of the alleged Erne Waterway peist have been recorded, according the article. A horde of Sea Scouts from Dalkey (Co. Dublin) reported 'seeing a creature making a huge splash', while 'other sightings of the creature have been made along the huge waterway in Enniskillen, Co. Fermanagh and Belturbet in Co. Cavan'.


Some local theories suggest that the creature is a huge catfish of species of Wels which can grow up to 15 feet and weigh a whopping 600lbs. Not beyond the bounds of possibility – our information has it that the freshwater wels, or Danubian catfish, can has been found at sizes of 1.52m (5 ft) in Europe, in areas such as the upper Rhine and up to 5m (16ft), and 300kg (660lb) in Russia. It has apparently been introduced to parts of Southern England. Pike, another possibility, can live up to 30 years, and can also grow to a rather frightening 1.5m (5ft), and 35kg (77lb), and are known to inhabit the Erne, but we don't think that the weight has gone over 25kg or so (we're open to correction on that). The Pike's prey include fish up to half it's own body weight, frogs, rats and ducklings. Similarly, the wels feeds on fish, frogs, birds and mammals (and, according to legend, a poodle and a little boy).


Sean Walsh has another theory. He reckons that the creature is some form of bait, introduced by anglers, which inexplicably thrived in the area. Bait that grows to 8ft (2.43m)? He's called in a friend, an Garda (Irish police) detective, apparently, to look into the existence of the creature, despite the fact that Walsh himself tells us: 'I have no doubt that the creature exists'. Wouldn't an ichthyologist be more useful than a detective?

Surprisingly enough – for the dozens of Irish lake monster stories we have come across, this is first from Cavan. Why surprising? Co. Cavan is a county beset with lakes and waterways – it seems impossible to drive for more than two minutes from any lake without encountering another. The Erne, a long and infinitely tangled river, flows through lakes of its own (Lower and Upper Lough Erne), hits the sea at Ballyshannon, Co. Donegal.


As for this beastie – for us, the photograph might as well be a Rorschach blotter test. Or a bug on the camera lens. Or Jesus' face on a floating aubergine. Or Lord Lucan. Or Shergar… or Lord Lucan on Shergar's back.


[Oddly enough, while putting together this issue of Blather, one Stewart Smith spotted an article in The Guardian newspaper, which told of a water-skier, Darren Blake, who was bitten by a pike in Llangorse lake, near Brecon, Powys, in Wales.]

NOTES:


'O'Nessie Makes a Splash', Sunday People, August 22nd 1999


A Handguide to the Fishes of Britain and Europe, Jason Nicholls and Peter Miller, Treasure Press, 01980.

ISBN 1-85051-11-4


'Water skier bitten by giant pike', The Guardian, September 1, 1999


THE THINGS WE GET ASKED TO DO


Speaking of Lord Lucan, last week Blather received a telephone call from 702 Talk Radio (http://www.702.co.za/)in Johannesburg, South Africa. They had come across a mention of the absent lordship in Blather (http://www.blather.net/archives/issue1no36.html), and so requested an interview with me. We must confess that until about 5 hours before our 7am phone interview, we knew sweet bugger-all about the story, other than the fact that the playboy and gambler had done a bunk in 1974, after apparently doing-in his children's nanny with a piece of pipe. Bleary-eyed, and yawning, we discovered that the British Lord Chancellor, Lord Irvine of Lairg, has ruled that Lucan's son, 31-year-old George Bingham, must be refused permission to take his seat in the House of Lords because he believes there is a chance Lucan might not be dead. We also discovered that the British police are apparently still trailing Lucan's offspring on their regular trips to South Africa, where they reckon his lordship is lying up. Granada TV are set to do a documentary there soon, on a search for Lucan, apparently the first peer ever to have a murder warrent issued for their arrest.


The radio interview – completed less than five minutes after tumbling from the palatial splendour of Palatine Square's finest four-poster, went off without a hitch.


Students out there, take heed. Cramming does work.


http://www.lordlucan.com/




http://www.insanity.force9.co.uk/lucan.html


'Missing Earl of Lucan may still be alive, Lord Chancellor rules',
The Times, July 31 1999

(http://www.the-times.co.uk/news/pages/
Times/frontpage.html?999)

'Ruling on Lucan means son cannot take Lords seat', The Guardian,
July 31, 1999

(http://www.guardian.co.uk/)


'Lucan mystery bars son from Lords seat', The Daily Telegraph, 31
July 1999

(http://www.telegraph.co.uk)


Where is Shergar?

(http://www.geocities.com/Wellesley/1621/shergar.html)


Shergar movie

(http://www.blueriderpictures.com/shergar.htm)


See also The Lucan Review



BLATHERS SEEN


Blather-type Peter Darben has alerted us to the existence of 'Blatherskite Park', in Alice Springs, Northern Territory Australia. Some net-wandering provided us with more facts, camel racing takes places there, as so rodeos and agricultural and horticultural shows…


Also spotted, at 33,000ft (10,000m) above central europe. Page 14 of Thomas Pynchon's Gravity's Rainbow mentions Lord Blatherard Osmo's giant Adenoid, 'a lymphatic monster which left on the cobblestones a slime-brightness of street-wake that could not have been from fog. His tropical energy will be forced to confront Northern spectres of Death.'


Gravity's Rainbow, Thomas Pynchon, ISBN: 0140188592


Gravity's Rainbow (Amazon.com)


Gravity's Rainbow (Amazon.co.uk)


Gravity's Rainbow: an Analysis

http://www.themodernword.com/pynchon/pynchon_granalysis.html


Dave (daev) Walsh
September 2nd 1999