And Blather was there…

I don't usually go to rallies, protests, or demos… I don't like crowds, and I tend to get pissed off with dodgy looking people trying to flog me copies of Socialist Worker.
On Saturday, however, after having spent the morning fighting a gale and 70mph storm in a 6.5m semi-inflatable off the Irish coast, I felt suitably prepared. The RIB belonged to a North Dublin powerboat training school, and I was doing some supplementary lessons. In a storm. Nuts.
At 3pm, I turned up at in Parnell Square, still in my waterproofs, laden with camera gear. True to form, I was almost smothered in fliers and newspaper sellers. Go away people. I AM MEDIA. Feck off.
There didn't appear to be a huge crowd gathered outside the Municipal Gallery (The 'Hugh Lane'). A couple of thousand, maybe. As I arrived, the speakers started. Brendan Butler, of the NGO Peace Alliance, led the way, TD and former Labour minister Michael D. Higgins gave a rousing call to action. He admonished those who were downplaying the behaviour of the Spanish voters; 'Stop insulting the people of Spain, they did it because of their belief in another kind of society that would avoid war'.
TD Joe Higgins gave a remarkably succinct address about Ireland's involvement in the war in Iraq. Then, while Mary Lou McDonald, a Sinn Féin MEP candidate, was speaking, some heckling broke out.
'Get rid of your weapons' shouted someone (referring to the relationship between Sinn Féin and the IRA).
'What about Hillsborough?' called another voice (referring to Sinn Féin's meeting with George Bush in Belfast).
A guy near me, holding one end of a big banner, put his oar in, shouting taunts. People turned on him, issuing rebukes. He started called them all 'shinners'. I sensed the potential fragmentation of the entire event… the Anti-war movement organisers came to the rescue, calling for some mutual respect, and pointing out that everyone was here for a common cause. This got a cheer, and the event moved on.
As the crowd headed down towards O'Connell St., I dashed down towards the Gate Theatre, and squeezed off some photos. Where the hell were all these people coming from? There seemed to be three times the amount that I had estimated. Everybody was shouting, waving home-made banners and placards.
A friend, Emily, sent me a text, but we couldn't find each other in the melee. Other friends flitted past, I shouted, lost them. Found them later. Lost them again.
Down towards 'The Spike', and I was jogging ahead of the parade, down towards O'Connell Bridge. The Galway Anti-War Movement were heading things up, and they crossed the bridge, with a very chilled out Garda escort. On the north side of the bridge, the second group, from the Socialist Workers Party knelt on the street, waved their red flags, and kept chanting. This was holding up the entire March, and the traffic. I was at the other side of the bridge. Joe Higgins was standing near me, looking a bit worried.
Then the SWP crowd leaped up, and sprinted across the bridge. Made for a good photo opportunity. Round by College Green, and up Leinster House (Irish parliament) there were more stop-and sprint manoeuvres, and some shitty weather. My waterproofs kept me dry, my camera was inside my jacket, giving me a strange bust. Or I may have looked like a suicide bomber.
Around by the Shelbourne Hotel, and along Stephen's Green, and beautiful rainbow appeared to the north-east, right behind the march. Few of the marchers saw it, as it was behind them…. lovely cliche. Snapped a quick photo of an old lady and her dogs, staring at the thousands of marchers, perplexed. Before the crowd arrived at the Department of Foreign Affairs, I had a look. One empty street, loads of Gardai. I stole ahead, and got a vantage point on some steps. The protestors filed into the space in front of the truck that was being used as a podium. The every present, effervescent Joe Carolan led the crowd in some chanting (Bertie, Bertie, Bush's man; blood, blood on your hands) then the speakers took over.
To name a few – Catholic Worker/Pitstop Ploughshare's Damien Moran gave a surprisingly lucid speech about his situation. On bail, and banned from Co. Clare following their attack on an American military aircraft, he accused the legal system of fascism. Was most impressed by this lad.
Patricia McKenna (Green Party MEP) also spoke, as members of various unions (which seemed a bit strange), and an Iraqi bloke – who wasn't too happy about US occupation.
Best of the day however, was Senator David Norris.
'Last year', he cried, 'Bertie humourless claimed that we marched in support of him. Did we march in support of Bertie?'
A huge resounding 'No!' echoed across Stephen's Green.
There seems to be some disagreement about the size of the crowd. Some rather moody posters on Indymedia are saying 3,000-3,500 tops. RTE and the Irish Times are saying 5,000. It seemed like a good crowd to me…
But will it change anything, this kind of protest? I think, in one way, that question misses the point. We live in relatively free country. If we feel perturbed about the actions of our government, we have the right to protest, and to make our feelings known. It doesn't matter if 1 person protests, or 5,000, so long as there is healthy dissent.
In this case, most, if not all of the people taking part are opposed to the use of Shannon Airport by the US military, Ireland is supposedly a neutral country. One year ago, Taoiseach Bertie humourless told the Dáil 'that to withdraw facilities for US forces at Shannon Airport now would be a radical change in foreign policy and would be seen as a hostile act'.
According to figures released by Aer Rianta, US military traffic through Shannon is on the rise… a 43% increase last month, compared to January. 11,337 military personnel passed through on 117 flights, while 7,922 soldiers passed through on 100 flights in January. In 2003, a total of 125,855 US troops passed through Shannon airport.
And the Irish government claims that Ireland's involvement in the war on Iraq is only marginal? As one of the speakers on Saturday pointed out… tell that to the Iraqi people, they'll be impressed that we're only slightly involved in dropping ordinance on them.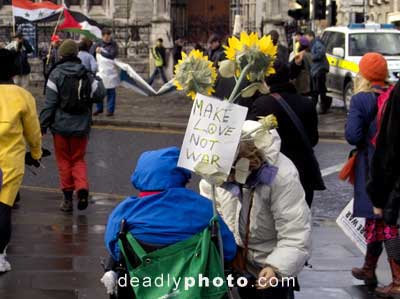 ove, with flowers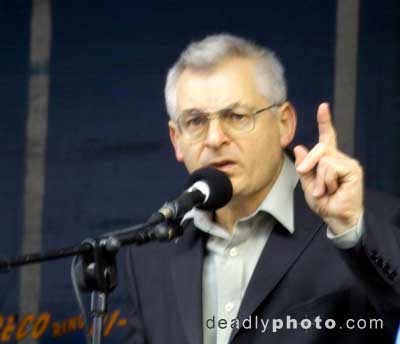 Joe Higgins wags his finger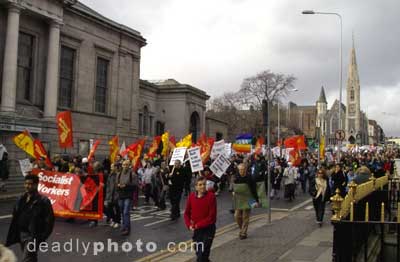 Down past the Gate Theatre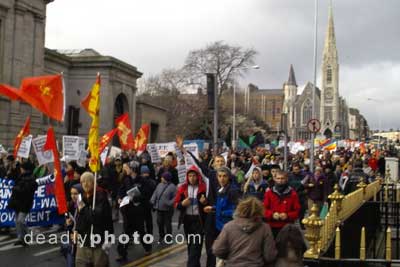 Hiyez lads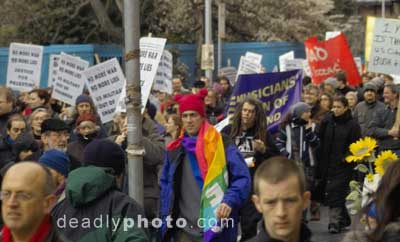 Colourful chap


Anyone seen it?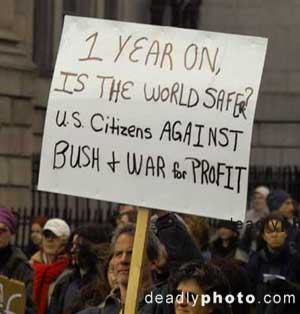 Well, is it?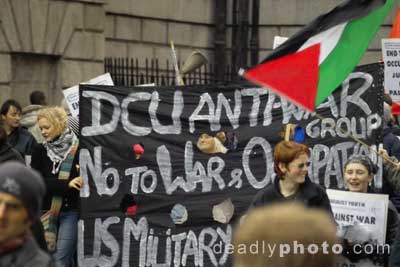 The DCU banner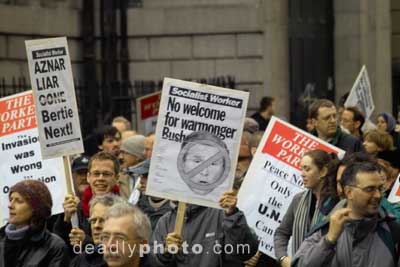 No Welcome for warmonger Bush, apparently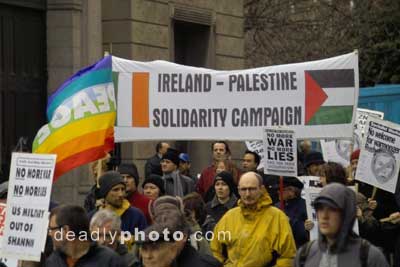 Ireland. Palestine.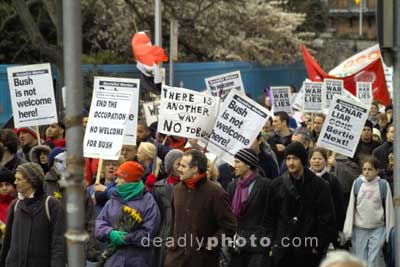 Eyes Right!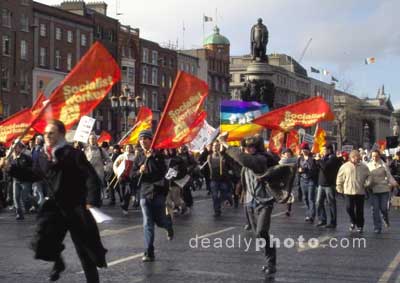 What's the rush? Socialist Worker types, Daniel O'Connell, The General Post Office, and a couple of Irish Flags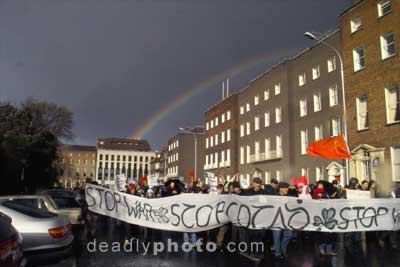 We didn't make this up. That's a real rainbow alright.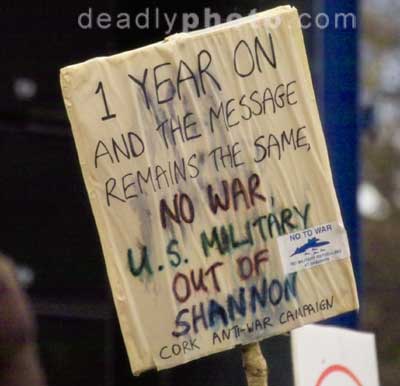 David Norris. Is this man not a god? Why is he not president, or Emperor of Ireland?
Other coverage:
Indymedia »
Photos: »