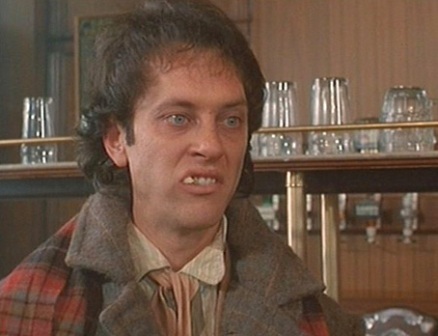 "…even a stopped clock tells the right time twice a day…"
For reasons more complex than Withnail's urine sample, this particular shitegeist entry has proven hugely popular and has drawn some wonderful comments. We'd like to encourage you to add some more…

So, there I am, sitting at home, eating a bowl of peanuts and staring ruefully in the mirror at the patches of grey which are beginning to sprout on my temples. After some protracted moping around and generally wondering what has happened to all my hopes and dreams, goals and aspirations and general will to live, I finally decided that I needed cheering up. My Blackadder videos are in Dublin, so I put on the next best thing – my copy of Withnail and I.
Now, as the legion of Withnail fans will attest, this particular movie has always had (for me at least) a sort of medicinal property. No matter what is going on, no matter how miserable I am, no matter how self-pitying my miasma, this movie always manages to make me laugh. Each time I watch it, I get something new from it. Whether it be some manic facial gesture of Richard E. Grant's , some half-baked philosophical rumination of the narrator known simply as 'I', or some absurd eccentric observation by the brilliant Monty I always find myself stunned by the perfect comic/tragic writing. You can read the script here.
But, last night something struck me. There is a profoundly sad scene at the end of the movie which sees Withnail standing in a rain-lashed public park, giving a moving rendition of a soliloquy from Hamlet, his only audience a lone caged wolf and the empty park benches. As the music plays and the credits roll, we are witness to Withnail's long and lonely walk back across the park. His best friend is gone. Gone to Manchester for his new acting role. And you know, in your heart of hearts, that they will never see each other again. Or will they?
What interests me about that final shot, is that is quite deliberately allows us to see Withnail disappearing into the distance, his great gangly frame becoming ever smaller and smaller, drowned in a mist of torrential rain. It is an image that begs the question: what did he do next?
So, answers in a comment please, which you can enter below. What ever happened to Withnail? Did he ever get his cigar commercial? Did he ever get to play the Dane? Did Withnail drink himself to death? Did he go into business with Danny? Was presuming Ed back in the bath when he got home? What do you think? Let's be having ye…