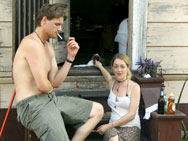 A couple of years ago I was lucky enough to meet Greg Palast, who I interviewed for a piece on Blather. The reason the piece never appeared is quite simple and enormously embarrasing: I lost the tapes. Despite the amateur-hour antics, one thing has stayed with me from that day: Palast's description of how the horrors that Timothy McVeigh had witnessed as a soldier during the first Iraq war had followed him home to the U.S. and led him to commit a horror of his own: the Oklahoma City bombing.
I mention this because the recent story of how decorated soldier Zachary Bowen murdered, dismembered and cooked his girlfriend Addie Hall, may also have its origins in what Bowen was exposed to when on service. To paraphrase what Palast said to me that day, isn't it foolish of us to expect that the warzone will not follow a soldier home?

The War Hero
According to media reports, Bowen was a decorated soldier who received several medals, including the NATO medal and Presidential Unit Citation. He served in, at least accoding to reports given in the days after the discovery of Hall's remains, in Iraq and in Bosnia.
Nola.com reports:
'Bowen hailed from Los Angeles, police said, but apparently had lived in the New Orleans area for some time. He registered to vote in Louisiana in August 1996. Friends said he claimed to have served in the military in Iraq and Bosnia, and displayed both pride and angst over that experience. '
After returning home, Bowen and Hall met in New Orleans and then gained some small modicum of local fame when they were featured on news bulletins having refused to leave the drowned city.
It appears that Hall and Bowen were a well-liked couple in New Orleans, but, according to an article from ABC News, there was trouble brewing:
'But he seemed haunted by his past, writing in the suicide letter that he had 28 cigarette burns on his body to mark his failures in "school, jobs, military, marriage, parenthood, morals, love" for each year of his existence.
A fellow bartender told the New Orleans Times-Picayune that after downing rounds of Miller High Life and Jameson's Irish Whiskey, Bowen would grow depressed when talking about his military service, indicating that there was an overseas incident involving a child that haunted him'
October 2006
That 'trouble' finally erupted in October 2006. From Crime Library:
'Tuesday night, Oct. 17, Zackery Bowen, a 28-year-old part-time bartender and part-time grocery delivery man, leapt from the eighth floor of the Omni Royal Orleans Hotel in the French Quarter and plummeted to his death. Inside one of his pants pockets detectives found a plastic bag holding a suicide note. After reading the note, the detectives knew that what they were dealing with was no ordinary suicide'
The note
The note informed them that 'This is not accidental. I had to take my own life to pay for the one I took. If you send a patrol to 826 N. Rampart, you will find the dismembered corpse of my girlfriend Addie in the oven, on the stove, and in the fridge'.
Upon arrival at Bowen's apartment (located above the Voodoo Spiritual Temple and Cultural Center) the police were greeted by a spray-painted sign informing them that they should proceed inside. What they found was horrific.
'On the stove in the tiny apartment were two pots. Inside one was the charred head of a woman. Inside the other were a pair of hands and a pair of feet. On the counter beside the stove were sliced carrots and potatoes. In the oven, lying on turkey-basting trays, were two arms and two legs. At least two of the limbs had seasoning sprinkled on them. The woman's torso was wrapped in a plastic bag and stuffed into the refrigerator.'
PTSD
Although horrifying in the extreme, this story really ought not to shock us that much. According to the United States Department of Veteran Affairs 'a comprehensive study has examined the mental health impact of the wars in Afghanistan and Iraq (Hoge et al., 2004)'. And the findings are grim.
'Initial evidence indicates that combat operations in Iraq are very intense. Soldiers in Iraq are at risk for being killed or wounded themselves, are likely to have witnessed the suffering of others, and may have participated in killing or wounding others as part of combat operations. All of these activities have a demonstrated association with the development of PTSD. Hoge et al. (2004) indicated that 94% of soldiers in Iraq reported receiving small-arms fire. In addition, 86% of soldiers in Iraq reported knowing someone who was seriously injured or killed, 68% reported seeing dead or seriously injured Americans, and 51% reported handling or uncovering human remains.'
In addition to these statistics (which one imagines are typical of combat operations) we also need to factor in the added dimension of the unique nature of the Iraqi conflict.
'An additional set of unique stressors stems from the fact that much of the conflict in Iraq, particularly since the end of formal combat operations, has involved guerilla warfare and terrorist actions from ambiguous and unknown civilian threats. In this context, there is no safe place and no safe role. Soldiers are required to maintain an unprecedented degree of vigilance and to respond cautiously to threats. There is great concern that soldiers will mistakenly think civilians who mean them no harm are actually combatants. Soldiers also need to be careful about possibly causing collateral damage to civilians in urban environments.'
But perhaps the most worrying line in that report says that '18% of soldiers newly redeployed from Iraq have PTSD – a rate that is alarmingly high'.
Selling the story
The story of Bowen and Hall has already been appropriated by New Orleans' hustlers, eager to make a quick buck on the back of the public's fascination. And I wouldn't bet against scores of tacky documentaries and books chronicling the whole horrid affair. Hell, a straight-to-video movie is probably being written as we speak. But before all that happens, perhaps we should pause to ask if there isn't anything than can be learnt from this tale.
+More+
From ABC News
+Appendix+


The 'Palast tapes' which I referred to above recently surfaced in Dublin, after they staggered through the door sporting fish-net tights, a four-week beard, a foul smell of booze and wearing a sheepish expression. I have no excuse for how long it took for them to turn up. And daev's abuse about this is ringing in my ears some two years now. They are currently sitting on a mini-disc and will, we hope, be shortly transferred to mp3 for possible use in a podcast. Whenever I figure out how to transfer them into mp3 that is. In the meantime, you can entertain yourself with Greg's new book, 'Armed Madhouse'. Click on the image to find out more.
+Thanks+
Thanks to Dan Brown for pointing us to this story.