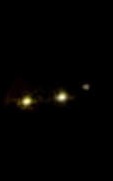 Starting this September just gone, residents in Newbury, Berkshire, England have been reporting anomalous lights in the local sky. According to Newbury News 'triangular lights' were seen by the the local Greenham Common by a spate of people. And now a new set of sightings, this week just gone, over the M4 road have left locals puzzled and generated a rash of calls to the media. Apparently, the Met office and the Police can't explain it. But, if the truth be told, the UFO sightings are only the beginning of the story for an area rich in Fortean history: a quick perusal of the archives reveals an area abundant in spectres, ghosts and unexplained phenomena.

Robert Rowlands of the Newbury News reports:
'In late September, Newbury residents claimed to have witnessed triangular formations of lights hovering over Greenham Common and other parts of the district. So far, the MOD and the Met Office have been unable to account for the phenomena.
Christine Prater of Marsh Lane, Curridge, opened her bedroom curtains early on the Sunday morning of October 22 to see two bright orange lights silently streaking across the sky at phenomenal speed. The sighting has left her wondering what exactly she might have seen.
She said: "As I came back into the bedroom, I opened the curtains and in the sky there was a little light that caught my eye – two bright orangey lights side-by-side, literally whizzing across the sky from west to east. It was like fireworks with sparks flying out from the sides. "It was going very fast, and it was not a plane. I thought at first it was but then when I looked it was going much too fast. I could not hear anything either – no noise. That's what I thought was so strange."
A quick Google around and some history comes to light. From a local webpage:
'Greenham Common, the decommissioned American Cruise missile site, is on the south side of Newbury. It used to have the longest runway in the UK before it was broken up and used in the construction of the Newbury Bypass. There are still two "peace protesters" camped at the gate of what is now an industrial estate'
Which leads Blather to ask, is the runway really that disused?
Amercian airmen, Mick and Keef
Before we jump to conclusions about alien aircraft, we should also pause to consider the other fortean factors at play here. It's worth noting that Greenham was once occupied by the American Military: among them the 101st Airborne – the group featured in the HBO TV show 'Band of Brothers'. But, apparently, it's not an apparition from the second world War which has been seen. According to the Paranormal database:
'A World War One airman was spotted by a driver and his passenger walking by the roadside one night. They stopped to offer the uniformed figure a ride, but he had disappeared. Both stopped at the nearby White Swan Pub and told their story, and received the distinct impression that locals knew of the airman but were unwilling to say anything more on the subject.'
This wouldn't be the first paranormal activity in the area either. According to Psychics.co.uk Rolling Stones singer Mick Jagger was succesfuly scared off buying a local mansion by a bell-ringing ghost some years back.
Roundheads, Cavaliers and spectral hitch-hikers
Also, according to a report on nzghosts.co.nz, there's a long history of supernatural activity down this way, notably with spectral figures on the road.
'At least six employees of the security firm Pinkerton, guarding the controversial Newbury by-pass in Berkshire against protesters, have reported seeing shadowy figures floating along the carriageway at night. The apparitions were spotted at Rickety Bridge, close to the site of the second Battle of Newbury in 1644.'
This, it would seem, or at least according to the Paranormal Database anyway, is because Newbury is a veritable hotbed of spectral shenanigans, due to the short-sighted destruction of a mass grave:
'The construction of the Newbury bypass disturbed a mass grave containing the remains of both Roundhead and Cavalier soldiers. The ghosts of these Civil War troops were reported soon after, manifesting as shadowy figures that vanished when approached.'
Greenham Women and the Radiation Weapons
In addition to ghostly soldiers and airmen, Greenham common was also home to the celebrated Greenham Common Women's Peace Camp where many fortean reports have pointed to the possible use of Radiological weaponry. The sadly defunct MindJournal reports:
'Kim Besley, of the Greenham Common Women's Peace Camp, has compiled a fairly extensive catalogue of effects that have resulted from low frequency signals emanating from the US Greenham Common base, and, apparently, targeted upon the women protesters.
These include: vertigo, retinal bleeding, burnt face (even at night), nausea, sleep disturbances, palpitations, loss of concentration, loss of memory, disorientation, severe headaches, temporary paralysis, faulty speech co-ordination, irritability and a sense of panic in non-panic situations. Identical and similar effects have been reported elsewhere and appear to be fairly common-place amongst so called "victims."
Many of these symptoms have been associated in medical literature with exposure to microwaves and especially through low intensity or non-thermal exposures.'
The Greenham Nuclear Accident
More alarming perhaps even than that is this report from Greenaudit which claims that Greenham Comon was the site of a nuclear accident in 1957, which in turn has led to a rash of child leukemia in the area.
'In August 1996, Eddie Goncalves of CND wrote a report, Broken Arrow (Golcalves, 1996) which drew attention to a nuclear accident in 1957 in which a USAF bomber had jettisoned its fuel tanks at Greenham Common airbase and caused a fire in which a nuclear warhead had burned, releasing radioactivity to the environment. The evidence was contained in a 1961 letter and other correspondence relating to measurements of Uranium-235 made around Newbury by scientists from AWRE Aldermaston.
These showed that levels of the isotope in laurel leaves pointed to a source in some event centred on Greenham: it was stated that about 10gms of U-235 and 20 gms of Plutonium might have been involved, but no measurements of Plutonium were recorded. There was considerable media interest in the story and questions were asked in Parliament. Concern was expressed about the possible consequences of the radiation release to people living near the base and in and around the nearest town, Newbury'
Is it possible that the recent UFO sightings are in some way connected to the activities reported above in the 1980's? Or even to the history of military craft used in the area? Or, getting even further afield than that, does the celebrated history of this area (ghosts, ufos, clandestine military activity, nuclear discharge, disturbed graves, spectral hitchhikers and mass protest) all add up to one giant fortean hotbed?
From Newbury with love
If there are any Newbury residents out there, Blather would be enormously grateful for your stories and observations, which can be posted in the comments space below.
+More+
Newbury News reports on UFO sightings
History of Newbury
Little Known Facts about Newbury
Paranormal Database
Greenham Common Women's Peace Camp
Greenaudit on Newbury Nuclear accident
+Google Earth+
Click here to launch the Placemarker for Newbury (Google Earth Required).
+Google Maps+
Click here to launch the Google Maps link
+Appendix+
This article was written using the Blather 'negative capability generator'.