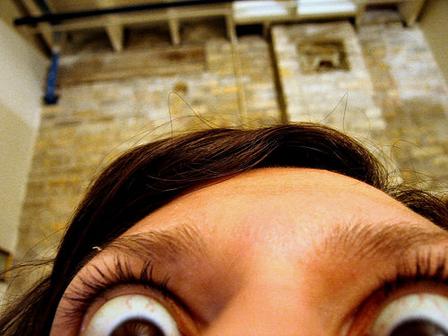 (image 'adolescent paranoia' by Dr. Joanne)

WAR!
Old-school blather readers will know that Blather.net spent many of its formative years talking about, looking for and worrying about that most insidious of modern phenomena – the UFO. Indeed, as Daev recently detailed in our book 'A Load of Blather' had there not been a rather oddly intense period of UFO activity towards the end of the 1990's (perhaps born of 'pre-millenial tension') Blather.net may never have come into existence at all (at all). But as the years passed, our interests have shifted and we found ourselves moving on to talk about other things (paranormal or not) and UFO stories became increasingly rarer as time went by.

FAMINE!
The cynic in me might comment that this was most likely because we'd gotten a bit older and were now concerning ourselves with such matters as 'saving the planet' and 'getting laid', but every once in a while a UFO story does catch our attention. This morning, our friends at the excellent 'Damn Data' sent us a story (from some low, common rag known as the 'British Daily Telegraph') which duly caught our eye; a story posing a question which had bubbled up to the surface of my own addled mind only a week or two ago – why is there such a sudden and dramatic surge of UFO activity reported in the media in recent months?

AIDS!
The Telegraph provided a map showing the locations of recent sightings over the UK in the article. I'd post it here, except that the Telegraph editors have chosen not to post in a live feed of the Google map (such as in our Map of the Weird) but have rather chosen to take a screen-shot and pasted that in instead – rather spectacularly missing the point of web 2.0 content – but I digress. As the map shows, the sightings are widespread and don't seem to have any obvious patterns – although it should be noted that there does seem to be a concentration of activity around the southern Welsh coast, tipping over into the area near Bristol, England.

DEATH!
Thankfully, the rather more community-minded kids over at the Shropshire Star have provided us with a small map showing the UFO sightings reported over their county, giving us a local snapshot of a much bigger pattern:

View Larger Map

HOMELESS!
So. What the hell is going on? As I've said, this isn't the first time we've talked about this class of thing on here before and I can't help but find my mind wandering back to days of yore and some of the explanations that we've touched on before. Is this latest spate of hysterical media activity merely the result of these clod-brained hacks having nothing else worth reporting? Well, given that every financial greybeard on the earth is tearing their jockstraps off in terror at the cataclysmic recession they seem determined to talk us into, one would have thought that that would keep them occupied. And if not that, then why not that 'global warming' flap? Or that scrap the Brits and the Yanks have managed to get themselves into over in someplace called Iraq? One would have imagined that such a plethora of bad news might have kept them occupied.
RECESSION!
Or perhaps that's the thing – we do seem to be facing into some pretty bleak news lately, so bleak in fact that I found myself the other evening (whilst watching Channel 4 News' coverage of the credit crunch') thinking of one Bill Hicks screaming 'WAR FAMINE AIDS DEATH RECESSION' and exhorting us to turn the damned box off entirely.
So, is this just a manifestation of Jung's 'collective unconscious'? Another in a long line of physcial manifestations of collective unease and panic within the body politic, caused by forces beyond our collective control? Are the recent sightings merely a mass halucination, reflective of our terror in the face of predicted 40% drops in house prices, galloping gas costs, environmental apocalypse and seemingly ceaseless war?
Or are we (finally) being invaded? And if so, do our vistiors have any ideas about alternative fuels?