One of the most important artists in Norwegian history, and especially in the history of Oslo, was the sculptor Gustav Vigeland (1869-1943).
The Vigeland sculpture park on the West side of Oslo is a place with a very special atmosphere. Seeing all the sculptures of human figures, including babies and the aged, in their expressions of joy or sorrow, anger or tenderness, almost gives the impression that all of human life is displayed here.

It is not only a great achievement in sculpture, but also in landscaping and urban planning, and if you visit you will appreciate its symmetrical design and its paths as much as the sculptures. In terms of its central city location, and its testament to the vision of a single artist, this place is unique, and it gives Oslo a special kind of identity.
Vigeland's agreement with the city was that if they built him a studio and allowed him to create a sculpture park, he would leave them everything, all his work, past and present. The parkland itself had been donated by a wealthy family to the city some years before, and Vigeland effectively gave the city a use for the space. Work began on the sculpture park in 1928, and teams of sculptors worked to Vigeland's designs. The park was finally opened to the public in 1947, which was unfortunately after his death.
The sculptures in the park are of human figures. On the bridge they are bronze, slightly smaller than life size, in athletic poses, whether that athleticism may suggest joy (a woman dancing, playing with her hair) or struggle (a man throwing a woman from him). By contrast, towards the centre of the park are figures of granite, larger than life size, including older men and women, sitting. Men and women also appear on a series of wrought iron gates. However, some non-human forms were deemed necessary, most noticeably on four high pillars, where stand granite statues of people struggling with reptile-like beasts. It suggests the struggle between mankind and its animal nature.
The amazing centrepiece is a monolith (pictured above), a tall granite column of intertwined human bodies. When designing this monolith, Vigeland was recalling his depiction of a writhing mass of humanity in his early works Hell (1897) and Resurrection (1900). Many of these early pieces had a religious theme, and Vigeland is definitely a Symbolist, but his later creations don't refer to anything as specific as the Bible. They are very general about the human condition, and open to individual interpretations. There is a universality in the human poses of the sculptures that appeals very directly to visitors.
In the nearby Vigeland museum (entry 45kr), you can see Hell and Resurrection, sculptures of all sizes, sketches, and plaster models for the park's granite works. It's also worth taking a trip out to Slemdal to the mausoleum of his artist brother Emmanuel. There are incredible frescoes in that atmospheric chamber, and though it's only open for four hours on Sundays (12.00-16.00), it should be included in any tourist itinerary.
Here are pictures of bronze sculptures on the bridge in the park.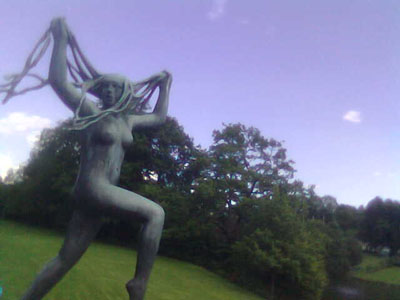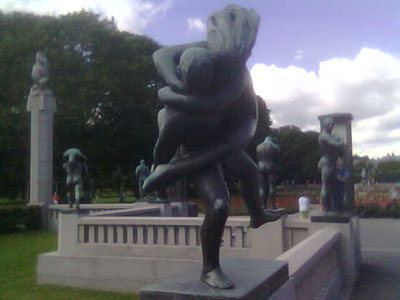 And here pictures of some plaster models for the granite sculptures in the park, on display in the museum.