August 25, 2007
Waking the Dead: The Mummies of Saint Michan's Church, Dublin
Posted by daev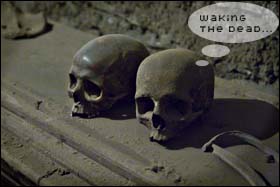 Once again the Blather team lead their readers into a dark corner to show them disturbing things. This time, Dave descends below Dublin's oldest church, St. Michan's, to see the famous "mummies" - ancient cadavers that have dried out rather than rotted, and to pull the Crusader's finger. Ashes to ashes, dust to dust - you've been warned, potentially unsavoury photographs to follow...
I was an impressionable youth. Well, a wide-eyed seven-year-old country kid anyway - easily wowed by the city slicker ways of his urban cousins. I've recounted elsewhere my early experiences with the Dublin Hellfire Club. The same aunt, uncle and cousin who took me on that adventure were also responsible for introducing me to the Mummies of St. Michan's. Down the steps they led, me, down into the bowels of St. Michan's Church, some grey place in the middle of a grey city. Down a tunnel, into a dim cavern, where we greeted ancient cadavers, still covered in dusty parchment. The tallest one - his legs broken, and folded-up beneath him so as to fit in the coffin, was known as "The Crusader". If you touched his finger, great fortune was set to envelope you. A great many punter must have been fingered by the tall fella - the country is overrun by the An tsaibhris nua - (les nouvelle riche).
I, at least, have my health and a hell of a lot of fun, if not great wealth.
So, so it's with some embarrassment, that after nearly a decade-and-a-half of living in Dublin, I've revisited St. Michan's only a handful of times. And there's probably a few fingers cracked off that hand too. I went back about a year and a half ago, and took these photographs - which aren't great quality, so I'll be returning again soon.
On my last visit, it was a chilly January day - and I was the only punter. I can't for the life me remember the tour guide's name - but I think it might be Peter. He's a local guy, extremely well-informed, and a bit of a character - full of stories, and inflicted with a slight soccer obsession. The entrance to the vaults is outside, down through slanted metal doors into long corridors, with chambers off each side.
The air in the vaults is extremely dry - something got to do with the consistency of the soil, and the unfluctuating temperature. I've heard various theories bandied about, concerning limestone (Dublin calp) rubble used to build the church, or oak wood in the soil. This didn't make sense to me - St. Michan's stands about 200m from the now walled-in River Liffey, and would have been much closer at the time of its construction. The ground should be marshy rather than limey or full of wood fragments, and I'd not heard of any comparable stories about preservation in Dublin soil. So then, why is it so dry? In a handout available at the church, there's mention of A.T. Lucas, director of the National Muse mum of Ireland in the 1960s, who wrote that "the church stands on formerly marshy ground and there is a relatively high methane content in the air of the vaults which acts as a preservative".
Because of the arid climate, nothing rots. Instead, over time, it just dries out. The coffins collapse into a powder of sawdust, and the desiccated 'mummies' fall out. While the church authorities can't just go cracking open coffins for the fun of it, there's a weird loophole that sees them choosing to display skeletons that no longer have decent coffins. The skin of the mummies has turned leathery, and their features can still be distinguished. They have nails on their fingers, and in some cases, even internal organs can be seen through rips in the skin.
Four mummies are on view inside an inner chamber - with a few random skulls lying around beside them. One of them is so-called "The Crusader" - a tall man who for some reason has his legs broken and crossed. As only the well-off ended up in these vaults, it seems unlikely that no-one coughed up for an appropriately sized coffin for him. The crusader connection is vague - I seem to remember some story about the crossed broken legs representing the crucifix. The thing is, while some of the structure of St. Michan's is medieval, the vaults themselves weren't constructed until the 17th century. The Crusades took place between 1095-1291. What "The Crusader" was doing knocking for the next four hundred years is anyone's guess.
Two of the other bodies are supposed to be that of "The Thief" and "The Nun" - a criminal who was allegedly executed nearby, and the small skeleton of a woman. Again, I can't help thinking that these labels were stories that grew organically over the years, to give personalities to the deceased. All of the St. Michan's parish records were destroyed when a bomb went off in the nearby Four Courts in 1922, during the Civil War, which doesn't leave many avenues for research.
In another chamber are the metal caskets of the Sheare Brothers, John and Henry, who were hung, drawn and quartered for their part in the 1798 Rebellion. Interestingly, the original Death Warrant, or something that purports to be it, is on display. Originally buried in wooden coffins, the bodies were apparently re-coffined after flowers were brought into the chamber, causing the wood to rot. In one of the nearby chambers, the coffin of mathematician William Rowan Hamilton lies, amongst of a stack of his relations.
St. Michan's was first built in 1095, possibly on the site of an early church constructed by the Viking Danes - Michan was said to be an old Danish saint, though records in Christchurch Cathedral suggest that he was an "Irish saint and confessor", while other theories suggest he was a Dublin Norseman, thus incorporating both other ideas.
The square tower that now stands at one end of the church isn't that old - it's hard on first glance to tell which bits are original and which date from the 17th century. Dublin city itself sprung up on the other side of the river - stretching from Dublin Castle to the river, up to Bridge Street, parallel to Francis Street and back to the castle. On the other side of the river, St. Michan's was for centuries the only church on the Northside, which completely plays into the bourgeois southsider view that us Northside residents are a herd of godless heathens. The church became part of the parish of Christchurch Cathedral in 1547. In 1724 a beautiful organ was presented to the church, at a cost of £850, a phenomenal amount of money at the time - St. Michan's was a rather fashionable church. Built by organ maker J. Baptiste de Couville, it is one of the oldest organs still being used in Ireland. It was refurbished in 1952 - the old, original keyboard is on view, and you can see where the ivory keys are worn by constant use. Above, on the organ gallery, is an intricate carving of seventeen musical instruments.
There's a story about the organ - Handel, the composer of The Messiah, is supposed to have used it, in the lead up to its April 1742 premiere in Dublin. Handel composed The Messiah the previous summer, but changes were definitely made to it before the performance, at a charity concert in Fishamble St. This was due to pressure from Dean Swift (author of Gulliver's Travels) he wanted it renamed A Sacred Oratorio, and that all revenue be donated to a hospital for the mentally ill.
While he undoubtedly spent time in Dublin during a production of the oratorio, there's a rumour about that he habitually played on the St. Michan's organ. Further rumours claim that he composed The Messiah in St. Michans! I mean, I know people leave things till the last minute - it was premiered in Dublin, the Who knows... and does it really matter? St. Michan's is interesting enough in its own right, never mind Handel and his Messiah.
Outside in the churchyard are the graves of Oliver Bond, another of the 1798 conspirators, while legend has it that the hung, drawn and quartered remains of Robert Emmet lie hereabouts, but there are conflicting legends concerning other Dublin churches.
After all, how many heads can a dead revolutionary have had?
- Dave
+Waking the Dead+
Full list of all articles in the Waking the Dead series
Me in the Irish Times recently, gabbing on about St. Michan's »
St. Michan's Church on Wikipedia »
St. Michan's Visitor Information
Please check by phoning +353 (1) 8724124 first
Monday - Friday
1 November - 16 March: 1230 - 1530
17 March - 31 October: 1000 - 1245 & 1400 - 1630
Saturday (year round)
1000 - 1245
Directions:
Find St. Michan's on Blather's Weird Map »
Photographs:
Warning! Some of the photographs below contain images that might be construed as "scary" or "disturbing" by the faint of heart, because they're of dead bodies. If you're the kind of person that curiosity doesn't get the better of, then you might as well just close your browser now. If not, scroll on.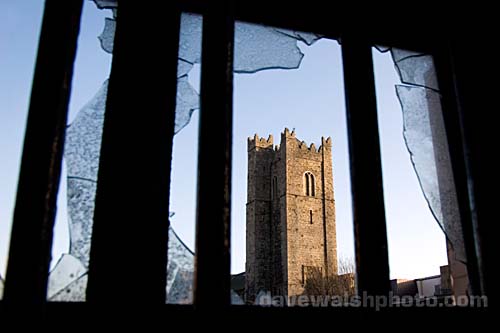 View of St. Michan's from a derelict site nearby

Get the high resolution version »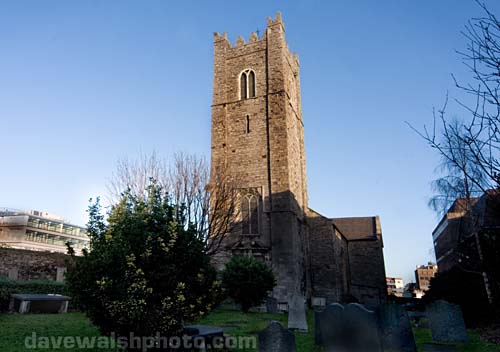 St. Michan's Church and graveyard
Get the high resolution version »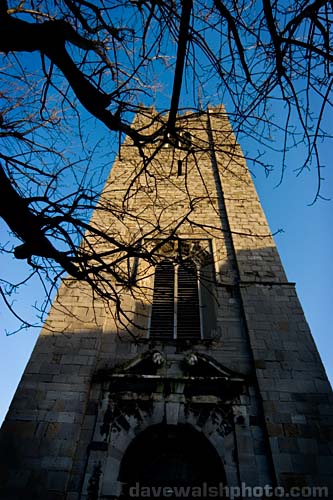 The tower of St. Michan's
Get the high resolution version »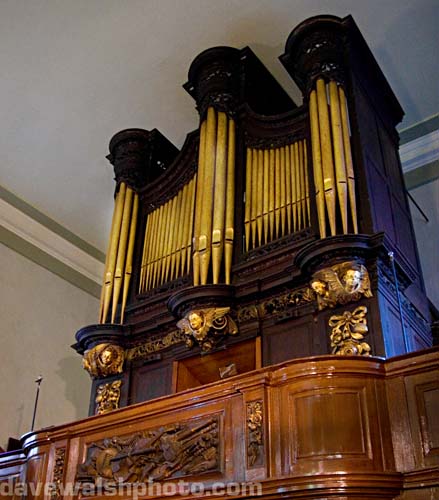 The organ at St. Michans
Get the high resolution version »

The old keyboard
Get the high resolution version »

The worn keys on the old keyboard
Get the high resolution version »

The organ with wood carvings on the gallery
Get the high resolution version »

The entrance to the crypt
Get the high resolution version »

Mummies in the crypt at St. Michans
Get the high resolution version »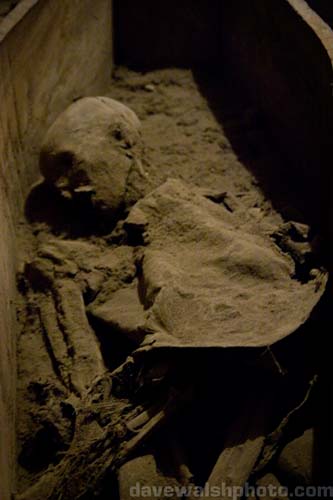 One of the mummies at St. Michan's - that's skin you're looking at!
Get the high resolution version »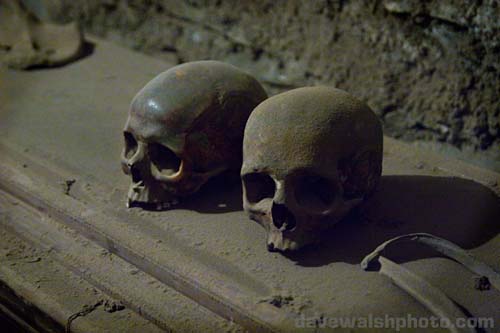 Two skulls
Get the high resolution version »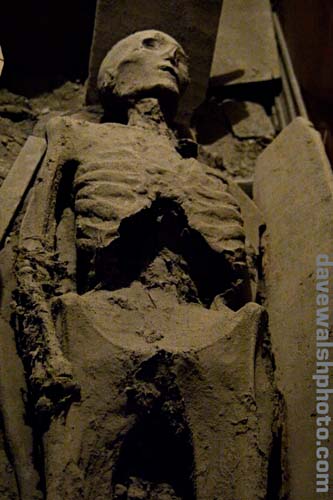 Another dead body...
Get the high resolution version »

Another dead one...
Get the high resolution version »
Posted by daev at August 25, 2007 11:21 AM


post<li> - Post to Social Networking Sites
I was taken there myself for the first time not so very long ago and enjoyed it muchly.
I had to breathe deeply and overcome my inbuilt "Don't fuck with mummies" caution (too many Universal horror movies) before I walked in and touched the magic finger. I expected it to be leathery and slimy but, of course, it wasn't (being intensely dry and all).
So far my right hand has shown no signs of withering or wanting to throttle passers-by. Neither has any money come my way though. Bah.
Posted by: fústar at August 27, 2007 1:16 AM
---
---
Hurrah for having Dave back! Great article!
Posted by: sue at August 27, 2007 11:33 AM
---
---
I'll also add, that after my touching the crusaders finger experience, I felt a funny tingle in my hand for the rest of the day. I was fourteen at the time. I also developed a bit of a crush on the Crusader mummy. He has great cheekbones...
Posted by: sue at August 27, 2007 9:27 PM
---
---
Excellent article and pics.
Was just there again about two weeks ago. Fantastic church.
Absolute rubbish about the stories of the bodies, but sure who are we to let archaeology come between a great yarn...
Posted by: ender at September 2, 2007 6:19 PM
---
---
First time I've been to St. Michan more than 10 years ago, and I must say, that it is something unforgetable. I strongly recomend everyone to visit this place. At first sight, the church is not something special but under is something you need to see!!!
Posted by: Janez Vene at September 14, 2007 8:36 PM
---
---
I visited St. Michan's in 1980 after reading about it in a very old copy of HV Morton's book about Ireland while I was visiting friends in England. I'd planned to go alone to St. Michan's but met some fun kids from Australia shortly after arriving in Dublin, and after I'd described St. Michan's to them, they couldn't wait to see it too! I actually shook hands with The Crusader; took a few moments of working my courage up, but I couldn't resist the opportunity, which didn't strike me as something that would present itself again!
Posted by: Julia O. at November 27, 2007 8:49 AM
---
---
I first heard of St Michan's (note my surname)from my father in 1965 (when I was 20 years old) when he brought home some leaflets after a visit to England. These were loaned to someone soon after & never returned.
In 1993 I thought about the church & attempted to find out more by writing a letter to "Church of Michan, Southern Ireland". It was returned to me in Australia approx. 9 months later "insufficient address".
A few weeks later, I was suffering ill health (a rare thing) & was directed to have some medical tests. The local laboratory advised me that they could not fit me in for a few days & suggested I choose another laboratory in the surrounding area. I made an appointment the next day some 8km away.
At the laboratory I was directed into a room for the tests & when I returned to the front desk I noticed that there was a different receptionist. As she spoke to me her broad Irish accent was obvious. I shared with her about the returned letter & mentioned (what I thought was the church name) Church of Michan. "I was in that church two weeks ago, it is in Dublin & I have some leaflets & information at home - you may have them!" I was astounded, but became amazed when she advised, "I was called over to this office half an hour ago when the receptionist took ill. I normally work in another office in a neighboring town."
I felt I was meant to visit the church & went there in November 1996. When the traffic warden heard my name, she let me park my rental car on the footpath (sidewalk) immediately opposite the church - that's the Irish for you.
The church officer advised me that he had never met a McMichan before.
To think if I would have had the internet back in 1993 I could have simply downloaded all the information I needed, but God had other plans for me & directed me to where I could get it.
P.S. The medical tests I had in 1993 all came back negative - there was nothing wrong with my health (I even felt so much better the day I went for the tests)
Posted by: Brian McMichan at February 8, 2008 4:40 AM
---
---
I visited St. Michan' in 1979. I really thought the Mummification of the corpses was really amazing to see. This is something you may only see once in your lifetime.
My daughter is going to Ireland this year, I told her to about this, and hopefully she will not be faint at heart, as she an be, and sees the corpses. The corpses are so intact, it you can't believe it untill you see it!
Posted by: Bobbi at February 25, 2008 3:44 AM
---
---
I just got back from Ireland again and I made sure to stop by this church. The crypt is amazing, especially the mummies. Everyone who goes to Dublin should make this a stop on their trip!
Posted by: Heather at July 14, 2008 1:00 PM
---
---
I just got back this weekend from a visit to see the mummies. Absolutely fantastic, was definitely the best part of the holiday!
Posted by: Lucy Glover at July 21, 2008 6:48 PM
---
---
I first visited St. Michans in 1986 and returned two days ago. I was amazed that we were able to touch the hand of the Crusader and I had a tingle in my finger afterwards. I went straight out and bought an Irish lottery ticket. Results are out tonight!
Posted by: Elaine Lyell at August 20, 2008 2:04 PM
---
---
I went to St. Michans about 3 years,when I was 17, with my Mum on a trip to Dublin. It was so interesting!! I touched the Crusaders hand, (my mum didn't), and found it to be like leather. I was expecting it to be very cold and brittle, but it wasn't. If anything, it felt like normal body tempriture!!
Posted by: Charlie Swaine at January 3, 2009 10:20 AM
---
---
Hello,
My name is Ed. I first visited St Michan's Church and vaults around 37 years ago when I was eight years of age. I remember how haunting it seemed but I was reassured by the adults. On the 6th of April 2009 I was in Dublin for the weekend with my girlfriend Sarah and best friend Gary. I told them of my experience at St Michan's and wondered if they would be interested in a visit. They decided that it might be a good idea.
Secretly, I had regretted visiting the resting places of the so called 'mummies' for all these years. As I had grown older I could not help but feel I violated a sacred resting place. I had no choice when I was eight – just went with the adults. Over the years I had misgivings about the affair. I wondered how I could put things right again.
I decided another visit was required but this time I wanted to put things right. Instead of being scared I prayed for the souls resting in the crypt and in my prayers asked their forgiveness for violating their resting places many years ago.
Sarah and Gary did not enjoy they experience. The advertisement and tourist information would have you believe you were visiting mummies akin to the ancient Egyptian pyramids. Not so. When you enter the vaults you are actually looking at coffins and remains of ordinary people. Imagine if you had thousands of people gawking at your loved ones day after day year after year. Is it not the whole purpose in burying our dead so they can rest in peace!
What made the whole affair most unwholesome was the Tour Guide. He did his best (but failed miserably) at being theatrical about the experience with no regard to the sacred privacy that should be afforded in death. He commented on the gruesome deaths that some had met. He also relished on one particular deceased whom nobody liked – not even his own family!
I know ultimately it will depend on where you are at, theologically speaking. Some will feel they are merely looking at relics or even Irish history. But the truth is you are looking at the remains of dead people in a kind of circus side show. Surely you would not approve of this if it were your remains that people were being charged £4.00 to look at.
For the faithful amongst you. Let them rest in peace. Avoid this ill conceived Dublin side show. The Church does not need the money. Outside of this unsavoury way of making money from you the church functions daily as any church reliant on its congregation to fund it. In faith rely on God to keep his houses open.
For the people who are of different faiths or even none at all. Search your minds and asked yourself is it right to put the remains of those you love, or those you do not even know on public display for monetary rewards.
Do yourself a favour and the deceased. Avoid this unsavoury Dublin attraction. I fear you will regret it. .

Posted by: Edward Farnan at April 7, 2009 4:35 PM
---
---
Hi Edward,
I'm sorry to hear that you didn't enjoy St. Michan's. Like you, as you'll see above, I visited the crypts when very young; unlike you, I still find them of the most thrilling and engaging places in Dublin.
The irony, is, of course, that people like me will likely read between the lines of your review, taking the positives from it. If I was a tourist reading your words seperately from my original article, I'd definitely put St. Michan's on my itinerary.
Don't be put off folks! St. Michan's is a gem.
Posted by: Dave at April 7, 2009 6:11 PM
---
---
I am an Aussie who lived in DUblin for 9 months. I hated most things about the city and found most places to visit would cost you a fortuine and under delivered!! St Michan's was an exception. It cost almost nothing and was an amazing experience. Igf you are unfortunate enough to be in Dublin for a long time...visit ST MIchans and it will pick you up!!!
Posted by: Scott Rogerson at May 25, 2009 6:07 AM
---
---
that was the cool i never knew bout this i gotta show my freinds i hope they like it i do
Posted by: emryss at June 26, 2009 12:29 AM
---
---
why did they keep the bodies in the church wont it smell???
Posted by: emryss at June 26, 2009 12:32 AM
---
---
very cool! just think, this pile of eath, and bone, use to walk and talk, and have being. a humen. i will some day look like this, and maby some one who is not on this eath yet, will think the same thing! time is weard.
Posted by: Elspeth at July 5, 2009 7:59 PM
---
---
neat. but this "time in humen cile" is weard!
Posted by: Elspeth at July 5, 2009 8:02 PM
---
---
neat. but this "time in humen cile" is weard!
Posted by: Elspeth at July 5, 2009 8:02 PM
---
---
Hi All, I've been to St. Michan two days ago and I highly recommend this visit! The guide in particular is great. Not only dusty corpses to see but interesting stories about the whole site and people resting in the vaults.
Posted by: verena at August 21, 2009 3:34 PM
---
---
I am planning a visit with my kids in late October. How much does it actually cost for adults and kids?
Posted by: Dad at September 16, 2009 11:49 AM
---
---
I WANT TO BE SEE MORE PICS OF MUMIES SO PLZ SEND MORE PICS ON E MAILS
Posted by: ARSLAN at October 6, 2009 8:32 AM
---
---
I got to play the organ at St. Michan's back in 2004 and visited the crypt as well. Very interesting. I'd like to purchase a book on St. Michan's if there is one.
Posted by: Joseph Barber at January 27, 2010 2:34 AM
---
---
Hi I just got back from Ireland. I went to this site, and thought it was excellent. I touched the mummy and it reminded me of touching a hard wood table. I showed my student ID and got in for 3 Euro if my memory serves right. The tour guide was especially creepy and played up the theatrics brilliantly which really made it more memorable.
Posted by: Ben at June 11, 2010 4:09 AM
---
---
Teenager used skull of child as a football
Irish Examiner, November 14, 1998.

A teenager who used the skeleton of a child's head as a football after he vandalised the 1,000-year-old St Michan's Church burial vault has been given six years detention by Judge Cyril Kelly at Dublin Circuit Criminal Court.
Anthony Dillon (17) of Lindore Buildings, Dublin 7, pleaded guilty to charges of arson, causing criminal damage and stealing tools at the site on dates from July 6 to July 9, 1996.
Canon David Pierpoint told Judge Kelly some of the 60 coffins totally destroyed dated from 1680. The vault had eight burial chambers with about 10 to 12 coffins in each and it run under the sanctuary and altar.
Canon Pierpoint said the church salvaged some of the coffins and remains after the vandalism and reburied them.
Detective Garda Anthony Whelan told prosecuting counsel Fergal Foley BL that Dillon and two other accused believed valuables were being kept in the vaults.
Defence counsel Luigi Rea said Dillon had been abusing illegal drugs since he was 12 years old. He was 13 at the time of the attack

Posted by: Tom at August 31, 2010 4:38 PM
---
---