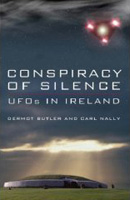 I wrote this review of Conspiracy of Silence; UFOs in Ireland by Dermot Butler and Carl Nally about a year ago for Fortean Times – and completely forgot to publish in Blather! Of course, that's all because blather.net is part of an Irish government conspiracy to suppress the proof that extra-terrestrials are visiting this very parish, I'll have you know.

The authors of Conspiracy of Silence set their stall out early, the cover showing a sinister black triangle – with conspicuous red lights on each corner – hovering above Newgrange, the 5,000 year old passage grave in County Meath. Inside, the thesis continues, with ufologist Timothy Good's foreword stating "in this ground-breaking book, Dermot Butler and Carl Nally have shown us that, in company with many other governments, the Irish authorities have made strenuous efforts to keep its populace in the dark".
The authors, Butler and Nally – both of whom have been knocking around the Irish UFO scene for years – have also been making strenuous efforts, to prove the existence of such a conspiracy. Unfortunately, their allegations fail to convince. I'm not going to diss Conspiracy of Silence completely – it's a fairly comprehensive potted history of UFO sightings in Ireland – the authors know their subject well, and have obviously spent years doggedly investigating UFO sightings, digging up dusty government files and corresponding with members of the security forces, the civil service and other Irish government agencies. One of the more notable cases covered is the intriguing 1996 "Boyle Crash" – a story I heard through the UFO rumour-mill at the time, about the alleged crashing of something into mountains in County Roscommon, and the subsequent arrival of foreign military forces, to the apparent chagrin of Irish troops and police.
However, the problem with the book isn't so much lack of research, as its biased interpretation of facts in order to fit them into the 'conspiracy' agenda. In the dozens of UFO reports collected in Conspiracy of Silence, most are reproduced without question, ditching examination of the factors surrounding each given situation in exchange for an air reverence, deference and unquestioning respect for the witnesses. The authors are far too credulous of testimonies that fit their agenda – and too sceptical of the reports that don't.
Of course, respect for the testimony of witnesses is important – often these people have had traumatic experiences and have come forward despite fear of ridicule or official sanction. Fair enough, but Butler and Nally do not appear to question any of the testimonies – apparently on the basis that if, well, they were bothered to come forward, they must be telling the truth. All witness testimony is automatically regarded as objective truth – and as readers of Fortean Times [and Blather] well know, the situation is rarely that simple. The authors seem hesitant to suggest that any of their witnesses could be mistaken, lying, crazy, or even part of the conspiracy.
There's a twisted logic here – on one hand, the testimony of professional witnesses – such as pilots and Garda officers (police), or other traditional authority figures – are taken at face value. On the other hand, if a UFO report is explained away by the members of the authorities, they're automatically assumed – usually through a series of rhetorical questions to the reader – to be servants of a grand conspiracy.
In case after case, the authors write to the Gardai, army and government departments, asking questions. In many situations, such as in the "Boyle UFO Crash" excitement, they receive vague, confusing and often contradictory information from the various official sources, leading them to believe that someone is trying to cover something up. Personally, I find the inconsistency of official sources unsurprising – in fact, if everyone in officialdom delivered precisely the same answer to my queries, then I definitely would suspect a conspiracy!
Instead, I suspect that the mysteries of the civil service are at work – a chaotic bureaucratic phenomenon not confined to Ireland. The final irony is that researchers like Dermot Butler and Carl Nally seem to crave official recognition – by the very authorities they accuse of conspiring to misinform the public.
For all the conspiracy-mongering, the authors appear cautious about assuming that extraterrestrials are visiting Ireland.. Yet, while reading the section where the book actually discusses the extraterrestrial hypothesis, I found myself convinced that I had missed several pages. I hadn't. Flicking back, the authors skip from a broad discussion on the possibility of finding life on other planets, into a bizarre and unquestioning treatise on the abduction phenomenon – without any explanation of the nature or history of the phenomenon. I can't help suspecting that the Butler and Nally, in their quest for official acceptance of their allegations, believe far more than they're willing to let on.
Conspiracy of Silence, I'm afraid, is a flawed book, with a very tenuous agenda and some terrible factual errors. For instance, in a section on the possible connection between UFO sightings and ancient sites, they claim that Navan Fort (Emain Macha) a Neolithic to Bronze Age structure is in Navan, Co. Meath. In fact, it's in Co. Armagh, in Northern Ireland, and is nowhere near Navan or Co. Meath at all. It just happens to have the same name – an assumption easily checked via Google or a map. The fact that Navan Fort was an integral site in the mythological Ulster Cycle should have also been a clue.
Ireland is a small island, with a small population – including Northern Ireland; it's just six million people. News tends gets around quite easily – so the idea of a widespread entire government cover-up that includes the rank-and-file of the security forces seems slightly absurd. But then, maybe that's what the conspiracy wants us to think, eh?
That said, it's a well-known fact that the US and other countries use Irish airspace and airports for military overflights, a matter of ongoing controversy in what is supposed to be a neutral country. Given the reticence of the Irish government to discuss the landing of US troop planes at Shannon, it's little wonder that not much is said about military activities. But could so many UFO sightings be connected to US military aircraft? It seems unlikely.
Perhaps the biggest mistake of this book is to assume that the Irish government, or for that matter, any government, truly understands the UFO phenomenon. At best, Conspiracy of Silence is a indispensable example of contemporary folklore at work. But what would I know? I'm probably just an unwitting dupe of the conspiracy…
Dermot Butler, Carl Nally
Paperback: 192 pages
Publisher: Mercier Press (Jun 2006)
ISBN: 1856355098
Full list of UFO features on blather.net, including lots of Irish stuff »
September 2007: Irish UFO Dossier released »