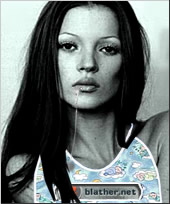 Think you know about music? Do ya? Well, Summer 2005 is going to be wet!

We suppose you've been hearing that Grime is going to be the lifestyle, music and culture of summer 2005? Forget that. Now. A new music scene has erupted. Drool. Celebrities in the fashionable districts of fashionable cities (London, Oslo, Kilkenny) are beginning to identify themselves with this shocking new trend (see picture!).
Here's an MP3 of some Drool for you to listen to: an excerpt from Droolin' To Tha Wetbeat by DJ Bibs (MP3 629kb). Unfortunately this MP3 won't give you a full taste of the lower frequencies of this music. But listened to in the right places with the right equipment, you would be simply reduced to a state of drooling. The kids are congregating in clubs to listen and drool together. And it's for the girls as well as the boys: until now it has been a bit of a taboo for women to drool in public, but now they're doing it with gusto!
So now you've heard the music, here's a run-down of all you need to know about Drool culture. Just thank the curiosity and diligence of the Blather research team.
Fashion: bibs – either the cloth kind, emblazoned with fashionable logos, or the plastic kind which retain the drool, with markings on them telling you how many cls you have drooled. Also cups strapped on to legs in a bicycle clip type grip; so you can drool into your own cup, or if you meet someone at a drool club you can suggestively drool into their cup.
Drugs: any drugs that relax facial muscles. These come in tablet form and include carisoprodol ("waterfalls" or "gushers"), chlorzoxazone ("rivers"), cyclobenzaprine ("swampers"), and methocarbamol ("bib surfers" or "antipresleys"). The latter is also available in an injectable form ("wet-me-ups"). Needless to say, there are a number of dangerous side effects from using these drugs for recreational purposes: dizziness, vertigo, depression, insomnia, constipation, liver problems, fast/slow heartbeat, fainting, yellowing skin, green-black urine – you may even end up with a dry mouth.
The movement also has an extraction faction – droolers who get teeth removed in order to drool better. Dentists have expressed their concern about the loss of good teeth. They're also worried that unscrupulous members of the dental profession are taking money for extracting teeth.
Slang:
Wet = good, e.g. "that's a really wet record they're playing". But it's also the minimum level of acceptability, e.g. "that record wasn't the best, but at least it was wet."
Dry = bad, e.g. "how can you listen that dry music and go to those dry clubs?"
Swampy = particularly excellent, e.g. "that music is sooo swampy! I drooled all the way through"
Swamped out = having taken too many drugs that make you drool, e.g. "I was so swamped out last night, I really thought I was going to die"
Drooler = someone who "does drooling", e.g. "some grimers came down here last night but got freaked out by the droolers"
Gushin' = drooling prolifically
Bucket palace = drool club. A particularly famous bucket palace in London is Caution: Wet Floor, nicknamed "C colon WF"
To live in the desert = to have never heard of or participated in drooling
Opposite Elvis = the lower lip lowered on the right side of the mouth, as opposed to the so-called king who raised his upper lip on his left. This gives birth to a whole subgenre of drool slang.
Elvis = very dry
To throw Elvis' throne into a skip = to have (or to throw) an excellent drool party, e.g. "We DJed at C colon WF last night and I'm telling you we threw Elvis' throne into a skip!"
Key recordings available on CD:
'The Birth of the Drool' a CD compilation of 12″ singles released on Moist Selections
'The Drool Sound of Saliva, Volume 1″, a CD compilation of 12″ singles released on Saliva Records
'Come Drool with Me' – album by DJ Bibs [the shy introvert who has allegedly been making Drool for years, while living in a basement with his mother]
'Down Lower Lip' – album by Wetrax
'Blue Drool' – album by DJ Bibs Quartet, just about to be released on Saliva and set to become the classic drool album. Not even released yet, its title has already inspired droolers to drool coloured dye at clubs.
And on 12″ vinyl:
DJ Bibs – Droolin' To Tha Wetbeat
Wetrax – Down On My Right
Slaver – Opposite Elvis Overflow
Relaxt – Bib-Soakin' Drool
Brugata Drool Orchestra – Ain't Nothin' Goin' On But Tha Drool
The Judas of the movement is almost certainly DJ Swampy. The kids on the street like to be the ones to decide what's wet and what's swampy, so his name is very arrogant. He's also signed to a major label and is putting out CD singles with titles such as 'Drool Man' and 'Gush Woman'. DJ Bibs has begun a feud with DJ Swampy, saying that Swampy has "gone to Graceland" and has "left the building". We hope this feud doesn't get too un-relaxed!
So, that's the Blather guide to Drool. Remember to drool safely, kids!
[Kate Moss photograph by wet fashion guru Jan Zuppinger.]
[Elvis Presley photograph from a fashion shoot at the University of St Andrews Perception Lab. It doesn't prove he is alive; it only proves he is dry.]